The Lin and Jirsa style of maternity photography is similar to our style of engagement photography. Our focus is on expressions and on capturing emotion with an attention to detail and creativity. It's more of a lifestyle approach that expresses the love between the couple and welcomes the soon-to-be-new member of the family.
Maternity Photography FAQs
When should I take my maternity photos?
We recommend that you schedule your maternity photo sessions when you are about 30 weeks or 7-8 months along. This way your belly will be more noticeably round but it's not too heavy so that you may experience any sort of discomfort.
What do I need to bring to my maternity photography session?
There are a few things we suggest you bring to your maternity session just to facilitate a smooth and comfortable shoot. Having some waters and snacks to have on hand is always a good idea just in case you're feeling a bit tired. Be sure to bring a pair of comfy shoes to change into for casual photos and a jacket or a sweater since some of the locations tend to become chiller as the session progresses. It is also very useful to have some touch up make up and hairspray with you in addition to an extra outfit to change into.
What do I wear to my maternity photo session?

When choosing the outfits for your photo session, we suggest that you have about 2 outfits prepared. There will be instances in which we actually would avoid recommending a second outfit as there are some locations that make changing a difficult task and we want to ensure that you have an easy shoot. Also something to keep in mind with looking for your outfits is to choose clothes that are tight and stretchy to show off your beautiful baby bump. Flow-y and loose sundress are okay if you are able to cup them under your belly just to help further accentuate your shape.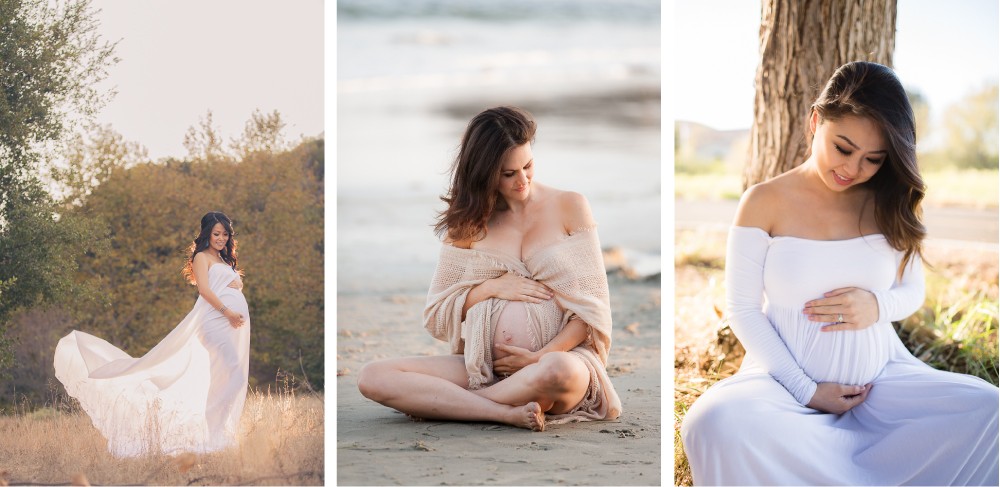 I see images with a sheer piece of fabric covering the body to show the shape and blowing in the wind, do you provide this? If not, what type of fabric should I buy?Unfortunately, we do not provide this type of fabric but purchasing a large piece of sheer light weight fabric would be ideal for recreating this particular look. Don't forget to have a nude seamless strapless bra and  nude underwear if you do decide on this look as any other color undergarment will show through.
What props should I bring to my session?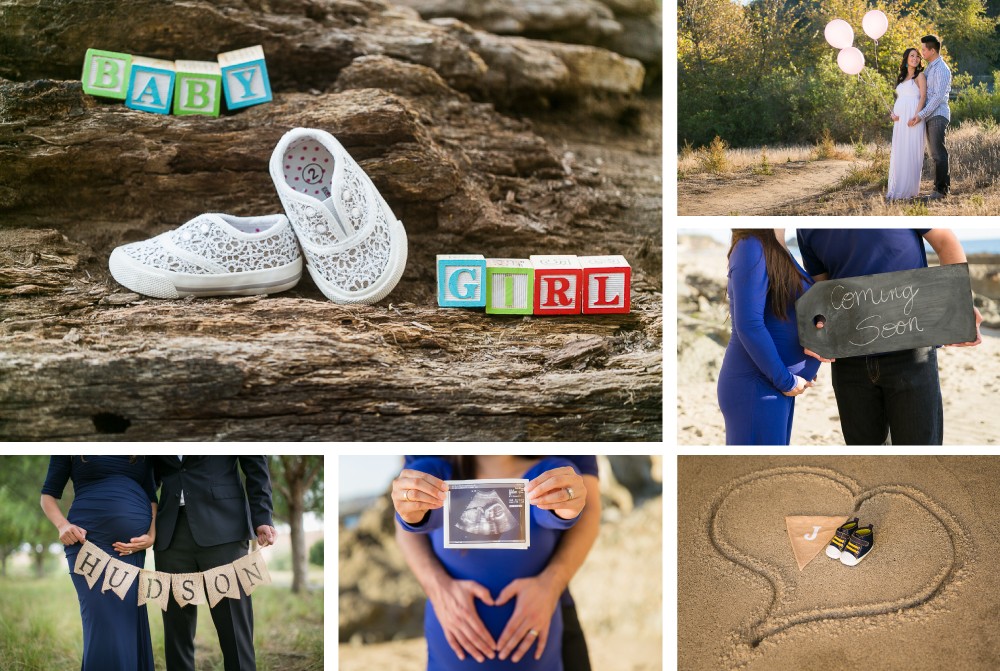 Props are a great way to personalize your pictures with your upcoming addition so we would propose bringing items specific to your baby. For instance, if you know the sex of your baby, or the name you're going to use, you can always bring blocks to spell out the name, colored balloons to announce the sex, baby shoes, sonograms, etc.
What are my maternity photography location options?
Our maternity locations are typically the same as our engagement locations. Although, we do prefer to keep maternity sessions to one location just in order to maximize our time at that particular place and simply to allow an easier time for the mother-to-be by having a maternity session without excessive travelling. Please also be aware when choosing your locations that specific beaches do require climbing up and down stairs and steep slopes.

Will any retouching be included to remove stretch marks?
Retouching of any kind is upon request and will be subject to an additional charge.
Where can I see your most recent maternity work?
We publish all of our Maternity Photography on our Associates Blog. Click here to see our most recent Maternity Photography.