Contact us to book your Newborn Session today!
Phone: 949.287.2153
[email protected]
As your precious newborn grows bigger day by day, let us use our creative eye to help capture these priceless moments. Newborn photography is a highly specialized field in which Lin & Jirsa prides itself on being experts. We're here to bring you beautiful photos of the new addition to your family so that you have these photographs to look back on for the years to come.


Newborn Posing
Finding cute poses for your newborn is part of our expertise. Most newborns have a tendency to want to extend their limbs, creating awkward positions for their bodies. We guide their bodies gently into cute, artistic, and serene poses. As with all of our genres of photography, we start with a basic foundation of poses and make micro adjustments to change the look and feel of the image. There are three basic positions for newborns: on their backs, on their sides, or on their stomachs. From there, we use props, blankets, lighting, hand positioning, feet positioning, head positioning and our creative compositions to change each image.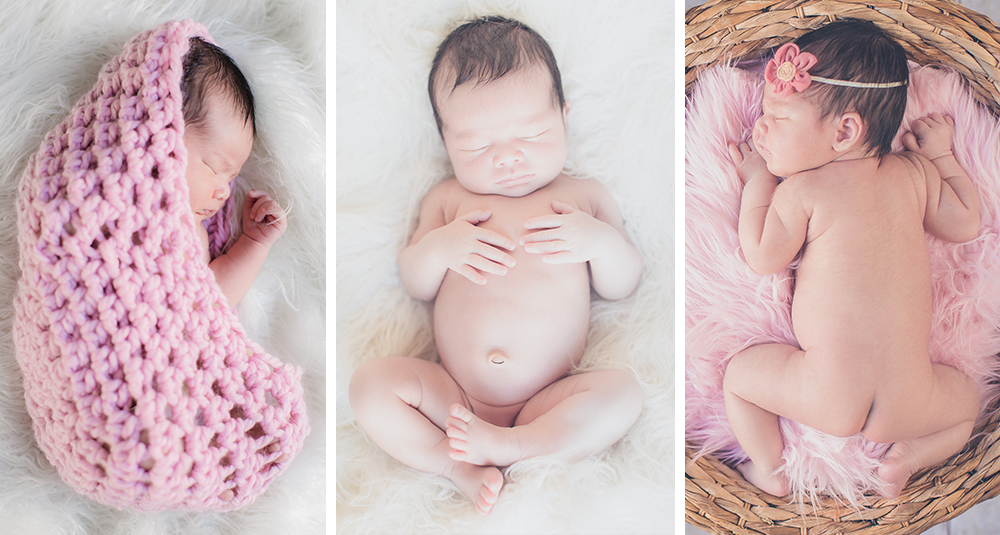 Examples of side (left), back (middle), and stomach (right) poses
Newborn Safety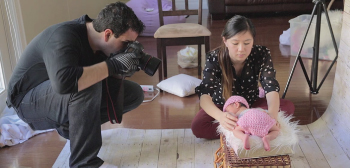 Newborn safety is our top priority. We never put newborns in risky positions or unsafe circumstances. Whenever we are using stacked or unstable props, we ensure that we have a helper (usually mom or dad) holding the newborn in place. At the moment of capture, the helper removes the hand for a few brief moments before gently placing his or her hands back down on the newborn.
Newborn Processing
Our style of post production for newborn photography is similar to our processing for our wedding photography. The main difference is that we lean towards a more bright and airy style as opposed to our typical vibrant and HD style that we use primarily in our wedding photos. The result is a much softer look, like you see below.

Example of our newborn photography post production.
Personalize your Newborn Photography
We love including personal touches to your newborn photos. If mom and dad love a particular sports team or fell in love in a foreign country, we should definitely consider including those elements in the newborn photos.

Baby Jordan's parents are both dentists with an artistic side. This was taken in front of a mural in their home that they painted themselves.
Newborn Photography FAQs
When should we take newborn photos?
We recommend that you take your newborn photos when your baby is around 2 weeks old and no later than 3 weeks old. However, the most ideal time in which to plan your new born's photo session would be at 5-10 days old. There are a couple reasons behind scheduling your newborn photo session at this time with the first being that newborns are easiest to work with within the first 5-10 days of being born. It is during this period, newborns are sleeping the majority of the day which makes it very easy to get them into poses without causing them any sort of discomfort. In addition, because the newborn hasn't been out of the womb for a long period of time, they are more likely to curl up in "womb-like" poses, stay asleep longer, and don't mind being unclothed.
How long are newborn photography sessions?
Newborn Photography Sessions can last anywhere from 2-4 hours. We typically allow for a range in time as we need to work on the baby's schedule. The newborn may need to feed or have an accident. Often times, we may simply not be able to get him or her to sleep (which is necessary for most poses and looks).
Are props included? If so, what kind of props are there?

We do provide an assortment of props for the newborn photos but we also strongly encourage parents to also have their own props as to help create more personalized photos for the baby.
Here is a list of some of the props we are able to provide for your newborn photography session:
Letter blocks
Wraps (in pink, yellow, brown, and white)
A pea in a pod
A knit turtle shell
Knit hats (for boys and girls)
Pearls
Headbands for girls (in various colors and sizes)
A nest
Picnic basket
Assorted back drops (in blue, white, black, hardwood floor, and other various patterns)
What do I do to help prepare my baby for the Newborn Photography Session?
There are a few things that parents should do before the start of a newborn photography session. First, have the newborn cleaned with a sponge bath prior to the shoot. This helps in removing any dry and loose skin the baby may have. Secondly, remove the newborn's clothing and loosen their diaper 1 hour prior to the shoot. Doing this allows for any lines caused by the clothing or diaper to disappear and provides for smooth and soft looking skin in any nude photos. Thirdly, while we do bring our own heating pads and space heater, it would also be helpful to keep the house nice and toasty to help in getting your baby to sleep for the duration of the session. Lastly, try to keep your baby awake for 1-2 hours before the session and having the baby fed and burped before the shoot will help the newborn to fall asleep easier and provide for a happy and productive shoot.
Will we need to help during the photography session?
Yes. We will need the mother, father or relative's assistance at times during the shoot. This might be something as simple as soothing the baby or comforting the newborn when needed. We can do all of the "lifting" and posing during the session if you're comfortable with that, but if not, mom or dad can assist. Note that the room will be very toasty! Newborns stay sleeping if the room is well heated, so if you're helping out, dress appropriately.
How many images do I receive & how long does it take for me to get the images?
After the photography session, it will take about 2-3 weeks before you will receive 30-50 images that have each been processed with our unique style of basic post production.
Will the photographers come to my house or will I need to come to the studio? Is there a travelling fee for them if they do come to my home?
In order to accommodate you and your new addition, we actually prefer to do the newborn photo session at your home as to create a more comfortable and personalized environment for you and your baby. We will travel to your house for the newborn photography session without an additional charge unless the shoot is in San Diego or over 200 miles round trip.
Will any retouching be included to remove rashes, birthmarks, baby acne, etc.?
Retouching of any kind is upon parent request and will be subject to an additional charge.
How Do I book?
Book your session today by contacting our studio manager at 949.287.2153 or [email protected]
Can I see More of Your Newborn Photography?
Of Course! Click on the image below to see more pictures from our photographers: