As the premier wedding photography and videography studio in Los Angeles, Lin & Jirsa is proud to provide its services throughout the greater LA metro area. We cover couples photography, wedding receptions, sneakout, as well as wedding preparation and the ceremony itself.
Fortunately, Los Angeles is home to beautiful scenery and is also a short trip from other scenic areas in Southern California. Our world-class Los Angeles wedding photographers will make sure the magic of your wedding day is captured in our breathtaking wedding pictures.
Your Los Angeles Wedding
You have a lot to consider when it comes time to plan your Los Angeles wedding. You need a venue, a photographer, flowers, food, a cake, and someone to help you plan it all. But years from now, when your wedding dress is packed in mothballs at the back of your closet and the bouquet you saved has withered away, it's the tender memories and moments of the day you said your vows that will live on.
At Lin and Jirsa, we understand the value of capturing not just the images, but all the candid moments of your day, big and small. We create family heirlooms with an eye for beauty, creativity, and emotion, in both the grand and the ordinary. And we would be honored to serve as your Los Angeles wedding photographer.
Wedding Photography in Los Angeles
Los Angeles' rich culture and grand locations allow for myriad photo ops. We don't just document the beauty of your wedding venue–we incorporate the loveliness of the surrounding area.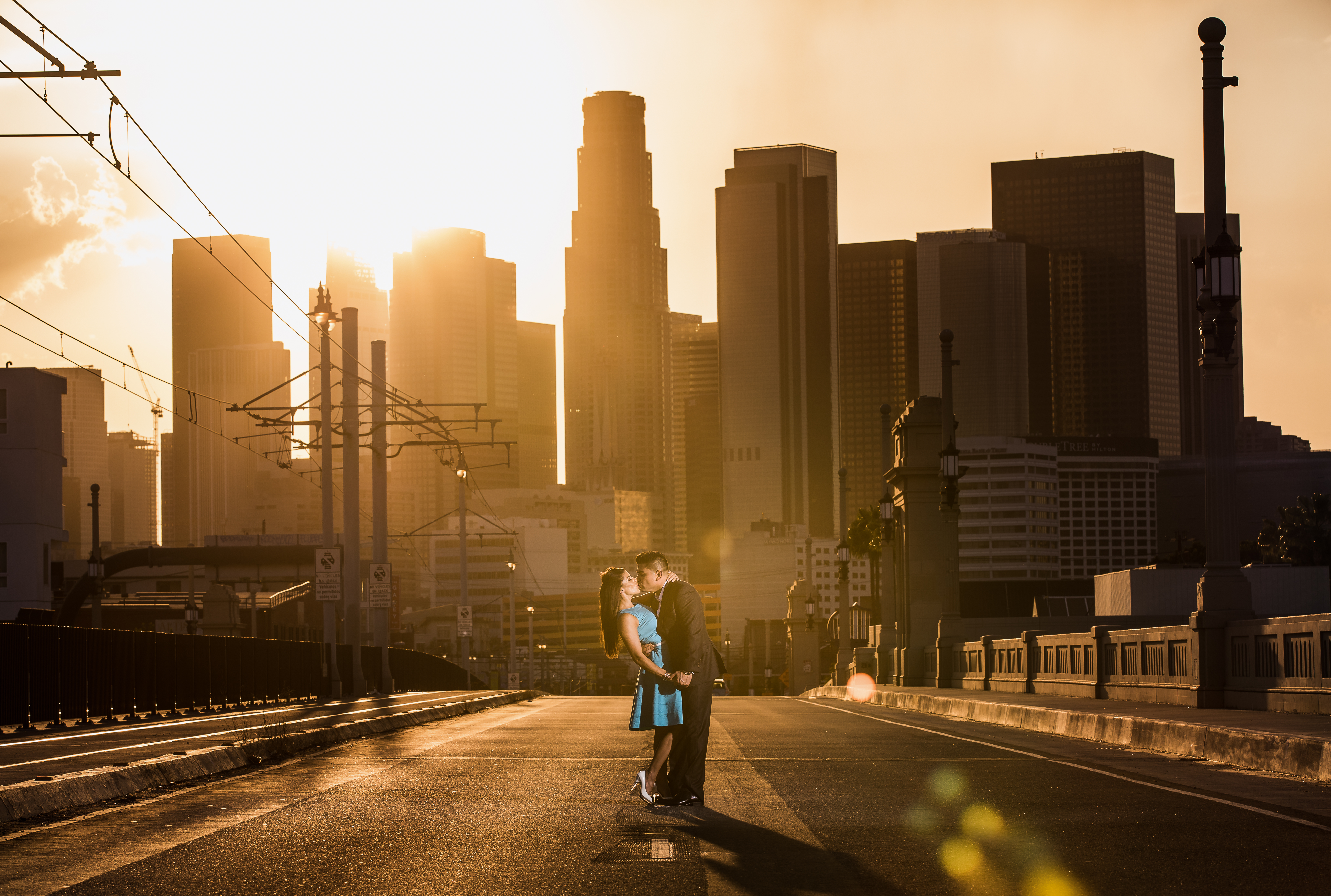 Although Los Angeles proper may at times seem congested and industrial, its iconic and diverse urban landscape is home to many private, otherworldly wedding venues, such as the rooftop Japanese garden at Doubletree Hilton Kyoto Gardens. Or the modern architecture and soaring ceilings of the Cathedral of Our Lady of the Angels. Or the glamorous haven for celebrities, the Four Season Los Angeles at Beverly Hills. Or among the palm trees of the Hollywood Roosevelt, right above the Walk of Fame. Or at the prestigious Millennium Biltmore. And don't forget historic cathedral-turned-community-center Vibiana, one of Los Angeles' oldest and finest edifices.
Just outside of Los Angeles, you have plenty of choices for a luxurious wedding venue, such as oceanfront Casa del Mar, which captures the beachy, laid-back spirit of Santa Monica. Or Calamigos Ranch, right in the heart of Malibu's wine country. Or elegant Greystone Mansion in Beverly Hills. Or Earl Burns Miller Japanese Garden at the university in Long Beach, a living museum of koi ponds, winding pathways, and a ceremonial tea house. Or the regal Ambassador Mansion and Gardens in Pasadena. Or in the glorious sunset at Santa Monica's Shutters on the Beach Hotel. Or among the natural beauty of Hartley Botanica in Somis. Or at the outdoor oasis of Santa Susana's Hummingbird Nest Ranch. The choices are practically endless for an LA wedding venue that meets your needs.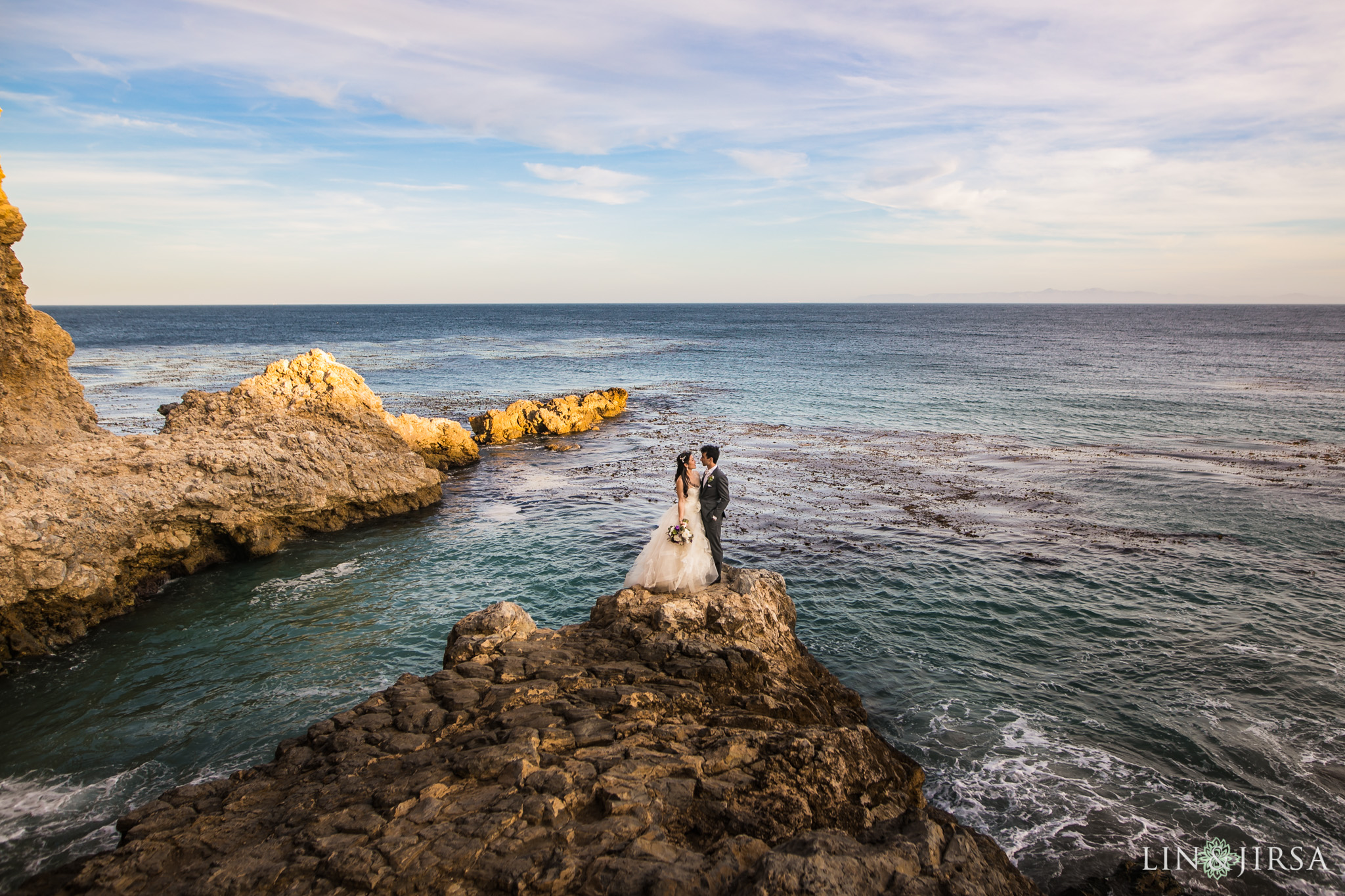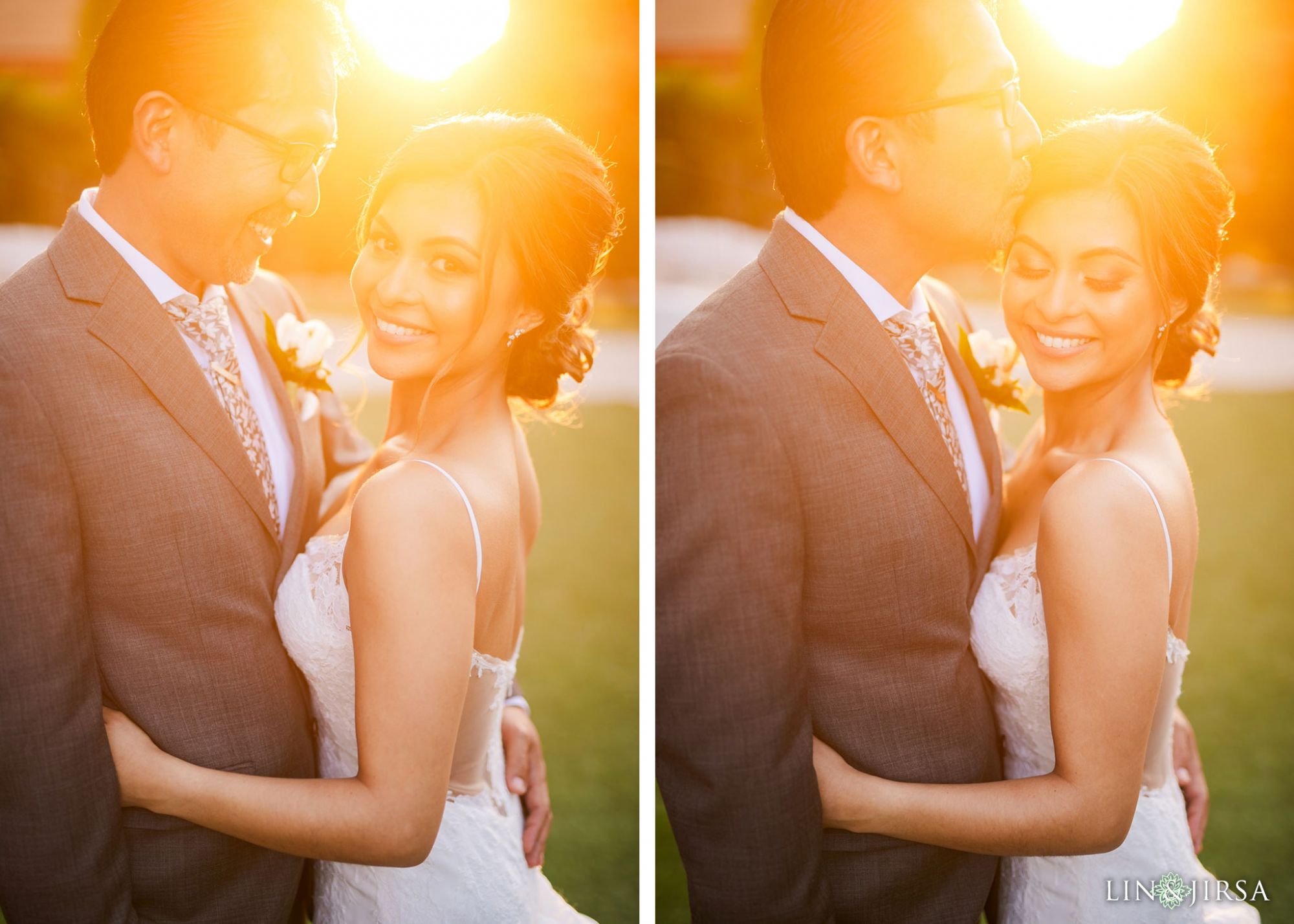 For even more options, see our list of Los Angeles wedding venues.
Cultural Weddings in Los Angeles
With a population of four million people in Los Angeles alone, the city of angels is a celebration of the diverse cultures and heritages of the world. There isn't a global cuisine or cultural or religious wedding vendor you won't find in sunny LA. Los Angeles is the perfect spot for you to design the wedding that celebrates your unique cultures and heritage. It's a great place for Chinese, Korean, Indian, and Muslim weddings and more.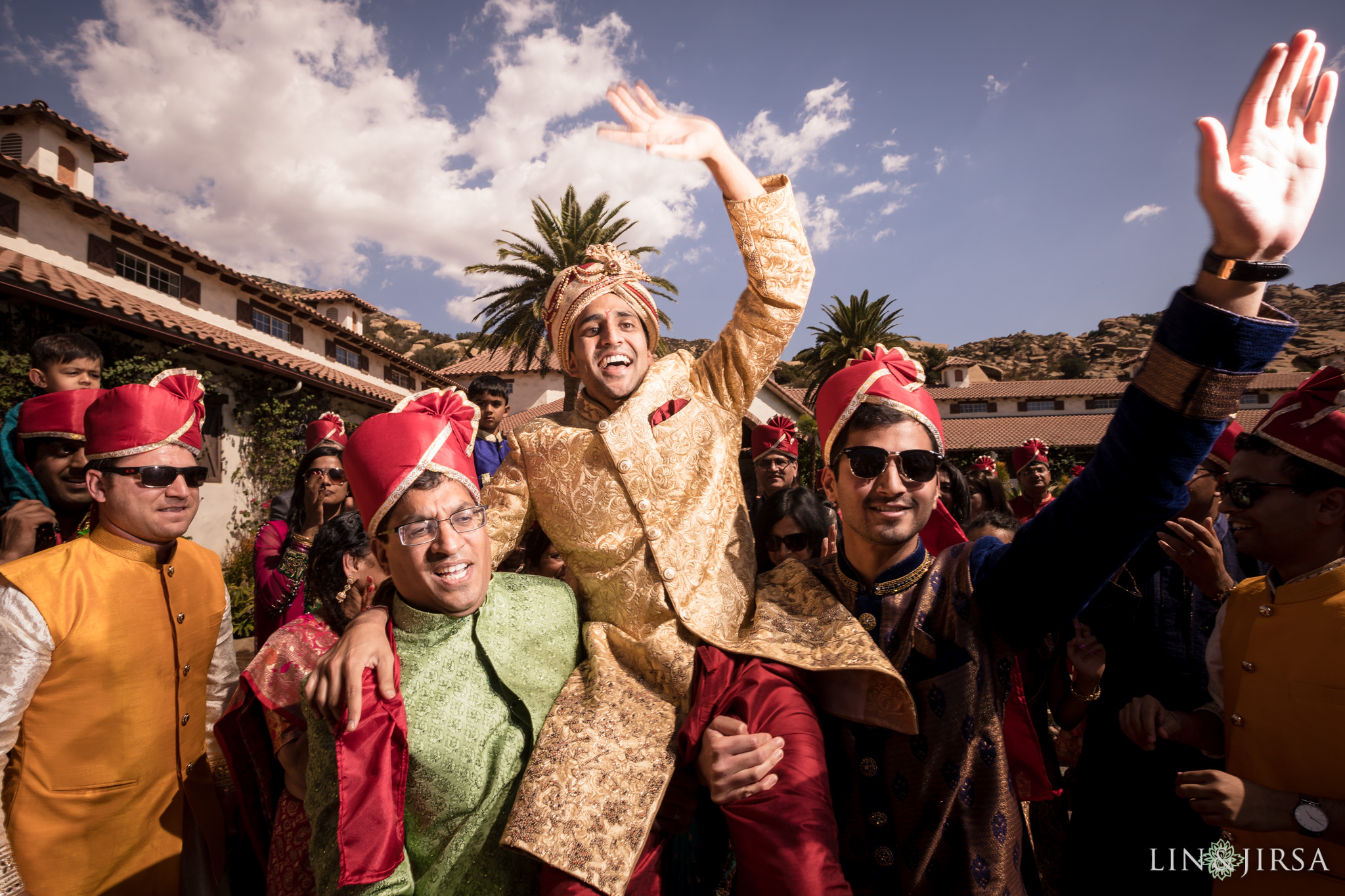 At Lin and Jirsa we have experience photographing a range of Indian weddings, from Hindu to Sikh and more. We understand the timeline and traditions of Indian weddings and place special importance on capturing all of it. We offer special packages for Indian weddings that include Mehndi parties, Sangeet, and wedding day festivities such as the Baraat and more. Please contact us for more information.
Engagement Photography in Los Angeles
LA County and beyond provide plenty of landmarks and picturesque locales for your engagement photography. Our clients choose locations ranging from the unmistakable Hollywood Sign to the natural landscape of the hills beyond, to the Santa Monica Pier and Venice Beach, to Frank Lloyd Wright's arts and crafts Gamble House in Pasadena.
The Malibu Creek State Park provides acres of rustic outdoor scenery. Or you can choose to schedule your engagement photos at the Griffith Observatory, a wondrous building in its own right, which offers grand views of LA's skyline and the ocean beyond.
We recommend that clients combine two outfits and locations for a complete engagement story.  For example, the quiet, green beauty of the Venice Canals is only a few miles from the palm-lined boardwalk with the ocean in the background. Both are fabulous locations for engagement photos, and you can accomplish both in the same day.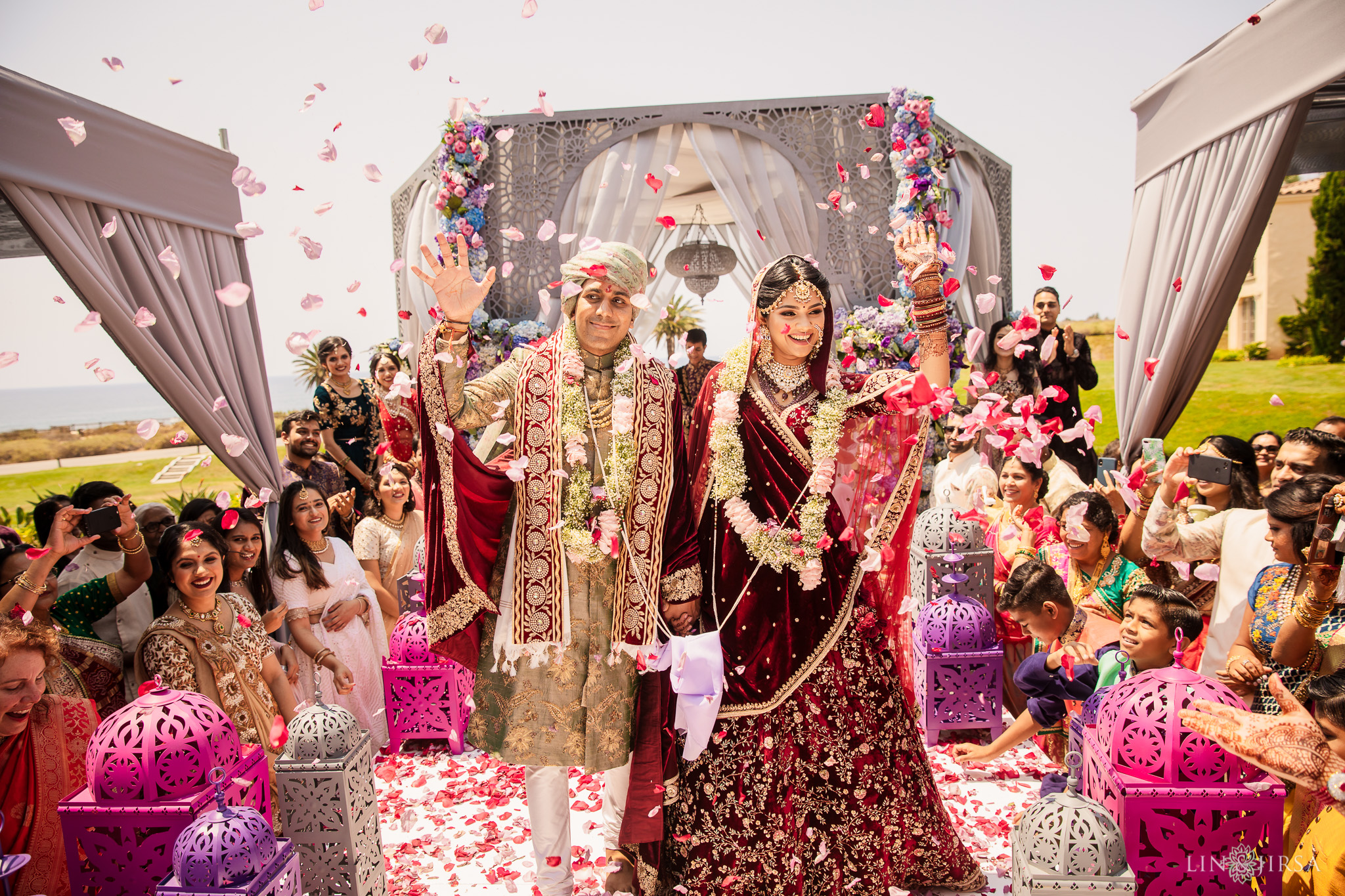 FAQs for a Los Angeles Wedding
Q: When is the best time to schedule a wedding in the LA area?
A: Los Angeles enjoys year-round warm temperatures, so any time of year allows for an outdoor wedding. Ironically, SoCal does tend to have what we call "June gloom," which means that June is often cooler and more overcast than other months, so America's favorite wedding month might be a little cloudier in Los Angeles. But Los Angeles boasts sunny skies and swaying palm trees almost the entire rest of the year.
Q: What will our Los Angeles wedding cost?
A: The Knot's 2017 survey found that the average wedding in LA cost $44,142, over $10,000 more than the national average of $33,391. But it's still better than the average $76,944 wedding in Manhattan. And plus, you can't put a price tag on sunny California skies.
Q: How much time will we need to plan our wedding in LA?
A: According to theknot.com, the average couple takes 10 to 12 months to plan their wedding. Since some venues are quite sought after and often book more than a year in advance, you'll want to schedule them as soon as you know your wedding date.
How to Book Lin and Jirsa For Your Los Angeles Wedding
We'd love to set up an appointment for you to come by our studio or attend an online consultation meeting with one of our studio managers. This will give you the chance to see our albums, meet the team, and find out more about our other services, including wedding videography!
More About Los Angeles
The city of Los Angeles is America's second largest by population. More than four million people make their homes here today. The city has a long history that extends back many centuries. During the pre-colonial period, it was inhabited by two local tribes: the Tongva and the Chumash. It remained sparsely settled for many centuries. In 1771, Junipero Serra, a Franciscan friar, and explorer, built a mission in this part of the area as part of the Spanish exploration of the part of the United States. This mission would form the nexus of the city. For the next few decades, the population grew until was about six hundred and fifty settlers. Los Angeles was part of Mexico from about 1821 to 1847. After the Mexican-American war, it became part of California and ultimately part of America. By the turn of the century, about a hundred thousand people made their homes in the part of the US, drawn by the pleasing climate and the low cost of housing. In the 1920's many movie companies choose this area as their headquarters and resulting in yet more population growth. World War II saw the development of the interstate highway system that made it easier for people to simply pack up and leave other parts of the country with great ease.
The Climate
While Los Angeles, in general, has a mild climate with only about thirty-five days of rain each year, it also has many micro-climates. Inland areas such as the San Fernando Valley may be as much as twenty degrees higher than areas by the water. The region has a mild climate compared to the rest of the country. The average high is about sixty-eight in January and about eighty-four in August. Snow and freezing temperatures are very rare. A common pattern is several years in a row with little rainfall followed by years with more precipitation.
Geography
Los Angeles is a famously sprawling place. More than eighty separate neighborhoods and the district mark the landscape. The city can be divided into about ten districts: East Los Angeles, South Los Angeles, Northeast Los Angeles, Downtown Los Angeles, Wilshire, the Westside, Greater Hollywood, the Harbor area and the Crescenta Valley and San Fernando Valley. Downtown Los Angeles is home to lots of tall buildings. The entire area is about five hundred square miles with about thirty-four miles being water and the rest land. The city includes Mount Lukens at over five thousand feet high. In the north lies the San Gabriel mountain range. The Los Angeles river stretches across fifty miles and serves to help with drainage. The city lies within the Pacific Rim of Fire. This makes it prone to earthquakes. While most earthquakes are too small to be felt, the area has been repeatedly subject to more dangerous quakes over the years.
Industry and Economy
City residents are employed in many varied fields that take advantage of the city's useful location and warmer than average climate. Health care and educational services represent the region's major sources of employment. Other areas of significant employment include manufacturing, the retail trade, food service, technical services, and communication. The city is noteworthy as one of the world's entertainment capitals. This is where many Americans films are created each year. International trade, particularly with the Pacific Rim and South America, is another factor driving the local economy. The aerospace industry has also seen a vast expansion in the area as it has the mild climate that makes it easier to service planes and outer space exploration. Many people also come here because they want to participate in the area's many major attractions such as Disneyland. Services catering to the needs of both American and international travelers are a major part of the regional economy. Students also choose to come here to study at colleges and universities such as UCLA.
Wedding Photography Facts – Infographic