Back in the 80s, my parents endured cross-country road trips in an old 1975 Astro Van full of five rowdy children.  These trips to places like Yellowstone, Zions, Badlands, and others weren't quite appreciated in our childhood or even teenage years. But in adulthood, these memories give me a sense of joy, comfort, and even purpose.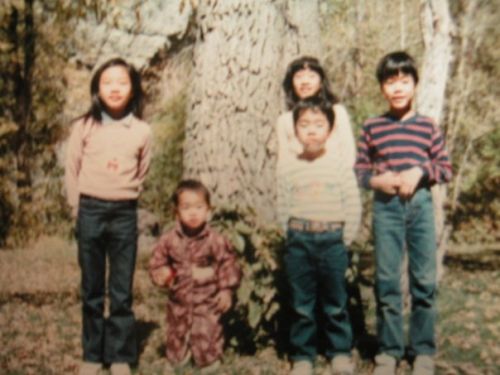 But how do I even remember these moments?  I can barely remember what I ate for dinner last night, let alone events that happened over 20 years ago.  I remember these moments because, over the years, the prints on the walls of our home helped me recall and relive that happy, carefree time in our lives.
That is the power of print.
Memories can get lost in today's digital world, existing on social media, hard drives, and "in the cloud" but rarely seen by our loved ones.
We believe that LIFE BELONGS IN PRINT
The fact of the matter is, a few months after your wedding, the social media buzz around your wedding will inevitably die down.  Your family and friends will forget about the great food they ate, the music they heard, and the conversations they had.  But every visitor in your home will see the beautiful prints on your walls and in your albums.
These prints allow your wedding to be re-lived, for a brief moment, by each and every person who comes to your home. Stories from your wedding will be told to family members who couldn't attend and to generations of family members who were not yet born.
Imagine the following conversation…
Remember at your wedding when …
Your vows were so sweet … I remember crying when you were saying them
I'm so sad I missed your wedding. Can I look through the album?
Wasn't your grandmother the most beautiful bride?
Prints are Family Heirlooms
Our prints, from albums to wall art, are family heirlooms with the quality and durability to last generations.
The Power of Print | Consider These Facts
Prints will make you think about your wedding more.
Prints will help you remember your wedding better.
Prints will initiate more conversations about your wedding.
Family portraits can improve a child's self-esteem according to this Study.
Physical material is more "real" to the brain. It has a meaning and a place. It is better connected to memory because it engages with its spatial memory networks according to this Study.
Physical material involves more emotional processing, which is important for memory and brand associations according to this study.
Your wedding is a celebration of love and deserves to be remembered. It deserves to be talked about. It deserves to be seen for generations. Let us help you take it from your hard drive to your walls so that it can remind you every day of the love you have for your family.
For more information about our albums, please contact our studio management.