Master the art of wedding photography with our 7 part, Complete Wedding Photography Training System. Taken by over 3,000 students and counting, this wedding photography course will teach you everything you need to master every aspect of the wedding day, from communication and planning, all the way through the wedding reception. The culmination of over 15 years of wedding photography experience, this is the training manual we use to teach and refine the skills of our own photographers, and the same system that has trained thousands of successful wedding photographers around the world.

Here's what we cover in this wedding photography course:
Workshop 1 | Communication and Planning
Runtime: 9 Hours. Learn how to book clients and guarantee them an incredible experience with your studio.
Consistently delivering high-quality images is essential for any successful photographer, but truly outstanding photographers go above and beyond to ensure their clients have an amazing experience. This workshop is designed to help you refine your soft skills, such as communication and empathy, so that you can fully understand your client's vision and needs when they hire you as their photographer. You'll learn how to build strong relationships with your clients and gain their trust from the very first meeting, creating a positive and enjoyable experience for everyone involved.

WORKSHOP 2 | PHOTOGRAPHING THE GROOM
Runtime: 9.5 Hours. An encyclopedia of knowledge for any second shooter capturing Groom & Groomsmen Portraits.  Building on the success of our first workshop, workshop 2 is dedicated to helping you create consistently incredible images for your clients. This wedding photography course is specifically focused on capturing the groom's portraits and journalistic moments during Groom Prep, teaching you the art of posing for both the groom and groomsmen, mastering flash photography, and much more. Our comprehensive training will equip both lead and second shooters with the skills and knowledge they need to confidently handle any scene or situation they encounter.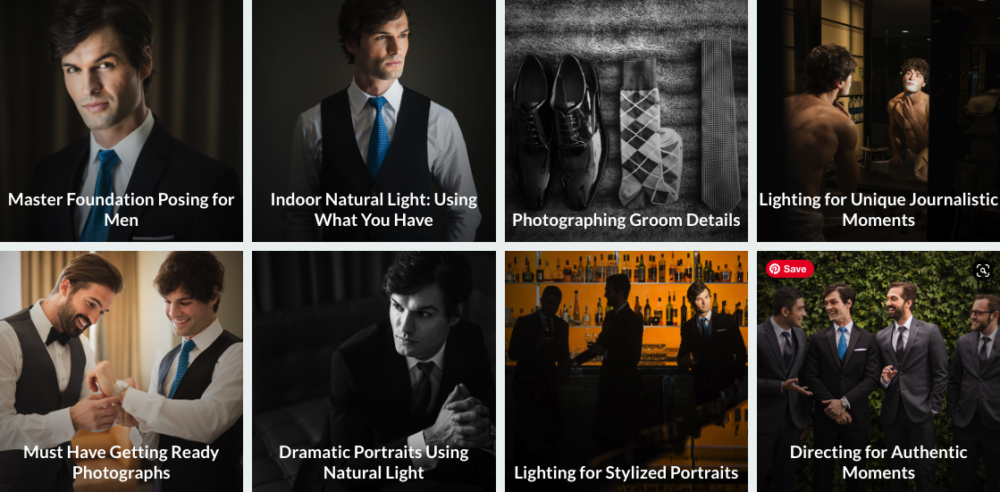 WORKSHOP 3 | PHOTOGRAPHING THE BRIDE
Runtime: 14.5 Hours. The ultimate guide to photographing, posing, & lighting beautiful Bride & Bridesmaids portraits. Join us for the third installment of the Wedding Workshop series, where we'll teach you the art of creating flattering portraits of the bride and her bridesmaids. Using our foundation posing framework, we'll guide you through editorial poses and micro-adjustments that will help you achieve a variety of stunning shots. Whether you're an experienced lead shooter or just starting out, our comprehensive training will provide you with the knowledge and skills necessary to handle any situation with confidence. Don't miss this opportunity to take your photography to the next level!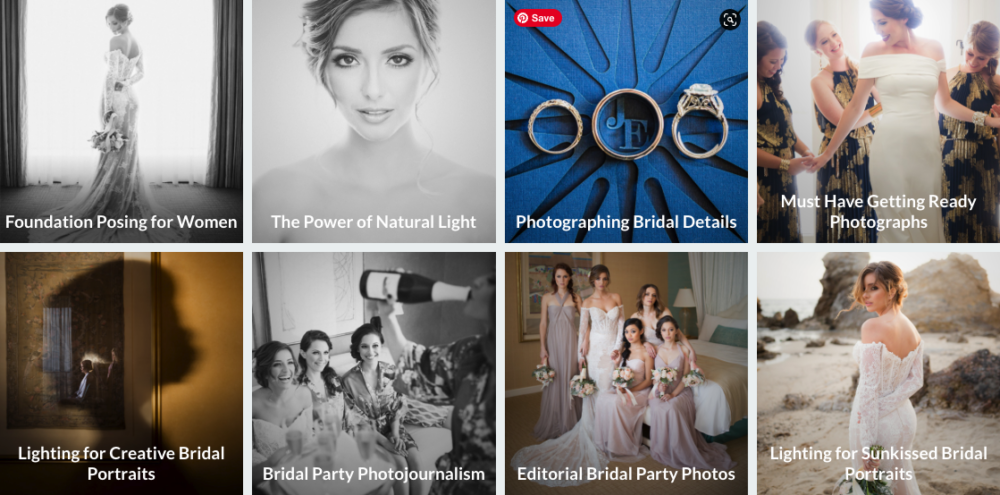 WORKSHOP 4 | PHOTOGRAPHING THE COUPLE
Runtime: 8.5 Hours. A career-changing workshop for Lead shooters looking to perfect their couples portraiture. Learn all the fundamentals of conceptualizing & capturing unforgettable couples portraits on the wedding day. We teach you how to create flattering couples' portraits and capture creative angles while using unique compositions and lighting techniques. The training we go through will provide lead shooters with the education necessary to be prepared for any scene and situation.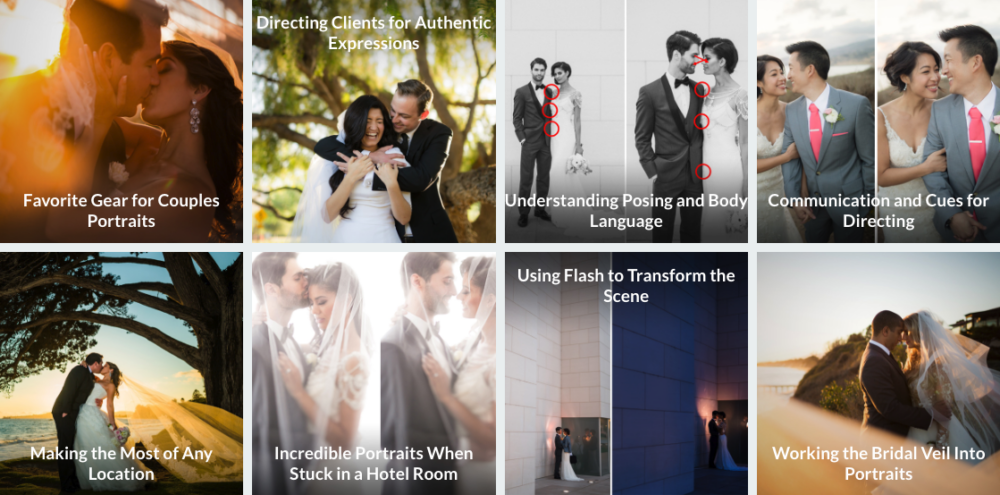 WORKSHOP 5 | PHOTOGRAPHING THE CEREMONY
Runtime: 6 Hours. Master the art of storytelling and capture every special moment during the wedding ceremony.  Photographing a wedding ceremony requires more than just technical skills. It also involves understanding the nuances of different wedding cultures and ceremonies, and knowing how to direct and manage your wedding team to ensure that you never miss another important moment. This wedding photography course is designed to help you create consistently amazing imagery that tells the story of the wedding day in a photojournalistic and artistic way. By the end of the workshop, you will have a deeper understanding of how to capture unforgettable moments and how to use your creativity to make them even more memorable.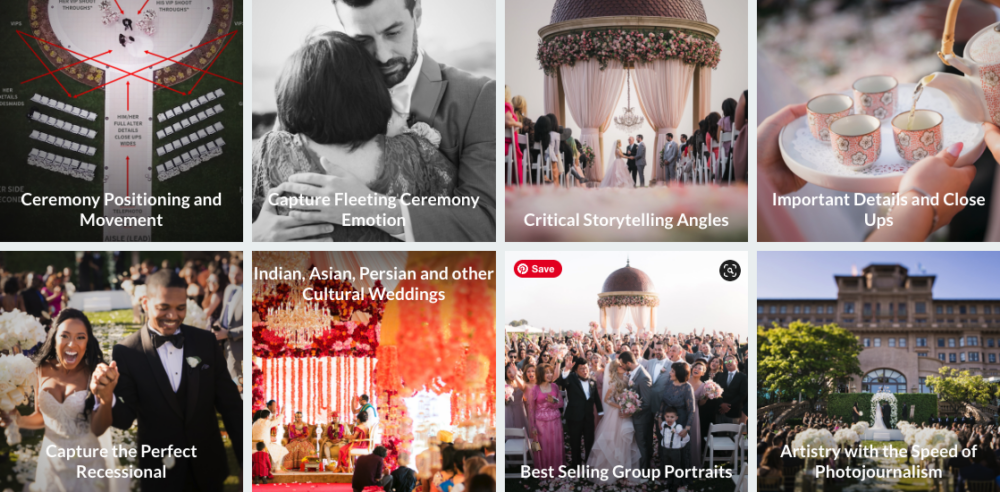 WORKSHOP 6 | PHOTOGRAPHING THE DETAILS
Runtime: 7.5 Hours. Capture stunning wedding decor photos that will get you published and noticed on social media.
The key to getting more referrals from wedding vendors is surprisingly simple: provide them with exceptional images that showcase their venue or services in the best possible light, and that will benefit their business. When vendors and venues receive these types of images, they are more likely to share them on social media, on their websites, and in publications, which can attract future clients.  Master the art of capturing wedding details in this wedding photography course so that you can take your business to the next level and achieve greater success!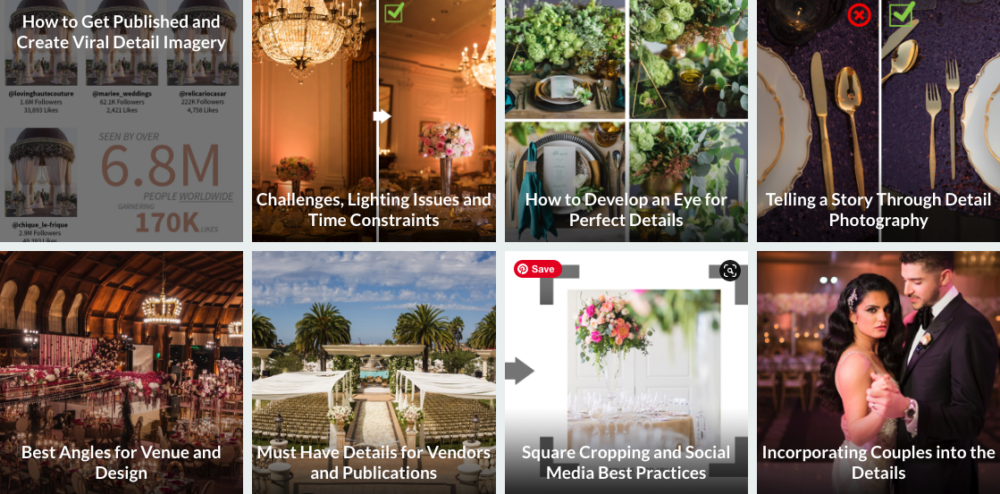 WORKSHOP 7 | PHOTOGRAPHING GROUPS
Runtime: 9 Hours. Perfect group portraiture with simple lighting guides, posing techniques & communication tips. It's designed to help you overcome one of the most stressful aspects of wedding photography: capturing group shots. Whether you're looking to perfect your lighting, posing, composition, camera settings, or client direction, we have you covered. With our guidance, you'll be able to create group portraits that stand out and sell your brand effectively.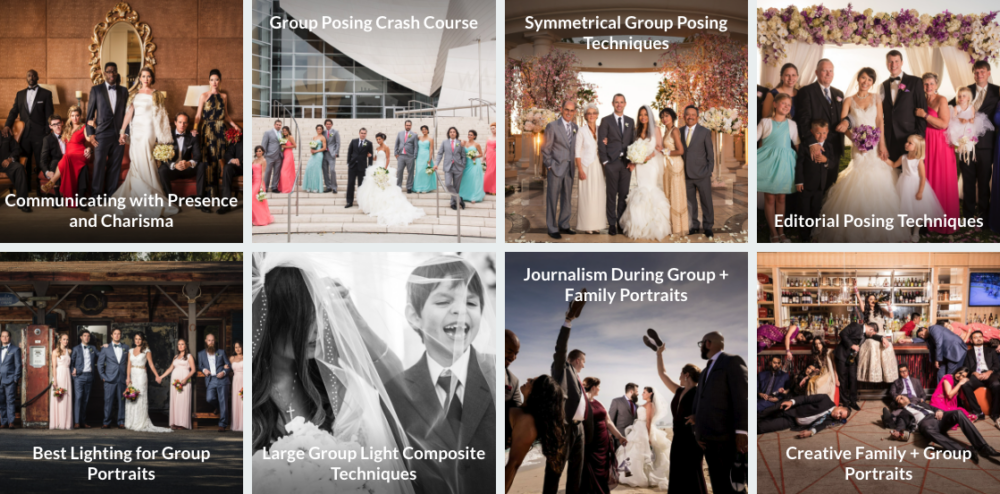 WORKSHOP 8 | PHOTOGRAPHING THE RECEPTION
Runtime: 6 Hours. Never struggle with off-camera flash again in any reception venue, no matter how dark the scene.
This wedding photography course focuses on the reception. Our goal is to help you create stunning imagery with minimal gear and easy-to-use lighting techniques. Reception lighting can be tricky since every wedding reception is different, but our workshop will teach you how to modify your light source in four different ways to accommodate any event. Additionally, we'll provide you with a formula for nailing exposure in any venue, whether it's indoors or outdoors.
Off-camera light setups are one of the most frequently asked questions we receive from our community, and we're going to tackle all of them and more in this workshop. You'll learn how many flashes to use, where to place them in the reception room, and what power settings to use. With our guidance, you'll never struggle with reception OCF again.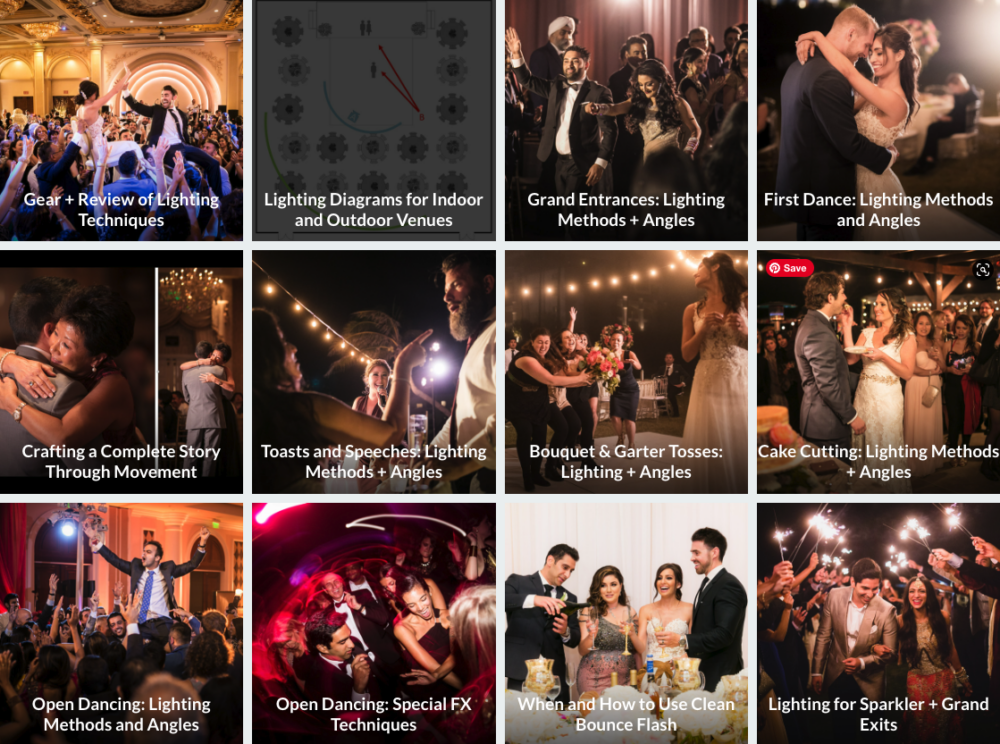 How to Sign Up For This Wedding Photography Course
You can sign up for the Wedding Photography Training System by joining SLR Lounge Premium.