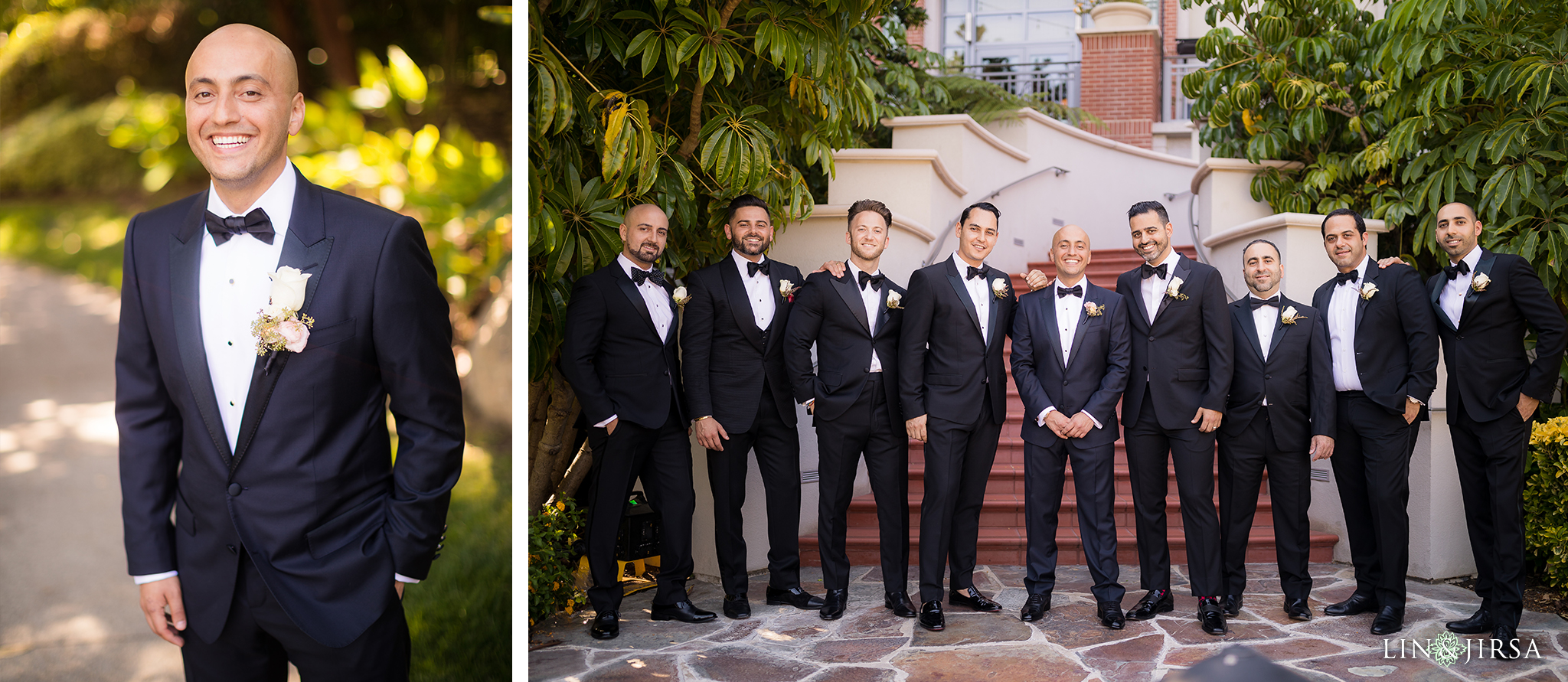 From the groom and his groomsmen to the father of the bride, these petite floral arrangements are a special way to honor the significant men of your wedding day. One common issue that arises involves these important men needing assistance with pinning their boutonnieres. Although it may seem complicated, pinning a boutonniere is quite easy. With these 3 easy steps, you'll  have the knowledge to successfully pin a boutonniere in less than 60 seconds.
Step 1: Place The Boutonniere On The Left Lapel
The boutonniere should be placed on top of the lapel and on the left side. If you're pinning the boutonniere on some else then it should be placed to the right of the tie. The boutonniere is typically placed lower than the tie, but above the pocket square.
Step 2: Fold The Lapel Over the Boutonniere
After you've correctly positioned the boutonniere, form a taco shape by folding the material over the flower and that should allow you to see the back of the lapel.
Step 3: Slide The Needle Downward Into The Back Of the Lapel
Insert the needle at a downward angle making sure it runs through both sides of the lapel. Be sure to stick the needle through the thickest part of the boutonniere, the flower stem. It's important to insert the needle at a downward angle to ensure that the boutonniere stays in place throughout the event.
After you've pinned the boutonniere, check and see that the needle is not visible from the front and the boutonniere is secure. You could also work with two pins for more stability.
About Lin & Jirsa
Creative. Clean. Different. We are a group of creatives in Orange County with a passion for storytelling. Founded in 2007, our studio has been recognized as the best wedding photographers in Los Angeles and Orange County by various publications, websites, and groups. We'd love to show you our studio in Orange County, California and walk you through our albums, canvases and other print photography products. We can also provide more information on our Wedding Videography and introduce you to our team!
As industry leaders, we also hold in person and online workshops for both aspiring and established wedding photographers. If you're interested in attending our workshops, be sure to click here for more info.