Stunning, dazzling, and eye-catching are just a few words that come to mind when you think about Indian weddings and brides in particular. Women are adorned in beautiful and colorful fabrics, and the look is completed with some of the most fabulous Indian wedding jewelry you can imagine.
The meaning of a bride's jewelry goes well beyond physical beauty, however. The pieces a woman wears carry spiritual and cultural significance on one of the most important and memorable occasions of her life.
The Precious Metals of Indian Bridal Jewelry
Traditional Indian jewelry typically "goes for the gold" as gold is considered auspicious for major life events such as weddings. In olden times, gold was a symbol of wealth and prosperity in the Eastern world and signified a family's wealth and status. Today's bride may expand her color palette and incorporate platinum and silver. The rising popularity of colorful designs that sparkle and glitter mean that other jewelry styles, such as Kundan, Lac, and Jadau, are also being included in more and more bridal looks.
Tradition, trends, and the unique personal taste of each bride all play a role in determining the pieces she will wear on her special day.
Essential Indian Bridal Jewelry Pieces from A to Z
Indian brides seem to absolutely shine thanks to the gorgeous jewelry that adorns them from head to toe. The following list captures the most essential pieces that no Indian bride would be without on her wedding day.
Anklets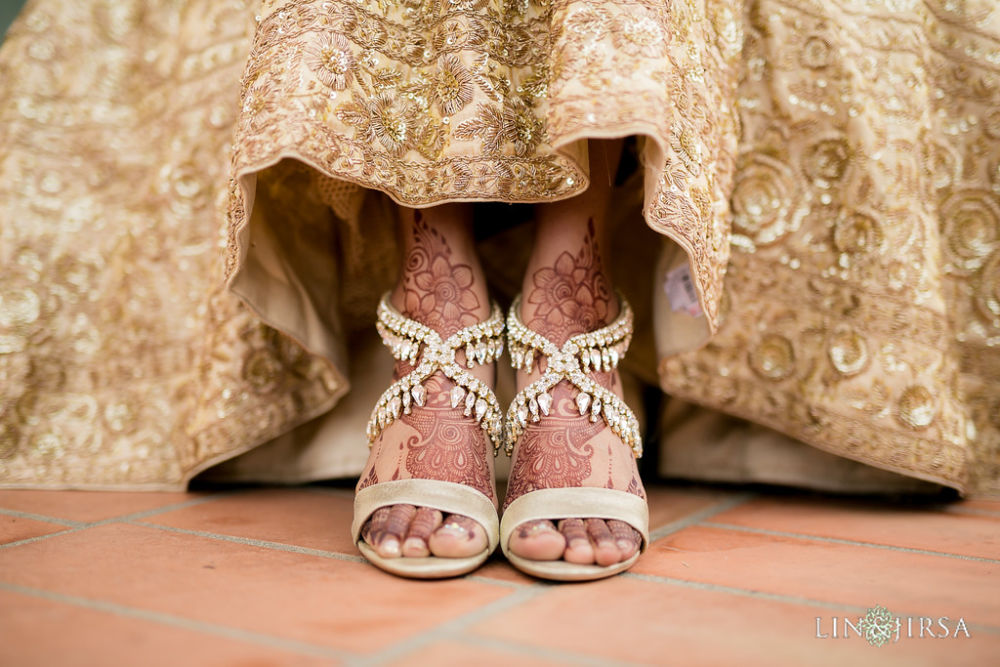 Also known as payal, anklets are key elements of a bridal outfit and are often worn in conjunction with toe rings. Both have special significance as symbols that signify a woman is married. They are also considered to be supportive of women's health, particularly reproductive health.
Bangles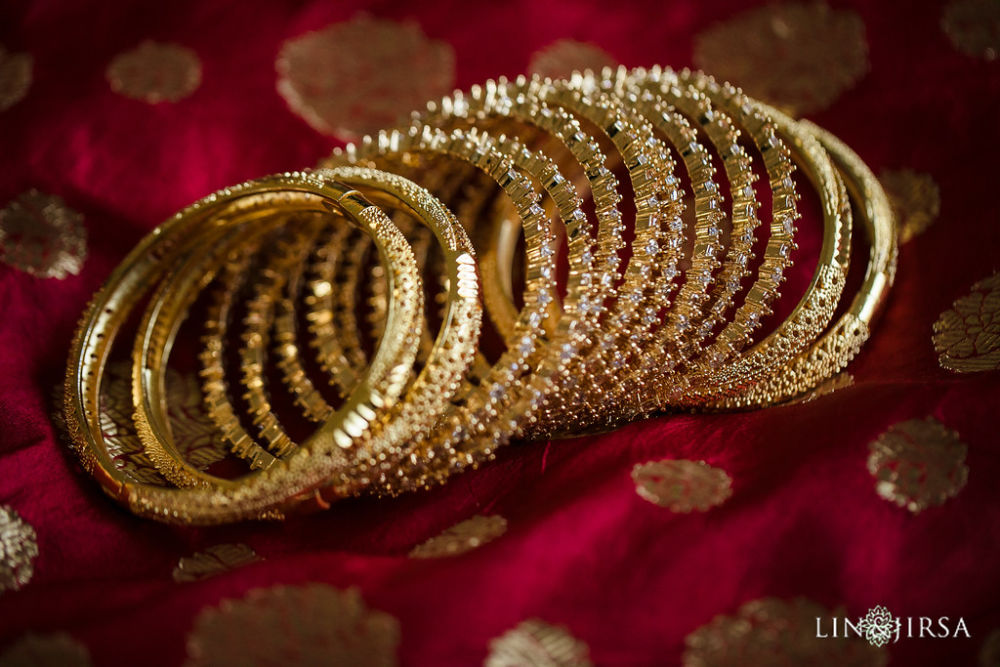 Gold, glass, diamond-studded, or otherwise, bangles are an absolute must for every Indian bride. The tinkling sound they make when they are worn is reminiscent of the laughter that marks the joy of a wedding day. Punjabi brides wear a specific set of bangles called Choora. It consists of a pair of 21 red and ivory bangles that she is intended to wear for 40 days after the wedding.
Earrings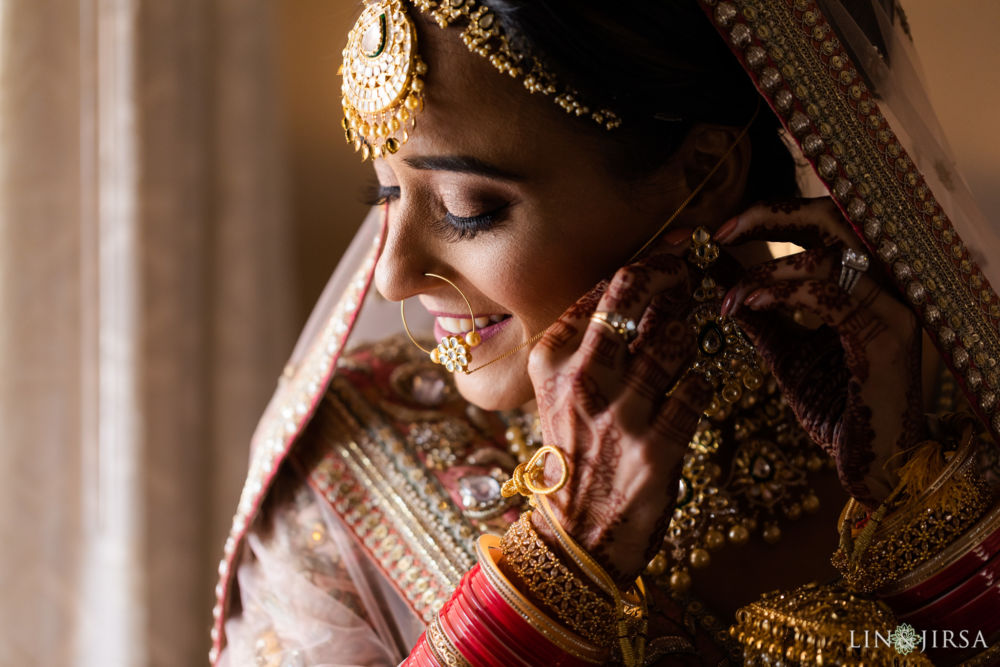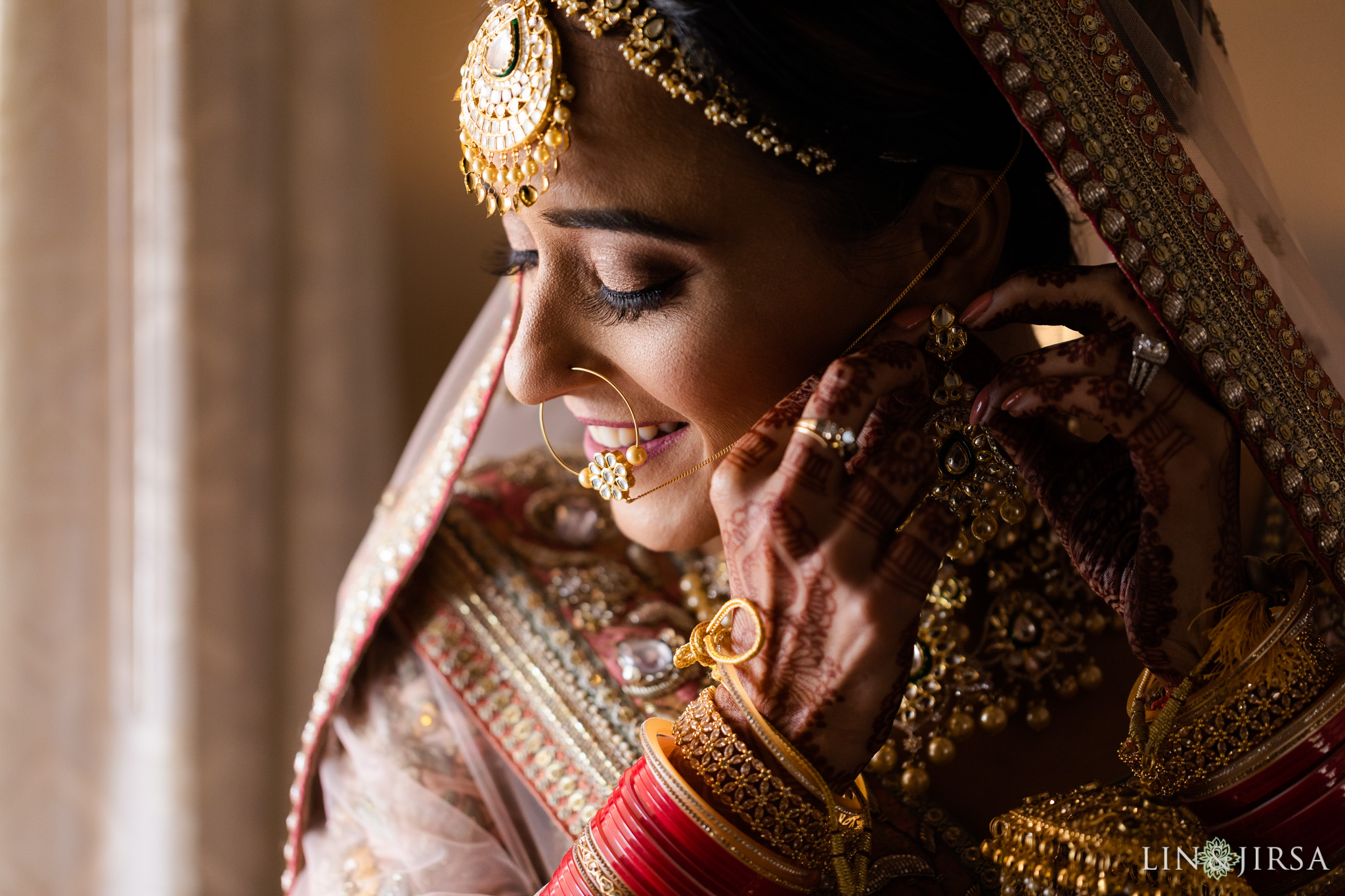 Another important item, earrings are often chosen to complement the bride's necklace and hairstyle. Intricate patterns are considered en vogue, as are heavier designs. Earrings are considered "required attire," however, so a bride must give some thought to comfort when selecting them, as she will wear them throughout the entire ceremony. The word 'Jhumki' refers to the traditional bell-shaped earring design of India. The design has hanging decorative elements and is loved for the distinctive 'jingle' of these hanging elements.
Rings (on Finger)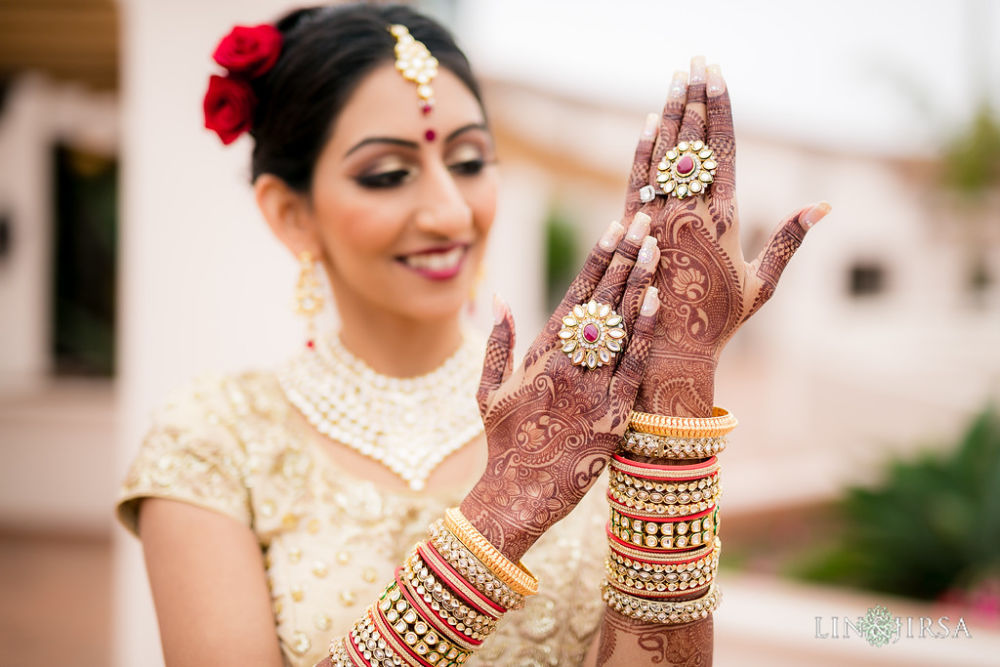 Perhaps the most essential jewelry of all is the rings. Brides are expected to wear their engagement rings to the wedding, and they may choose to wear additional ones with colorful stones that match their outfits.
Maang Tikka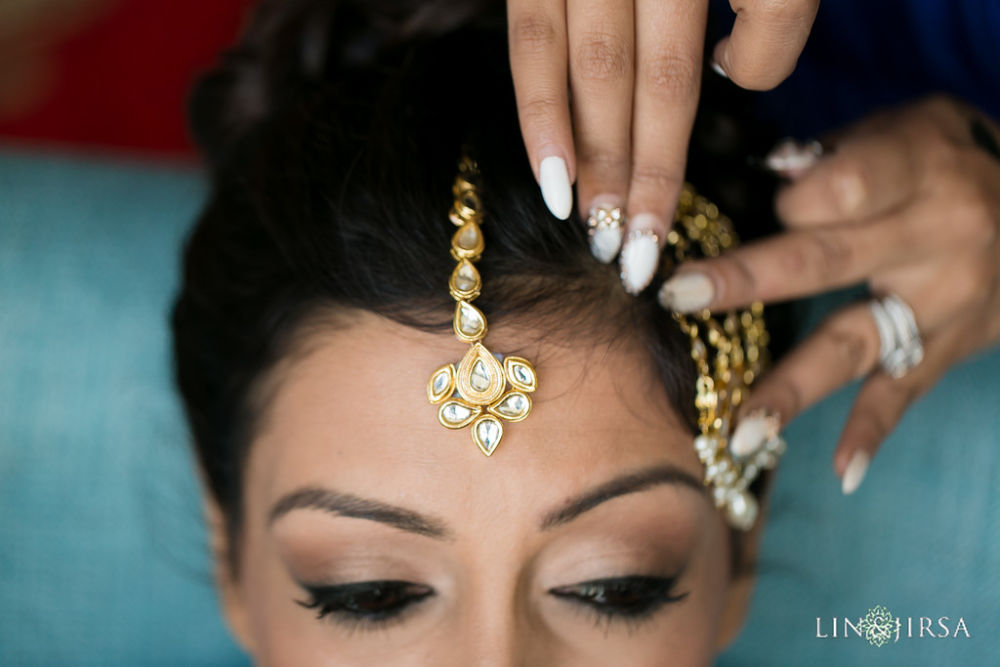 Centered on a woman's forehead at the part of her hair, the maang tikka is another important symbol of a woman's status as married. Maang tikkas are often chosen to match the necklace and earrings and complement the particular shape and size of the bride's forehead.
Necklace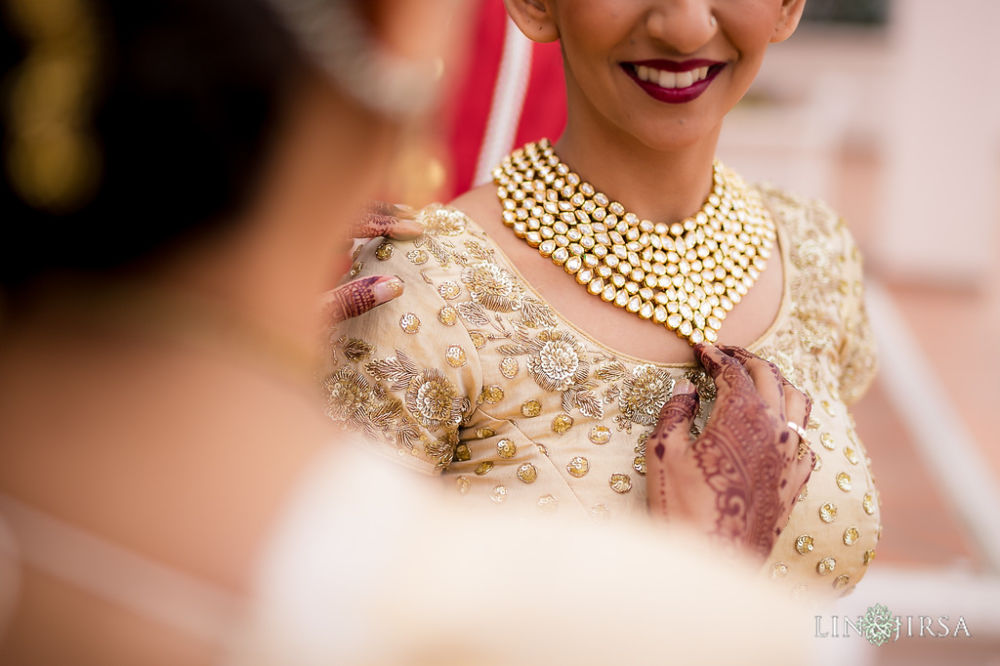 Pretty much anything goes for necklaces as long as they lend the bride a touch of glamor and a majestic aura. Simple gold was considered the standard in years past, but modern brides are opting for necklaces embellished with diamonds, Kundan, and other colorful accents.
Nose Ring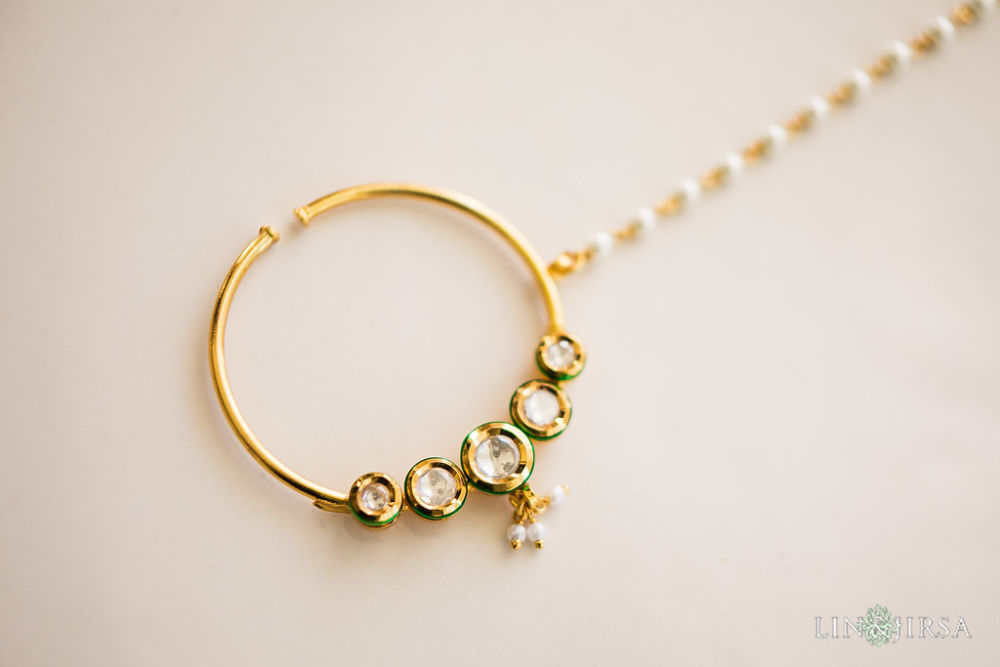 Nose rings, or naths, are one of the more distinctive items of Indian bridal jewelry and have a long history dating back to the Mughal Empire. They come in a range of sizes and add an undeniable flair to a bride's look.
Waistband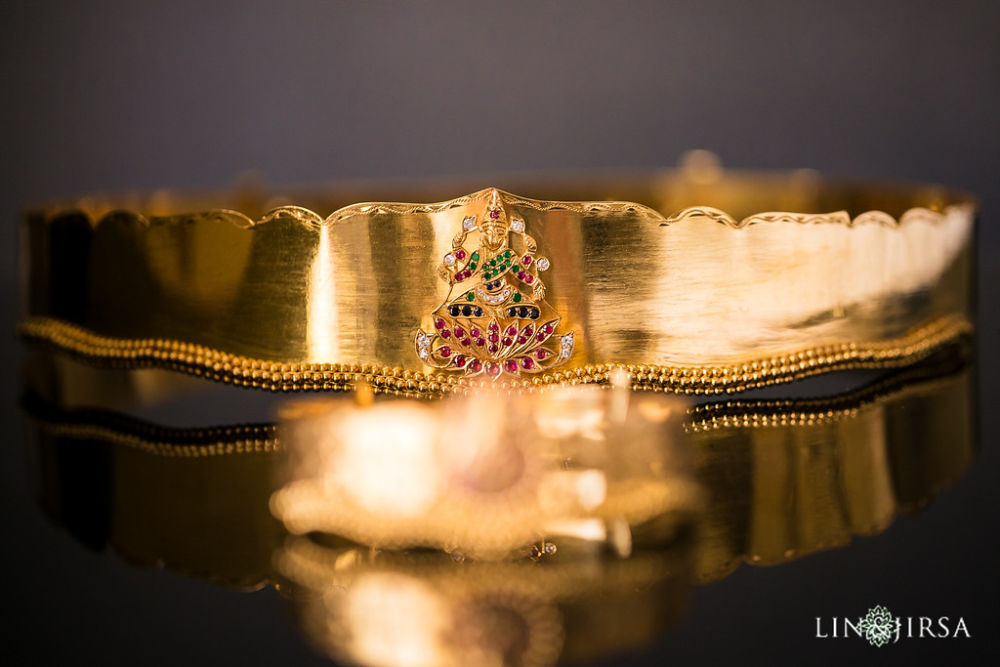 Having at one time almost fallen out of fashion, waistbands are now back in a big way. They owe their renewed popularity to the fact that they enhance the beauty of the torso, and some say they lend a sort of angelic or heavenly quality to a bride. Waistbands come in a range of styles, from curvy and broad to slim and delicate, and brides typically select ones according to their unique body shapes, outfits, and personal preferences.
Shine On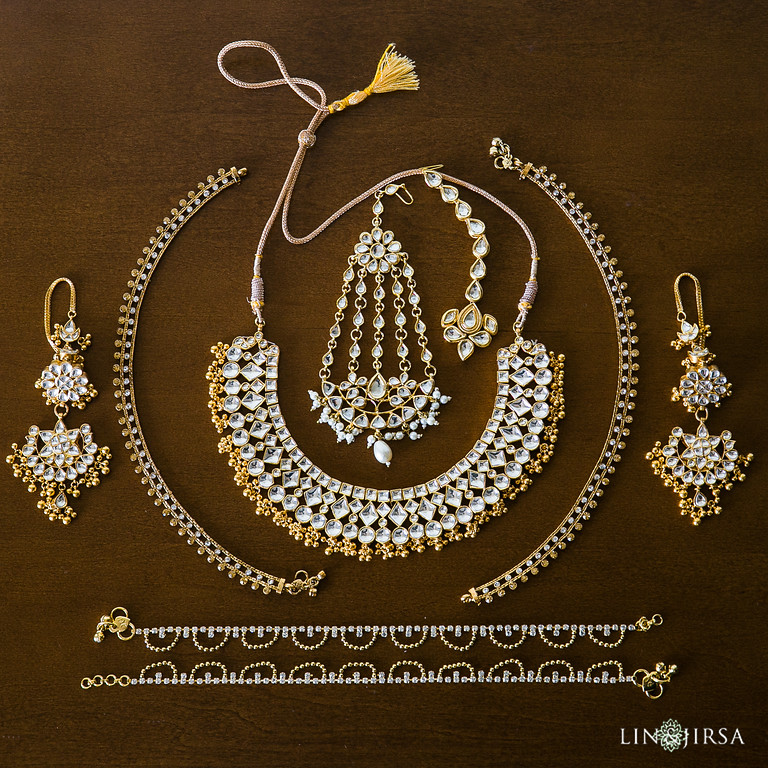 A bride on her wedding day should shine bright like a diamond and glitter like gold. Indian bridal jewelry accents a woman's beauty from the maang tikka on her head to her toes' rings. Blending tradition with their unique personal styles, brides use a variety of precious metals and stones to create a look that marks this very special day and announces to the world her transition from single to married.