Common knowledge in portrait photography is that shooting at sunrise or sunset is preferred because of the soft, directional  light during those times.  However, how does sunrise compare with sunset for portrait photography? Below are a few factors to consider:
The Flow of the Session
Sunset is typically better than Sunrise in portrait photography because of the general flow of the session.  A typical session schedule is as follows:
Warmup and Basic Portraits
Action and Creative Photos
Sunset Environmental Portraits
Twilight/Night Photos
The first phase of the session, the Warmup and Basic Portraits, is a critical time for you and your photographer to warm up, to establish rapport, to communicate essential posing cues, and to capture essential, basic portraits.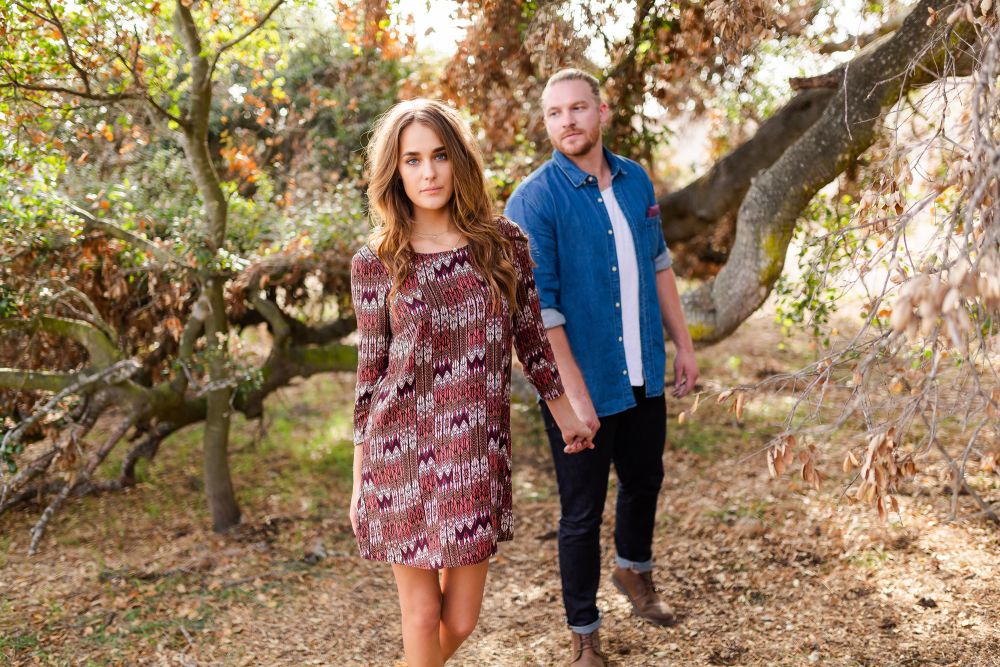 Basic Poses 1 to 2 hours Before Sunset
For a sunset session, this phase of the session happens when there's still plenty of ideal light in the scene, as you can see from the photo above.  In contrast, for a sunrise session, this phase is a bit more difficult because of the lack of light and is usually cut short or cut out of the session.
The Location of the Session
The location of your session is another critical factor.  In California, for example, the sun sets over the ocean.  So if you're doing a beach or ocean-view session and you want beautiful environmental portraits with background views of the water, then sunset is your best option.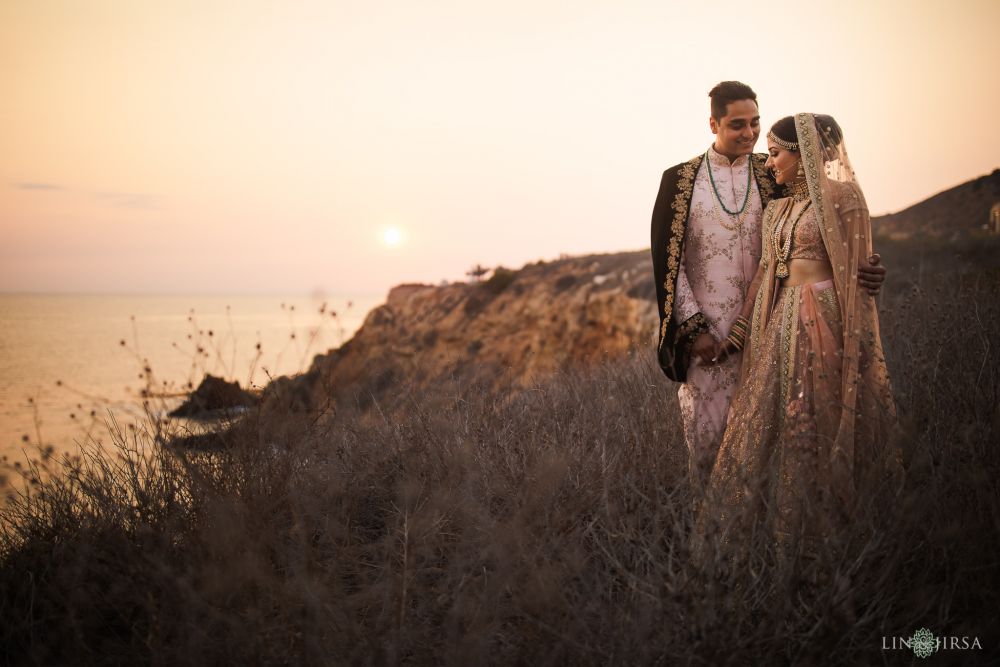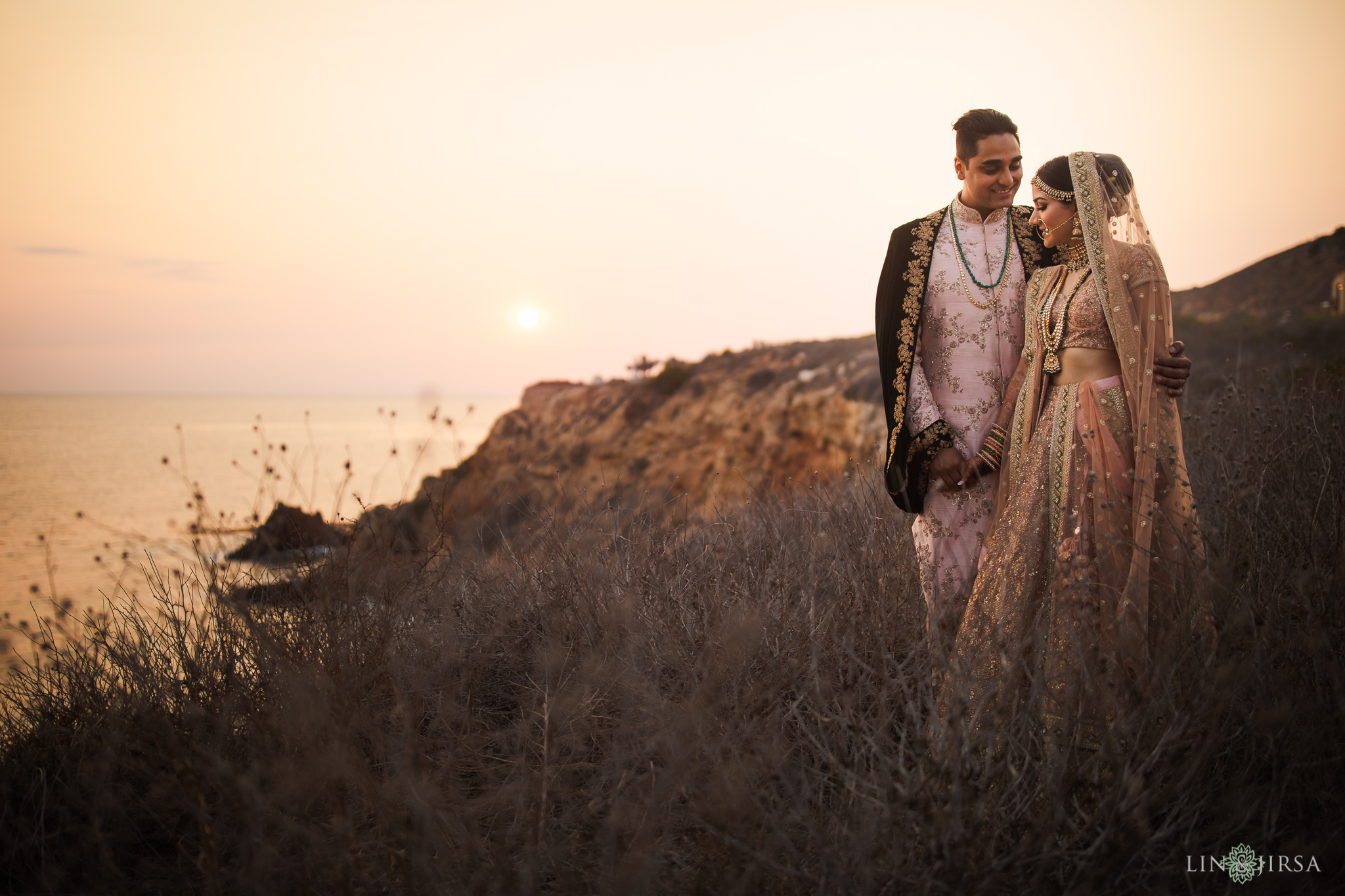 Sunset behind the couple
If you're not doing a beach session, then it's still important to consider where the sun is setting relative to your ideal background.  The sun should be setting behind your ideal background.
Other Factors to Consider
Besides the two major differences listed above, here are a few other factors to consider.
Energy – A sunrise session should start about 30 minutes to 1 hour before stated sunrise.  Factoring in the time for hair and makeup and the travel time to the location, this could mean a wakeup time 2-3 hours before sunrise.  We've found that the natural energy of our couples are better at sunset.
Location Availability – Is your desired venue open at sunrise?
Foot Traffic – Does sunrise or sunset have more foot traffic at your location?  One of the advantages of sunrise sessions over sunset is that some locations are empty at sunrise and become busy at sunset.
Conclusion
Because of the factors listed in this article, we highly recommend sunset sessions over sunrise sessions.  However, our team has had experience with both, so if a sunrise session is the only type of session that fits your schedule, then we can make either work.