Vidaai – The Bride's Farewell

One of the most recognizable moments of a Hindu marriage ceremony is the Vidaai, when the Bride's family bids farewell to their daughter as she rides away with her new Husband. Also known as the Bidaai, based on which region is celebrating the ritual, this ritual is one of the most emotional stages of the wedding day for both the Bride and her parents. During the Kanyadaan ceremony the father of the Bride accepts the union of the Bride and Groom, however, the Vidaai is the official sendoff for his daughter.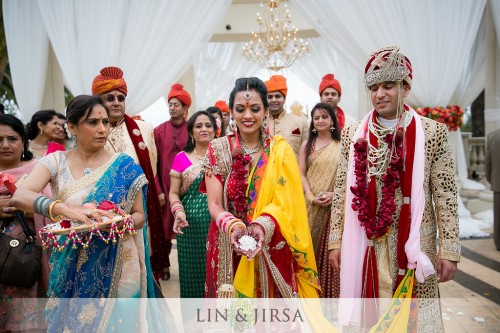 Family and relatives of the Bride accompany her to the exit of the wedding venue, her parents leading the pack holding their daughter close. Before crossing the doorstep the Bride is given a handful of rice, and sometimes coins, which she is required to throw over her head behind her as she leaves. This is supposed to symbolize a repayment to her parents for all that they have given her throughout the years. She conveys good wishes for her parents and shows them gratitude for loving and caring for her all her life – by doing so she maintains that the house of her childhood remains happy and prosperous.
Females are considered the manifestation of the Goddess Lakshmi as per Hindu religion. She is the deity of wealth and prosperity and is observed during this ritual in order to ensure that her family preserves the values of wealth and prosperity as she leaves them.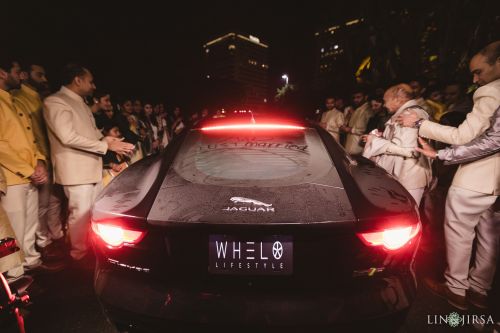 The Father of the Bride is usually the last one in line to bid his daughter farewell before handing her off to her new life – her now husband. He requests of the Groom to care for his daughter and forgive her for her mistakes, to be a constant guide through their marital journey, essentially handing away his most cherished and beloved possession. This crucial moment defines this ritual and gives it its memorable emotional connection – a father's love for his daughter in its true and raw form.
Bridal Party During the Vidaai
The couple steps into a car decorated and adorned for the occasion and commence their final farewell. The brother and cousins of the Bride help push the vehicle as an indication of their acceptance of their new voyage into marital bliss and watch as they drive away from the wedding venue. The female friends and relatives of the Bride however playfully stand in front of the car preventing the couple from leaving. The groomsmen and male relatives then remove the girls in order to help their 'brother' take his Bride away. Often times wedding guests throw coins or rice to ward off evil eye similar to their blessings during the marriage ceremony.
More Images of Vidaai
Check Out More Vidaai Images On Pinterest
About Lin & Jirsa
Creative. Clean. Different. We are a group of creatives in Orange County with a passion for storytelling. Founded in 2007, our studio has been recognized as the best wedding photographers in Los Angeles and Orange County by various publications, websites, and groups. We'd love to show you our studio in Orange County, California and walk you through our albums, canvases and other print photography products. We can also provide more information on our Wedding Videography and introduce you to our