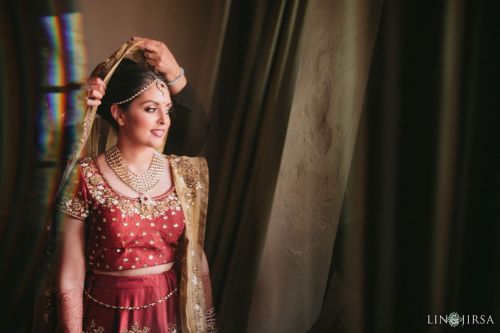 Indian Bridal Outfit
The most memorable part of an Indian wedding's is witnessing the beauty and elegance of the Bride on her special day. With all the glitz and glamour going on around her, the Bride maintains to be the central focal point of the wedding day. The Bridal Saree or Lengha is ornamented with embroidery and intricate designs, making for an eye-catching and exquisite piece of work. Various regions in India require the Bride to wear certain jewelry or wrap her saree in a specific manner. It is common for Bride's to place Bindi's, circular red and/or white stickers, above the eyebrows, however, the area between the eyebrows remains empty until the ceremony; the Groom places Sindhoor, red vermillion, here during the wedding ceremony. Besides her outfit and jewelry, the Bride has her hands and feet decorated in Mendhi, completing a head to toe transformation for her wedding day.
In Gujurati weddings, Brides typically wear a Saree however it is tied with the 'Palav', the rest of the Saree material that isn't wrapped around the Bride's waist, facing the front. South Indians, on the other hand, wear a different type of Saree made of silk material with gold bordered lining, a more traditional take on Bridal wear.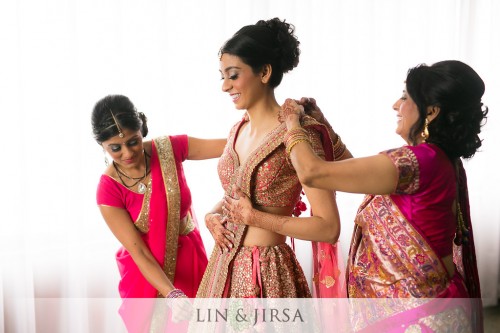 Hindu Bridal Wear
After finishing make-up and hair, the Bride begins draping her Saree or putting on her Lengha. A saree is wrapped around the waist whereas a lengha is a skirt that you slip on. The traditional Hindu Bride is said to wear a red outfit symbolically referencing the planet Mars. According to astrology, Mars is the planet in charge of marriages, representing prosperity and fertility.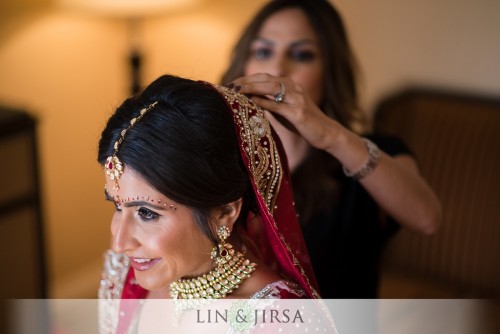 The Bride then starts putting on her jewelry with the help of her mother and close relatives. On the center of her forehead she wears a 'Tikka', representing the 'ajna chakra', meaning to know or perceive in Sanskrit. She then wears a necklace, usually comprised of uncut diamonds, gold, gem stones, similar to what Indian royals used to wear. The Mother of the Groom usually gifts her new daughter-in-law a gold bangle to wear for her wedding day, which the Bride wears amongst her row of bangles, or 'Chudiyan', on her wrists. The mother of the bride helps her daughter wear 'Jhumki's', heavy set earrings, and small items of jewelry such as anklets, nose rings, toe rings, and arm bands. The 'Dupatta', head scarf or veil, is the last item placed on the Bride.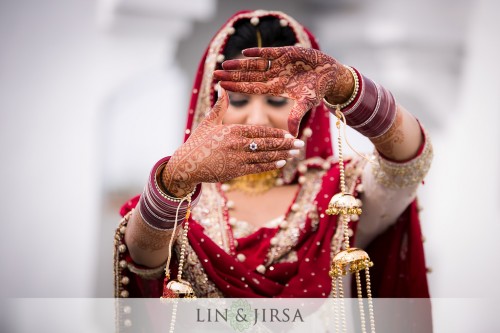 Punjabi Bridal Suit
Punjabi Brides wear a Salwar Kameez, an extremely opulent pant suit, or lengha. Traditionally, Punjabi Brides are said to wear gold jewelry, however with changing times various styles of jewelry as been adapted. The bride wears white and dark red bangles made of ivory known as 'Chooda'. They are usually in multiples of four and according to tradition the bride must wear it for at least a year after her marriage. Nowadays, Brides only choose to wear it for a month following their nuptials.
Friends and sisters-in-law tie 'Kalire', a hanging ornament made of gold or silver on these bangles. encrusted with dried coconut and beetle nuts. Similar to a Hindu Bride, a Punjabi Bride wears a Dupatta to top off the look before she heads towards the wedding venue.
More Images of Indian Bridal Attire 
About Lin & Jirsa
Creative. Clean. Different. We are a group of creatives in Orange County with a passion for storytelling. Founded in 2007, our studio has been recognized as the best wedding photographers in Los Angeles and Orange County by various publications, websites, and groups. We'd love to show you our studio in Orange County, California and walk you through our albums, canvases and other print photography products. We can also provide more information on our Wedding Videography and introduce you to our team!