The Orange County coast offers miles of beautiful beaches, some with endless views of open sand and others with unique rocks and tide pools. When it comes to planning a beach visit, whether you're going for relaxation or a portrait photography session, you have plenty of options. In this article, we'll break down the best beaches in Orange County for your engagement, portrait or family photography session based on our years of experience photographing incredible couples and families in the area.
What to Look for in a beach photography location
Before we get started with the unordered list, here are a few things to consider for when choosing a beach for your photography session.
Crowds – Avoid the most popular beaches if you want to avoid large crowds. Also, avoid weekend photography sessions at the beach if you're looking for the best, most seamless experience.
Sunset Location – Look for a location with a direct view of the sunset. Some coves don't allow you to see the sun setting, which can still be beautiful but may be limiting.
Variety – Look for a variety of landscapes and backgrounds, including open sand beaches or rocky shores with tide pools to photograph engaged couples. Some of the best beaches to visit for leisure aren't necessarily the most interesting in photos.
Access – Look for an easy access point (beach parking lot, public beach entry) without a long walk down the shoreline.
The Best Beaches in Orange County
Please keep in mind that these are not in any particular order.  The perfect beach is a personal preference that you should match to your vision, your style, and your personalities.  For more information, you may also be interested in our Best Engagement Photography Locations article.
 Victoria Beach in Laguna Beach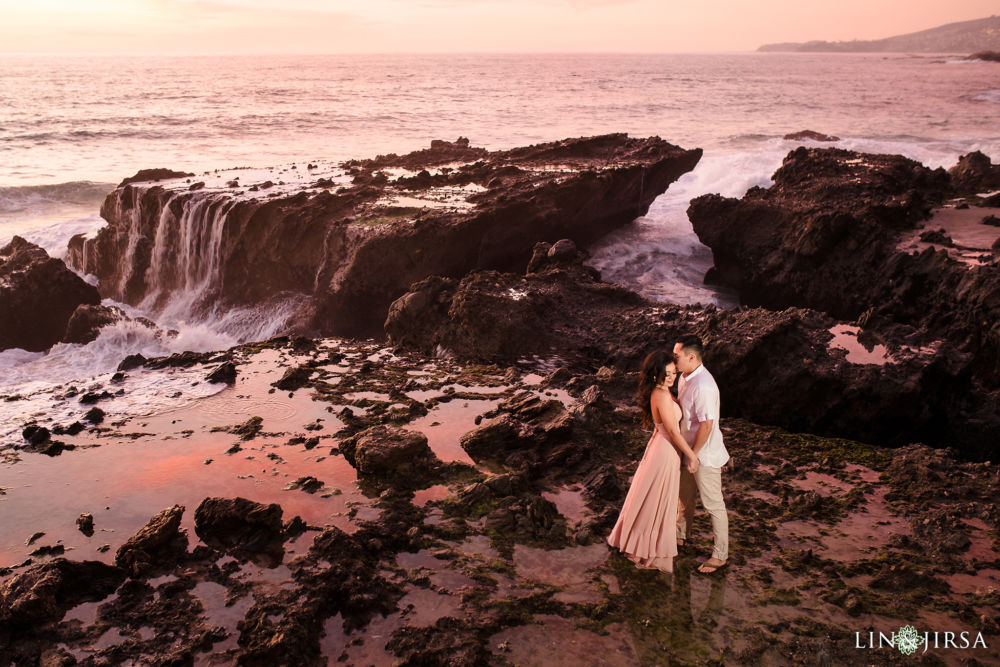 This is one of the most iconic beaches in Laguna Beach and offers a beautiful view of the rocky shoreline, with tide pools at low tides. The beautiful fairytale-like tower is also an iconic aspect of the scene.
Crystal Cove State Park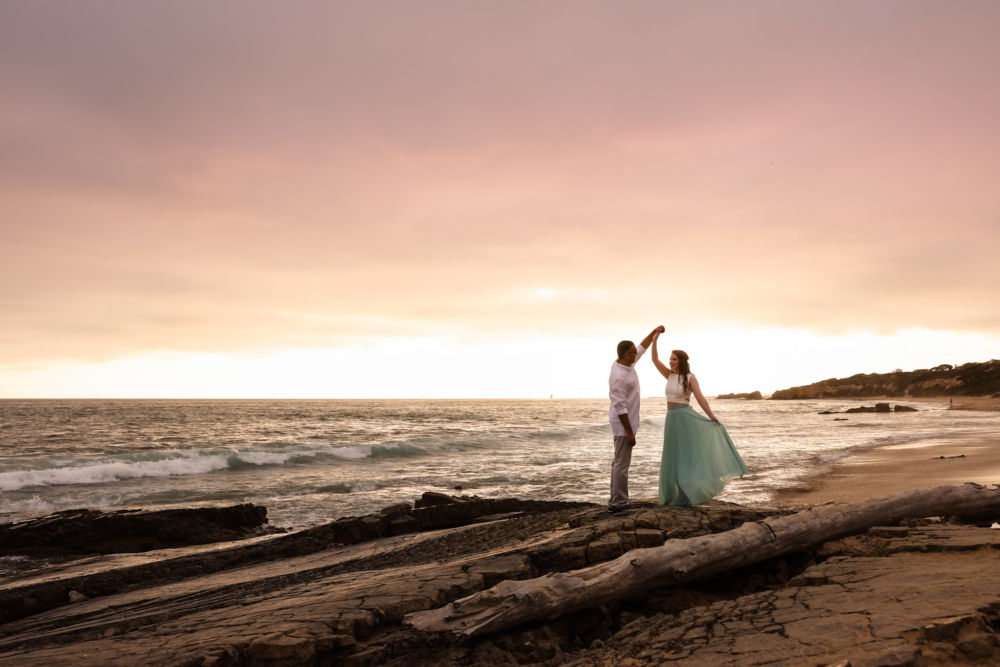 This scenic beach offers various great photo opportunities: from tide pools which are accessible at low and high tides, to a variety of rock formations. It is also home to hundreds of sea lions who can be seen roaming on the shoreline or in the water.
Treasure Island Beach in Laguna Beach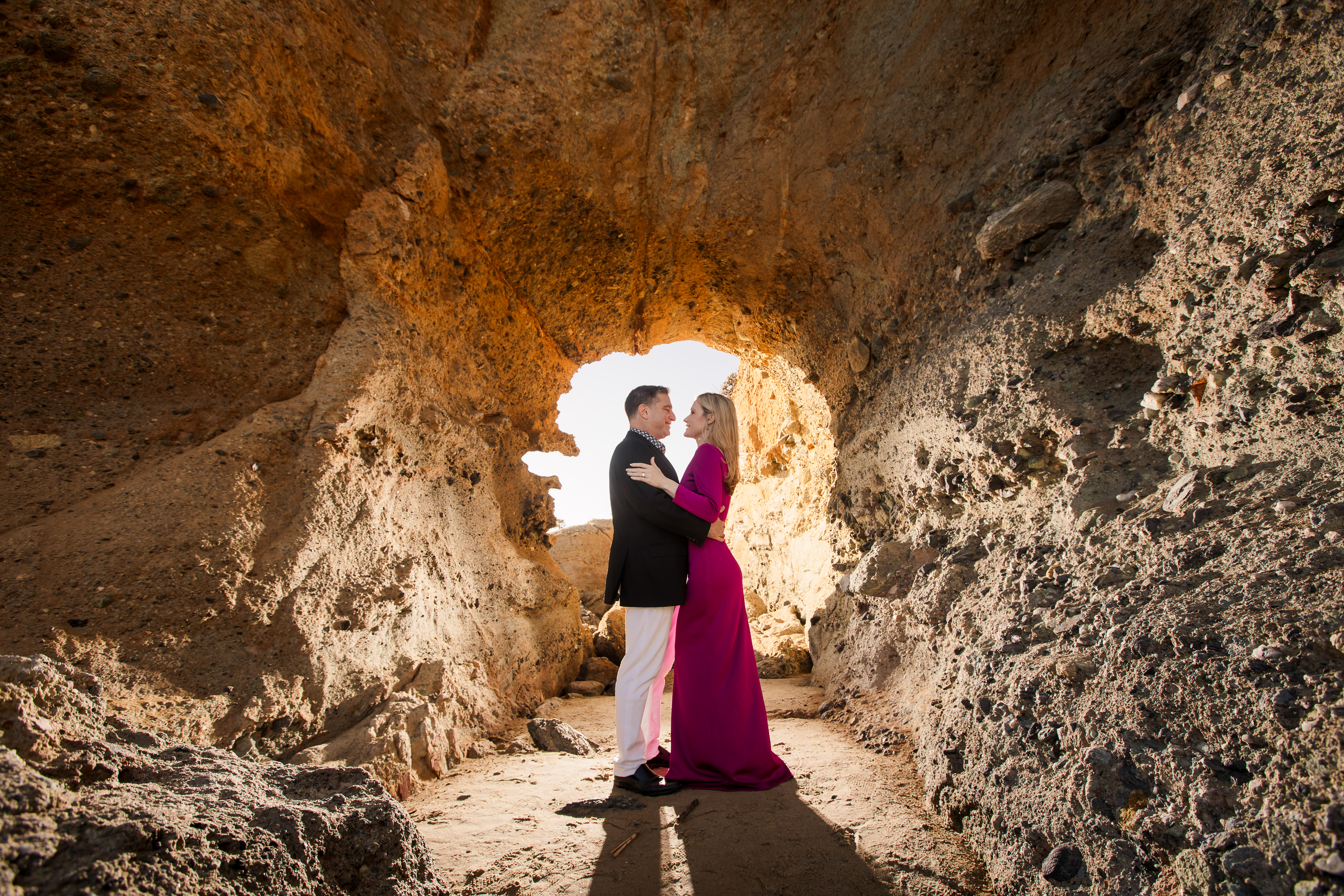 Treasure Island is the southern most beach guarded by City of Laguna Beach, Department of Marine Safety; located just north of Aliso Creek Beach. It is best accessed by ramp at southwest corner of Montage Resort from oceanfront onto Treasure Island.  The beach features a beautiful arch, tide pools and sandy beaches.  However,  this is a busy beach with lots of crowds compared to Victoria and Crystal Cove.
Heisler Park Beach in Laguna Beach
The Heisler Park Beach is a popular spot for locals to enjoy the water and sand.  The oceanfront park stretches along the bluffs on Cliff Drive from Aster Street to Diver's Cove. The scenic, beautiful location has manicured lawns, walking trails, and gardens that provide a scenic view of the waters below.  Picnic tables for restful time outdoors are also available as well as lawn bowling greens if you're feeling competitive! Restrooms located near-by too!
Newport Beach Pier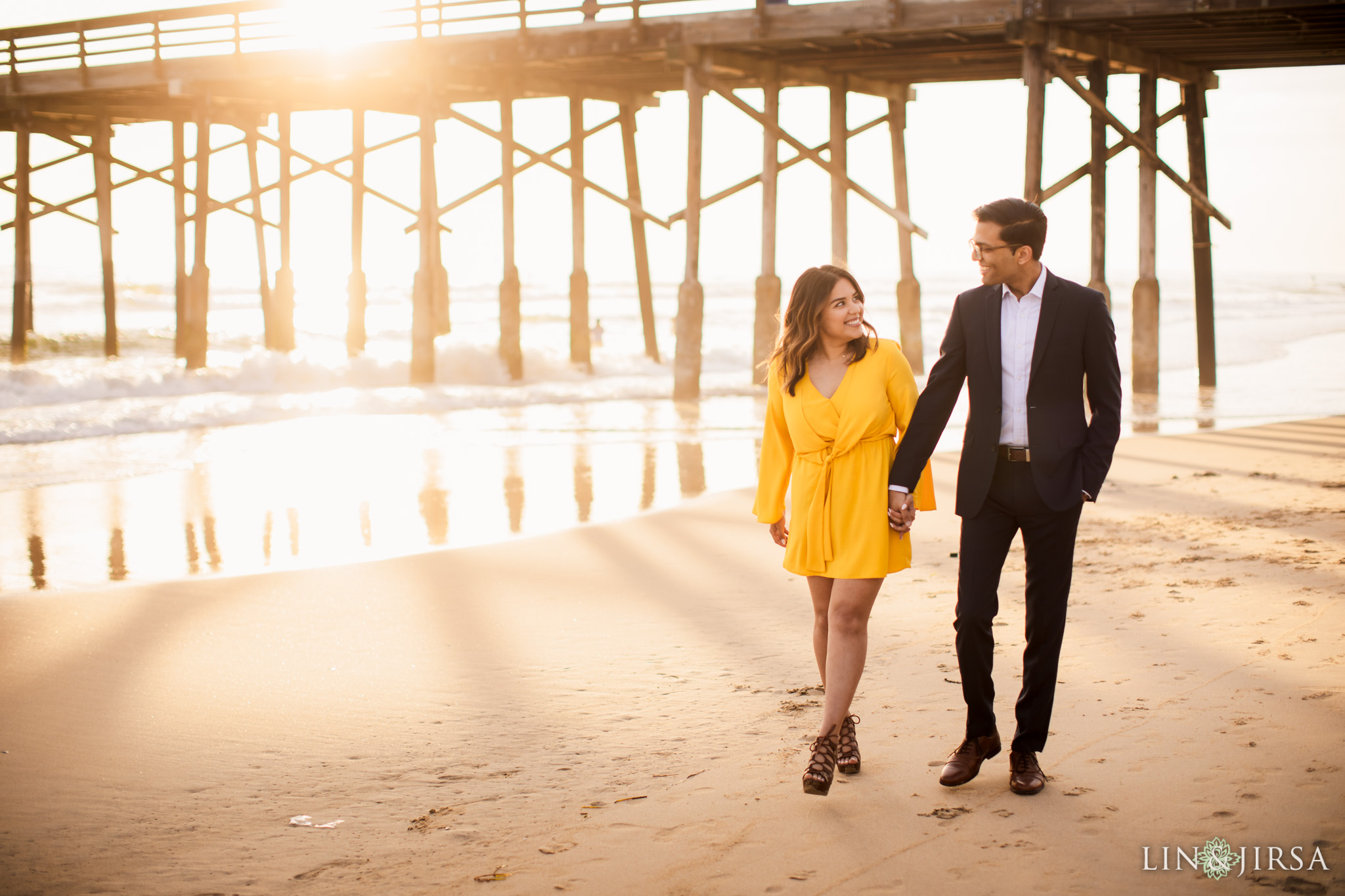 This Newport Beach Pier offers a beautiful view of the Pacific Ocean and is one of the most iconic destinations in Newport Beach.  Families can enjoy fishing, surfing, or just walking along the shoreline for some photo-worthy moments.  While no rocks or cliffs are available, miles of sand gives the images a picturesque southern California vibe.  This is a great option to pair with the Balboa Fun Zone or other Newport Beach photo locations.
Huntington Beach Pier
This pier offers some of the best views in Huntington Beach, and it is home to a variety of restaurants. The beach itself has great surfing opportunities and boardwalks for those who want to get away from the sand.  If you're looking to take pictures with an epic backdrop, take a walk down the shore and use the iconic pier as the background.  Like the Newport Pier listed above, you won't get any rocks, tide pools or cliffs with this location, but you will get miles of SoCal sand.  Whether you choose the Newport Beach Pier or the Huntington Beach Pier will depend on your choice for your secondary location of your photo shoo.
Full Session Here.
Dana Point Harbor Beach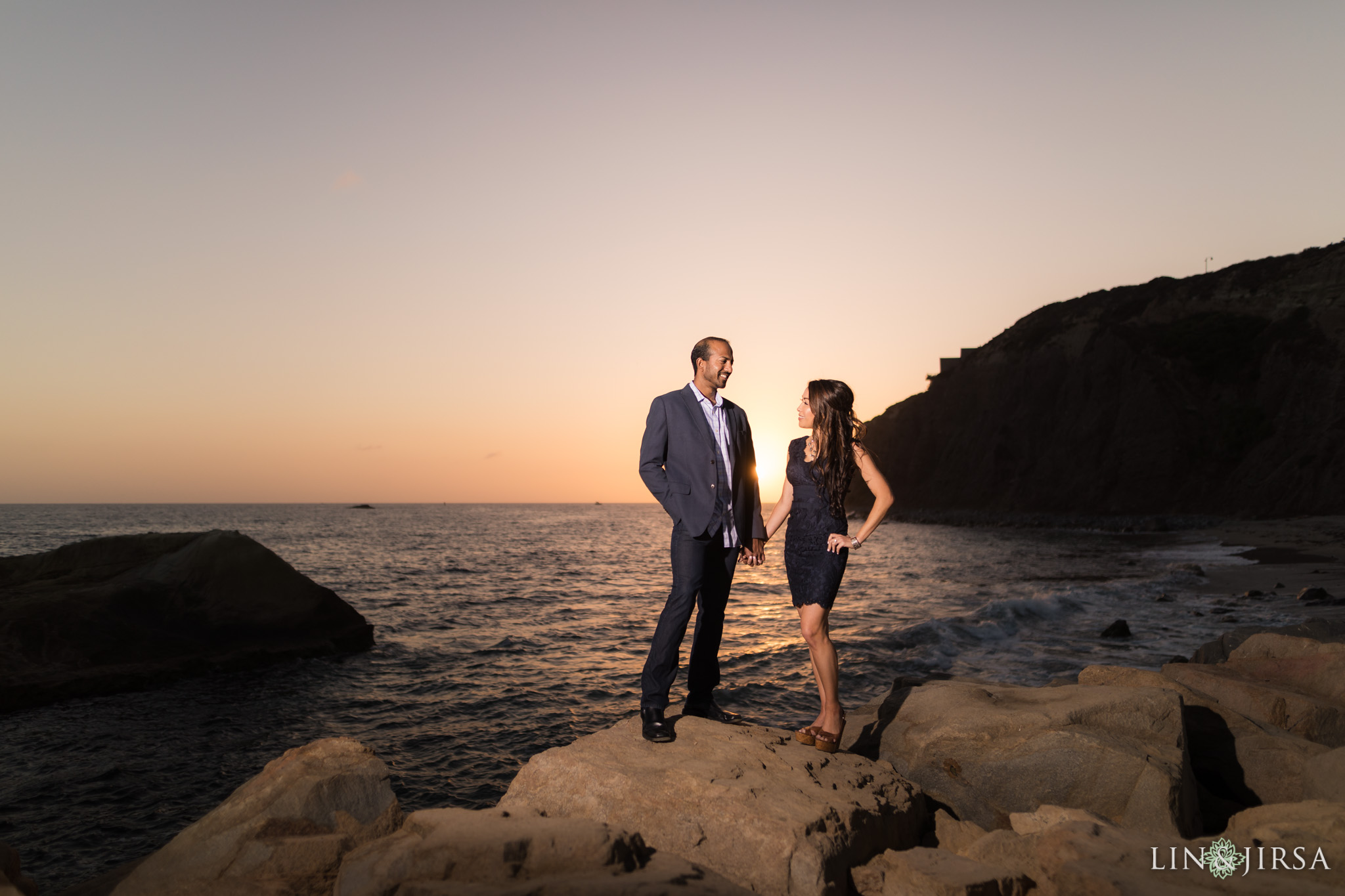 Aptly nicknamed "Baby Beach", this kid-approved seaside spot features gentle waters and numerous seasonal events.  This location only has a rocky scene, with no opportunities for sandy beaches or tide pools.  Choose this option if your other location for your photo session is nearby.
Other Beaches to Consider
Little Corona Del Mar Beach
This beach is located in the South Bay and offers a beautiful cove that features sandstone cliffs. The waves are mild, making it great for swimming and perfect for those with small children as well. Surfing opportunities abound at this location, so if you're looking to get some surf shots mixed into your photography portfolio then this is the
San Clemente Pier
A more secluded pier, this one provides the perfect backdrop for a family photo.  San Clemente Pier Beach has palm trees and grassy areas near the pier entrance, with a large sandy beach surrounding the pier. The beach can be found just behind railroad tracks that run down both sides.  A large parking lot provides easy access for people who would like to visit nearby shops and restaurants or take in San Clemente Coastal Trail, which runs north from this location all the way up until you reach Newport Coast County Park.
Main Beach In Laguna Beach
Main Beach in Laguna is the most popular beach for locals and tourists alike on sunny days. The park offers a wide sandy beach, boardwalk, basketball courts, sand volleyball courts – all of which are perfect for day-time activities or just to relax and enjoy yourself!