Vietnamese Weddings in the U.S. are a magnificent culmination of historic and contemporary traditions. Everything from the Vietnamese Wedding Dress, the Ao Dai, to the traditional Vietnamese Tea Ceremony is a great representation of beauty and richness of Vietnamese culture.  In this article, we'll explore Vietnamese wedding traditions and show you examples of each incredible moment from our portfolio.  Here's what we'll cover:
Vietnamese Engagement Ceremony | Dam Hoi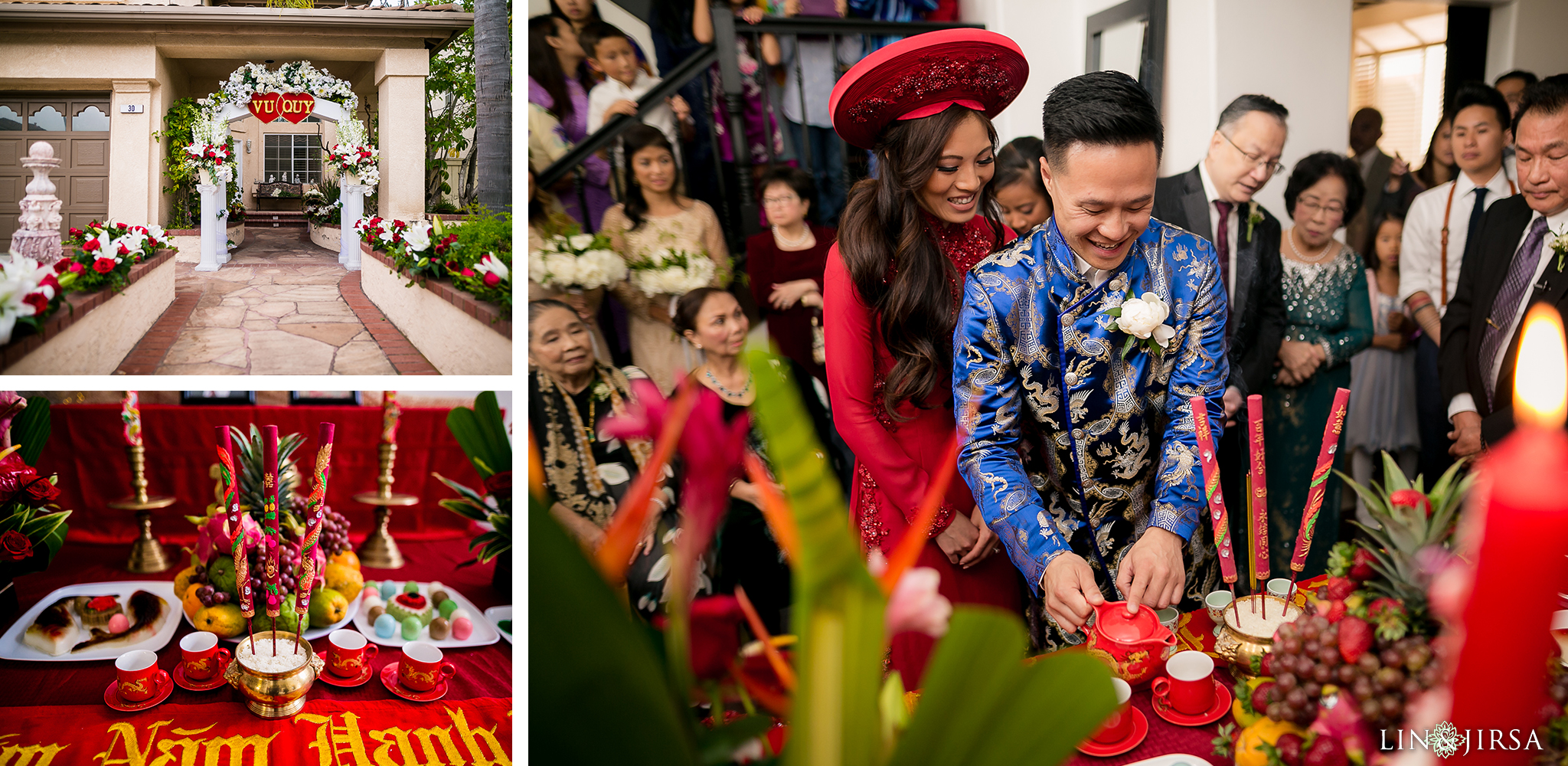 Traditionally, the groom's parents will lead a procession to the bride's family home where the groom and his family will ask for the bride's hand in marriage. Gifts are carried by family members in even numbers and stored in a Mâm Qua,  or red tin baskets, and covered with a traditional red cloth. After receiving approval, the groom and his family are invited inside to exchange gifts and proceed with the wedding ceremony.

After a few formal introductions, the groom will present his gifts to the bride's family before receiving permission to see his bride-to-be. The bride will be escorted, often by her mother, where she will meet her groom who will be ready to greet her with a bouquet in hand. The two will then make their way to the Vietnamese altar to begin the Tea and Candle Ceremony.

Vietnamese Wedding Tea & Candle Ceremony
The Tea Ceremony combines the celebration of marriage with honoring the family's ancestors and relatives. This makes it one of the most compelling and emotional parts of a Vietnamese wedding. It is considered the proper meeting of both families, and it is also when the bride and groom take their vows and exchange their rings. Once the exchange has occurred, both the bride and groom will serve Green Tea or Chrysanthemum Tea as a sign of respect, starting with the eldest family members. Thereafter, family members will gift the bride and groom with money, family jewelry, and advice for a long-lasting marriage. The ceremony concludes with the lighting of a big dragon and phoenix candle, symbolizing the fusion of two families.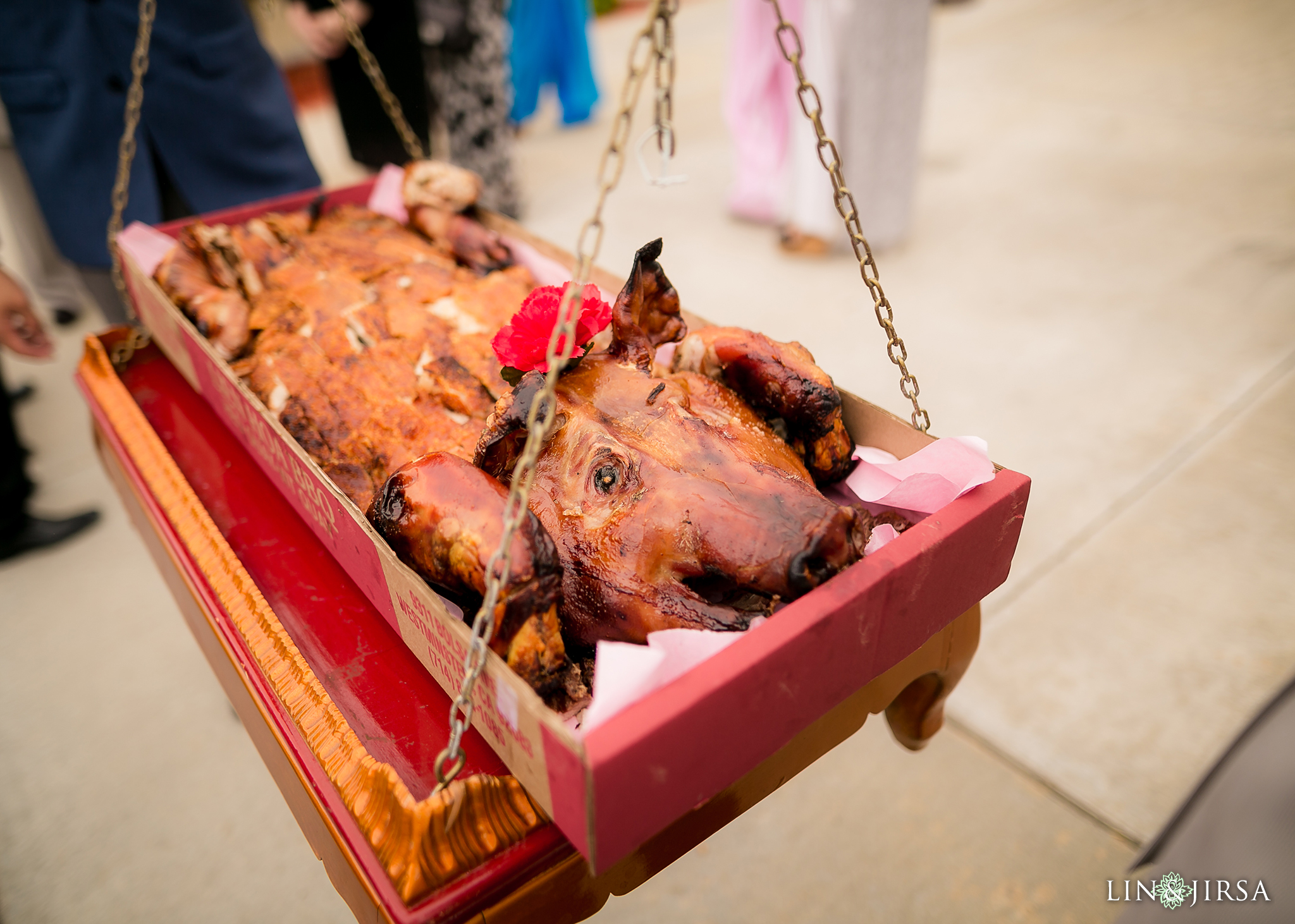 It is traditional in Vietnamese weddings for the groom to give a roasted pig to the bride's family.
Vietnamese Wedding Attire | Ao Dai

One of the most iconic symbols of the Vietnamese Wedding is the Vietnamese Wedding Dress or the Ao Dai. The Ao Dai is worn by both the bride and groom during the Vietnamese Wedding Ceremony and/or during the reception as the couple makes their rounds to greet and thank their guests. The Ao Dai has a fitted top with floor length panels and a pair of accompanying pants. With Ao Dai, the bride and groom will often wear a circular headdress called a Khan Dong.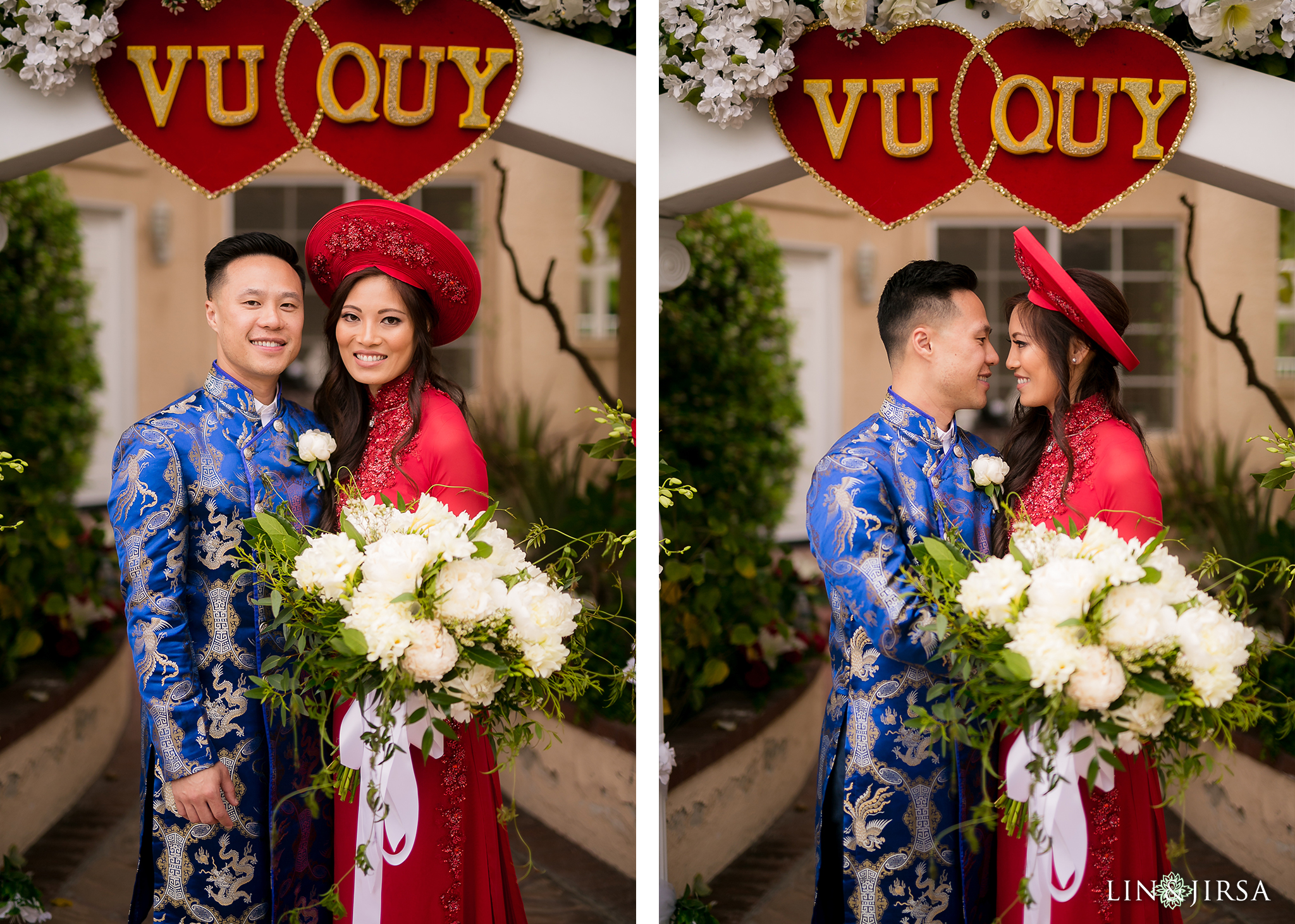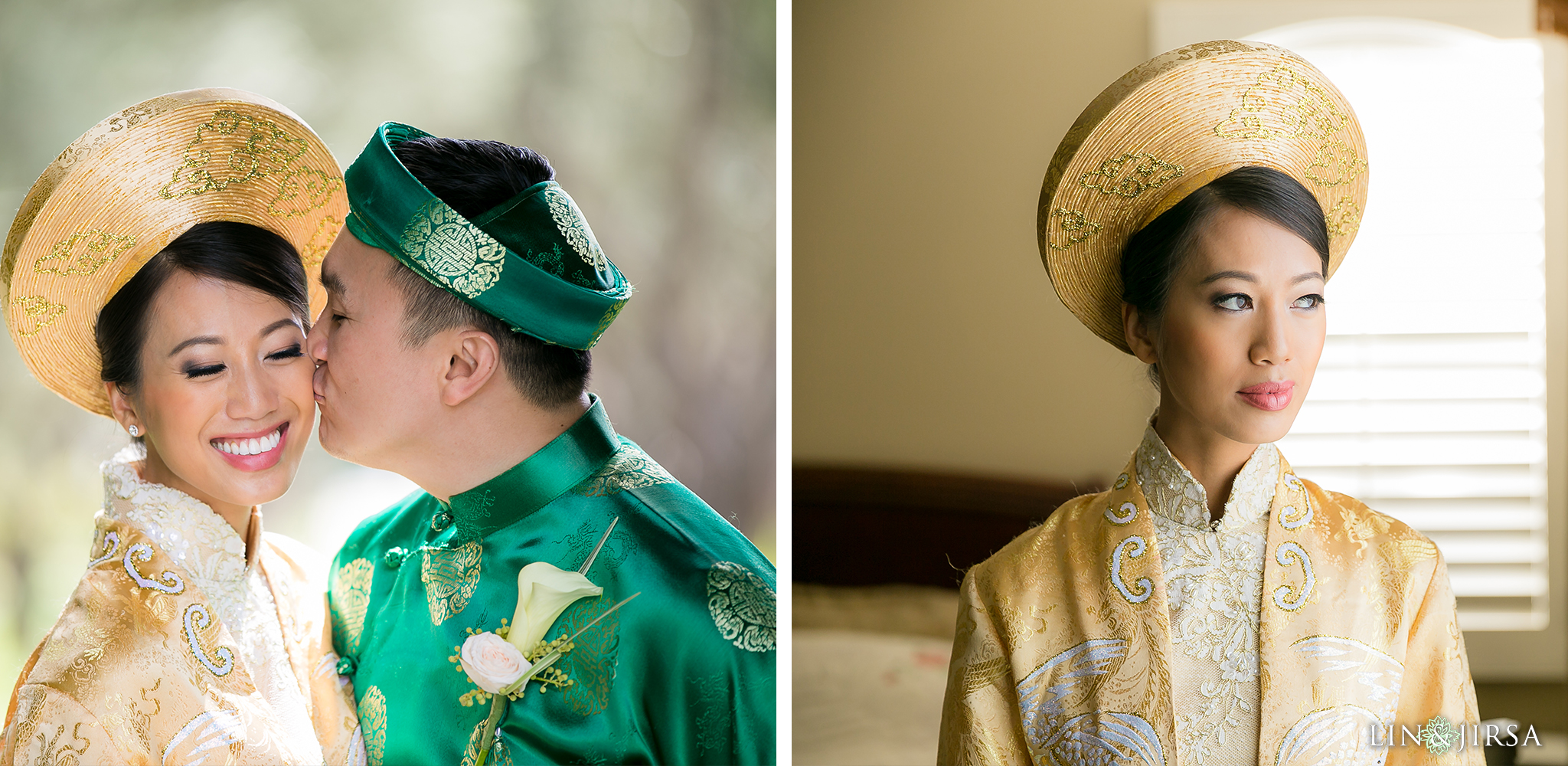 Vietnamese Wedding Ceremony
Vietnamese-American couples often hold another ceremony after the Vietnamese tea ceremony where the bride gets her chance to wear that elegant white dress and the groom wears a traditional tuxedo. The type of wedding will depend on the religion of the couple, with a majority of the ceremonies being performed in Catholic churches and sometimes other venues.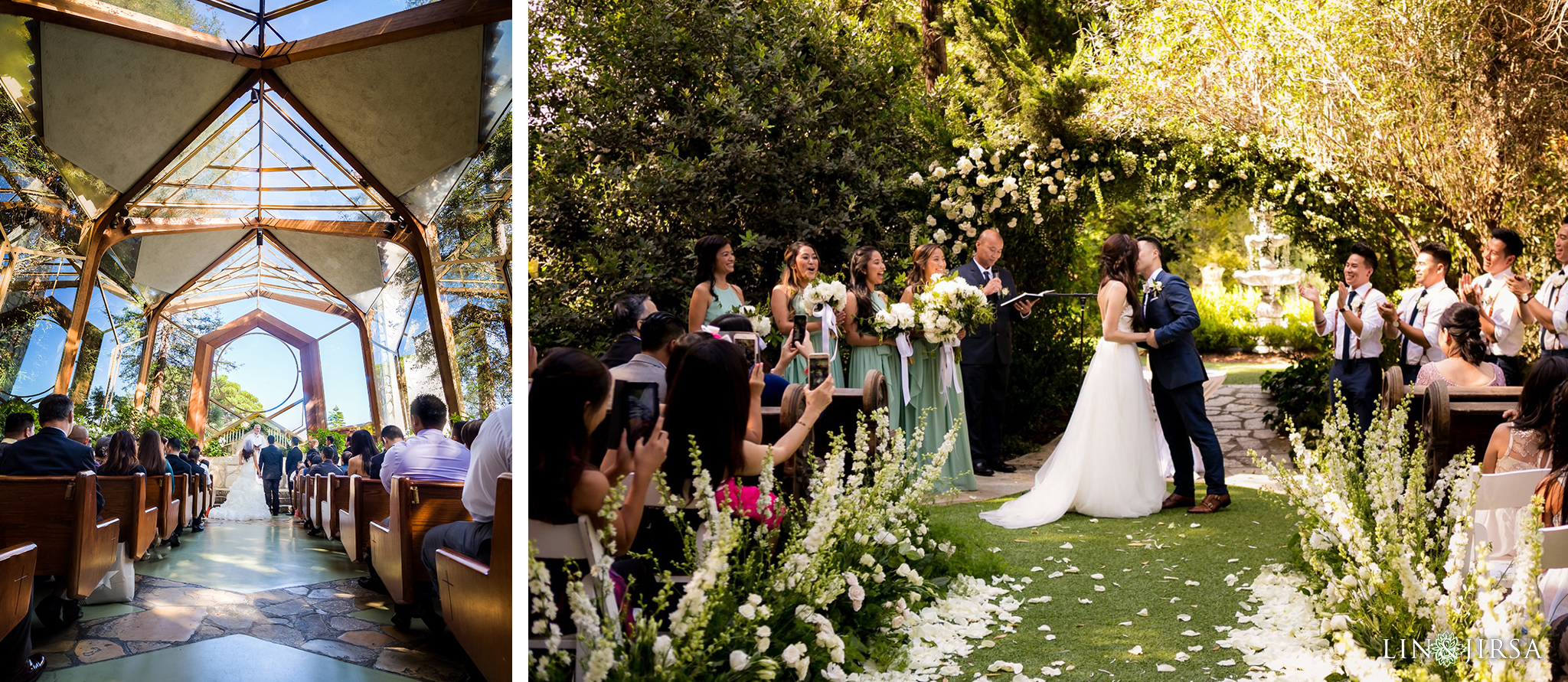 Vietnamese Wedding Reception
The Vietnamese wedding receptions often follow the same format as a typical American reception, with a grand entrance, first dance, parent dances, cake cutting, toasts, games, desserts, dancing, and more. The primary differences are that, 1) you'll often see "Welcome Photos," also known as "step and repeat" photos and 2) you'll almost always see "table visits," which is common for most Asian weddings. See the details of the wedding reception in the section below.

Vietnamese Welcome Photos
In addition, welcome photos are popular amongst Vietnamese wedding receptions. The bride and groom will be situated at the reception entrance to take a photo with each of their guests. The photos are printed prior to their guest's departure as a thank you for their love and support on this big day.
Some couples choose to spend a bit more with their designers and florists to decorate a custom background for these photos.  Other times, venues have a beautiful built-in entrance that already works well.  If not, couples sometimes use simple photography studio backdrops for these types of photos, hung on backdrop stands.  For backdrop hanging options without a stand, see these options here by our friends at Kate Backdrop.
Vietnamese Table Visits
Another tradition that happens at most Vietnamese wedding receptions is the table visits. As a thank you and sign of respect, the bride and groom will make their way to each table and greet their wedding guests. The most significant family and friends will be visited first and a toast will be given acknowledging the most important person of each table. It is traditional for guests to give the bride and groom envelopes filled with money at this time. Once the bride and groom have made their rounds, the party officially begins!

In more recent years, Vietnamese brides have chosen to wear white versions of the Ao Dai as a way to pay tribute to both the traditional Western Wedding Dress and the Ao Dai.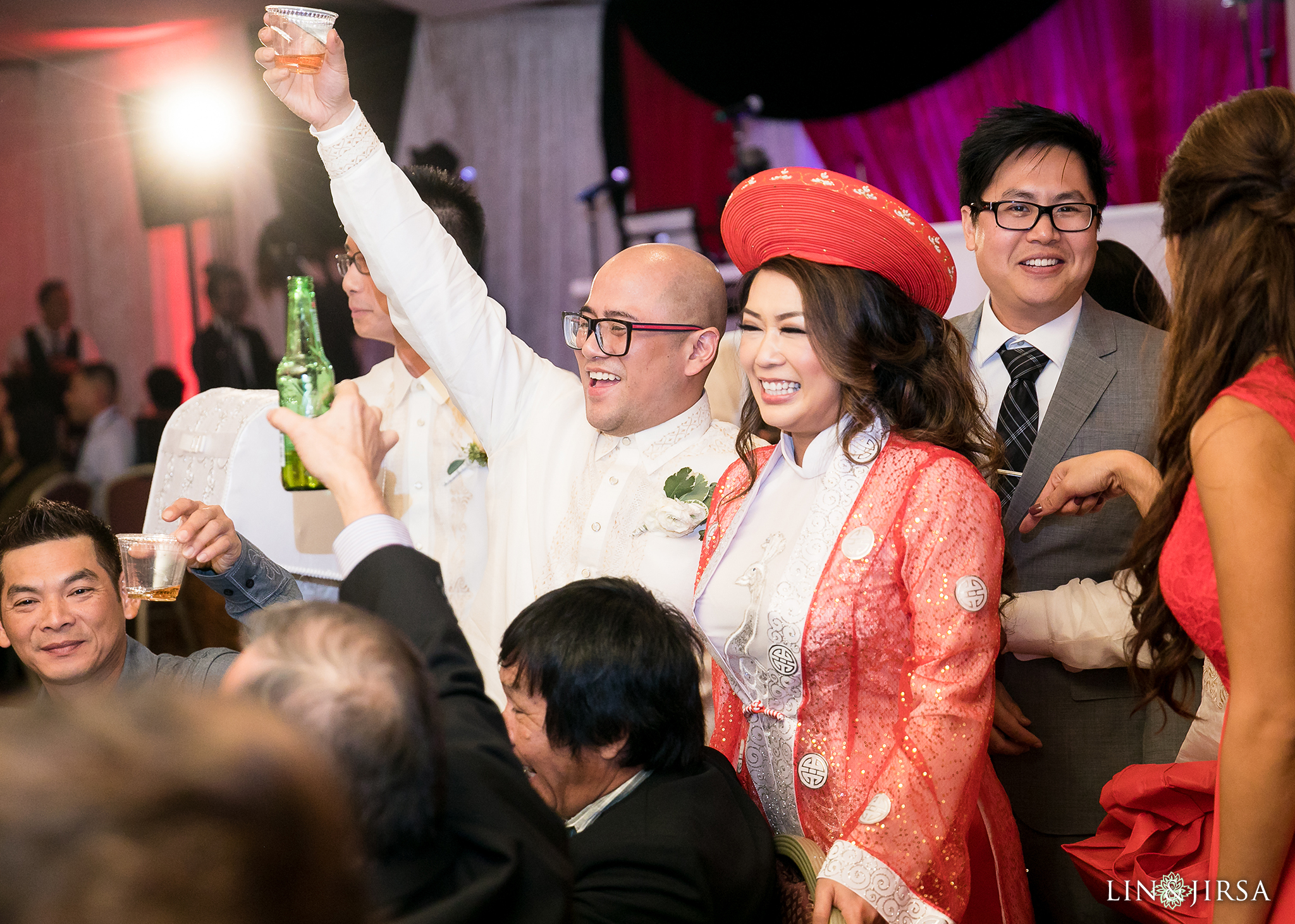 Above is a Vietnamese bride and her Filipino husband wearing the traditional Filipino shirt, the Barong.
Make it Your Own!
As with any wedding, we highly encourage couples to add their personal touch.  Make it your own by fusing traditions from other cultures, adding custom elements to each part of the day and more.
Check Out More Vietnamese Weddings
About Lin & Jirsa
Creative. Clean. Different. We are a group of creatives in Orange County with a passion for storytelling. Founded in 2007, our studio has been recognized as the best wedding photographers in Los Angeles and Orange County by various publications, websites, and groups. We'd love to show you our studio in Orange County, California and walk you through our albums, canvases and other print photography products. We can also provide more information on our Wedding Videography and introduce you to our team!
As industry leaders, we also hold in person and online workshops for both aspiring and established wedding photographers. If you're interested in attending our workshops, be sure to click here for more info.
Interested in learning about other East Asian Wedding Traditions? Check out: Korean and Chinese Wedding Traditions.
Are You A Photographer?
If you're a photographer interested in learning more about how to shoot cultural weddings, including Hindu, Jewish, Persian, Vietnamese, Korean, and Chinese weddings, we recommend our wedding photography education, available at SLR Lounge.