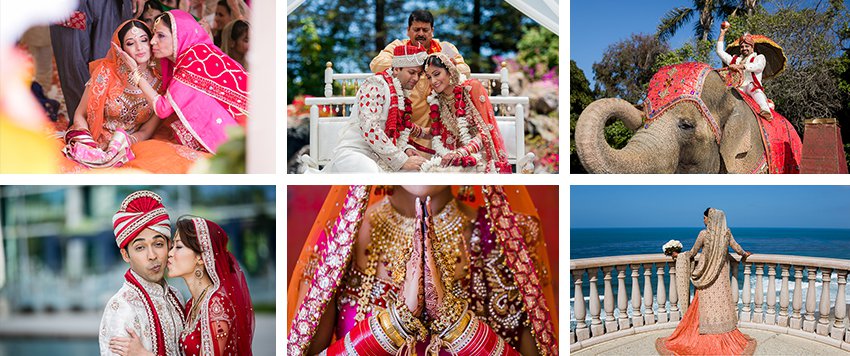 Lin and Jirsa has become specialists in Indian Wedding Photography over the years. We started with one Indian Wedding several years back and from there we were referred to another. From there, the effect snowballed and now the majority of our weddings are for Indian couples. The journey has been amazing and we feel so blessed to be a part of the Indian Community, capturing some of the most elaborate, grand, and beautiful weddings in the world.
Types of Indian Wedding Photography
We do all types of Indian weddings, from Hindu Weddings to Sikh Weddings and others. We've learned the nuances of the different Indian Wedding ceremonies and the different things to watch out for. We know the camera angles to take and we've identified the important wedding events for each of the ceremonies. Being specialists in Indian Wedding Photography, we will capture every important moment, making both the couple and their families happy with the Wedding Photos, the Wedding Albums, and the overall experience with Lin and Jirsa Photography.
Special Pricing for Indian Wedding Photography
We realize that Indian Wedding Photography requires special pricing, as most are multi-day events. We have special packages catered to Indian weddings that include coverage for Mehndi Parties, Sangeets, and, of course, the Wedding Day. If you require additional coverage for other wedding or pre-wedding events, we have hourly rates for the other Indian Wedding Ceremonies and Events as well. Contact us here for more info.
Creativity in Indian Wedding Photography


Beyond photographing the most important wedding moments, we put an emphasis on capturing them with creativity. We're always in search of reflections, interesting foregrounds and backgrounds, and the perfect light in our photography. Our unique combination of lighting techniques along with our creative post production allows us to create amazing, creative imagery for your Indian Wedding.
Vibrant Colors in Indian Wedding Photography
A large part of our success with Indian Wedding Photography has been our ability to capture all of the vibrant colors with our various techniques. We don't do too many "Vintage Fades" or other desaturated processing techniques unless the scene and image calls for it. Instead, for the majority of our photography, we apply techniques to bring out the colors to capture all of the dynamic range in the scene. From HDR photographic techniques to advanced flash photography, we use all of the resources, tools, and knowledge we have built up over the years to capture all of the amazing action, colors, and emotions at your Indian Wedding. We've even developed our own style of post production and created best-selling Lightroom Presets that provide consistently incredible images for our clients.
Photography for the Baraat
The Baraat is one of our favorite parts of the Indian Wedding. The excitement and anticipation mixed with the dancing and music make for a lively and dynamic scene to photograph.
We've seen the groom ride in on all sorts of creative and beautiful animals and things, from majestic elephants to beautiful horses. We've even seen rickshaws flown in all the way from India. Whatever happens, we'll be there to capture it all during the Baraat.
Indian Bride and Groom Portrait Photos
Daytime Indian Wedding Portraits – During the daytime is when we love to capture our bride and groom in their stunning wedding outfits. We always begin with the individual portraits of the bride in her traditional Indian bridal attire and the groom in his Indian groom's attire. Right after, we move onto our couple's portraits, where we know that it's very important to get a combination of traditional photographs, creative photographs, scenic photographs, intimate photographs, and candid/natural photographs. With our photography expertise, we are able to get all of these with a short amount of time. Here are a few examples of our portraiture for Indian Weddings:

Nighttime Indian Wedding Portraits – We're also able to do them at any time in the day, whether it be the morning, afternoon, or even in the evening. Below are just a few images of our nighttime couple's portraiture for our Indian Wedding clients. In these images, we are focusing on capturing the romantic mood of the scene while utilizing the lights and the environment to add interest to the overall images.

Photography for Indian Wedding Ceremonies
Though Indian Wedding Ceremonies are spiritual and religious, they are also full of emotion and candid moments. Our style is to get a unique combination of wide angle photos and close up photos from a variety of angles, anticipating smiles and emotional moments during the Indian Wedding Ceremony. For example, we know that if a bride is being blessed by the married women in her life, there are going to be great emotional moments; and we know to get in position to capture them. In another example, we also know that after the couples walk around the fire, there is a good opportunity for some amazing laughs as they race to sit first!
Check out our pages on all of the intimate portions we capture during these beautiful Indian Wedding Ceremonies:
Mangalsutra
Hastmelap
Vivaah Homa
Kanya Aagaman
Kanyadaan
Ganesha Puja
Varmala
Milni
We've also compiled a more detailed description of Hindu and Sikh Wedding Traditions on our sister site, Wedding Maps, for more information on these significant ceremonies and traditions.
The Detail Photos for Indian weddings
Jewelry, Shoes, Rings for Indian Weddings – The best time to get the bride's details (the wedding shoes, the outfits, the bouquet, etc) is right in the morning. We search for perfection in the lighting and backgrounds for these, as we know how important they are to you.  See our full article on Indian Wedding Jewelry.

Ceremony Detail Pictures for Indian Weddings – By the time you see your wedding ceremony site in person, it will be full of your guests. It's our job to capture these details in their unaltered state so that you can look back and see all of the wonderful detail in your wedding ceremony site.


For more information on ideal Indian Wedding Timelines visit our Indian Wedding Timeline page.
Reception Detail Pictures for Indian Weddings – The same applies to the reception details. By the time you see it, your hundreds of guests will already be in place. We use our lighting techniques to bring out crisp photos of the reception room but we still maintain the ambiance and mood for the scene. Below are a few examples:

Photography for the Sangeet
The Sangeet for an Indian Wedding is often more elaborate than an average wedding reception. In our Indian Wedding Photography Package, we include coverage of the Sangeet so you will have all of those great toasts, performances, and candid moments preserved forever.
We typically arrive 10-20 minutes before guests are scheduled to arrive so that we can get some photos of the room completely empty. After that, we capture the candid moments as the guests arrive and get seated. As soon as the couple arrives, we go into a couples session with the bride and groom that usually lasts 20 minutes while the guests are being seated. From there, we diligently capture all of the evening's moments.

Our Indian Wedding Package also includes coverage of the Mehndi Party. We love these events because it allows us to get to know the bride's family. They are also full of great candid moments, as friends and family gather to eat, catch up, and get their Mehndi ready for the big wedding day! Check out some of our favorite henna artists here!
Indian Wedding Reception Photography
During the wedding reception, it's our time to make sure we anticipate all of the exciting moments. For example, if a funny joke is being told, we have one photographer on the person speaking and one on the bride and groom to capture their reactions. If an emotional speech is happening, our cameras are up and ready to capture those tears. And of course, if someone is breaking it down on the dance floor, we're there as well. Check out these Indian Wedding Reception DJs who know how to get the party started. Our goal is to tell the story of the reception through the camera lens. Below are some great wedding reception moments:

Contact us for your Indian Wedding
Please contact us if you're interested in hiring us for your Indian Wedding! We would love to be a part of your special day. Contact us here. Be sure to check out our Indian Videography as well!
About Lin & Jirsa
Creative. Clean. Different. We are a group of creatives in Orange County with a passion for storytelling. Founded in 2007, our studio has been recognized as the best wedding photographers in Los Angeles and Orange County by various publications, websites, and groups. We'd love to show you our studio in Orange County, California and walk you through our albums, canvases and other print photography products. We can also provide more information on our Wedding Videography and introduce you to our team.
Are You A Photographer?
If you're a photographer interested in learning more about how to shoot cultural weddings, including Hindu, Jewish, Persian, Vietnamese, Korean, and Chinese weddings, we recommend our wedding photography education, available at SLR Lounge.