About Bowers Museum Weddings
Santa Ana's Bowers Museum is the perfect spot for a wedding for couples who love history, art, or simply the beauty of California's architecture and lush gardens. Built in 1932 and opened four years later just as the country was recovering from the Great Depression, Bowers Museum became a symbol of Orange County's growth and cultural development.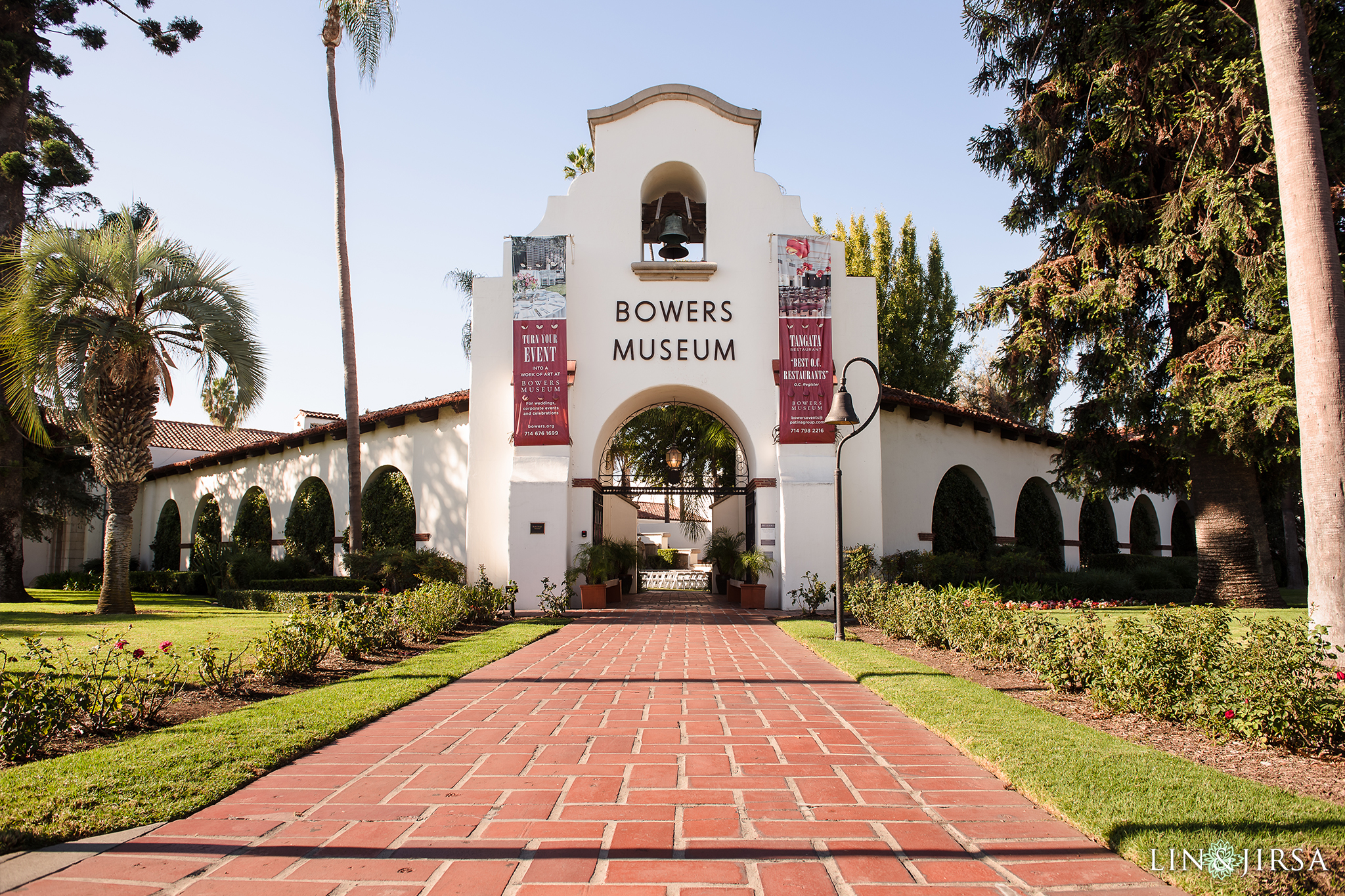 The Mission-Revival-style building began renovations in 1989, and now the once-10,000-square-foot building boasts over 100,000 square feet of usable space, allowing plenty of options, indoors and out, to plan your ideal Bowers Museum wedding.
Why We Love Bowers Museum Weddings
The artwork and architecture at Bowers Museum make it the perfect place for a couple looking to have a unique wedding. The museum features art from the Pacific Rim, Africa,  and ancient America and China. We love that there are so many areas offering a different feel, both ultra-modern and traditional Mission-style, all in one location. Throughout the location, there are many backdrops for a great photo.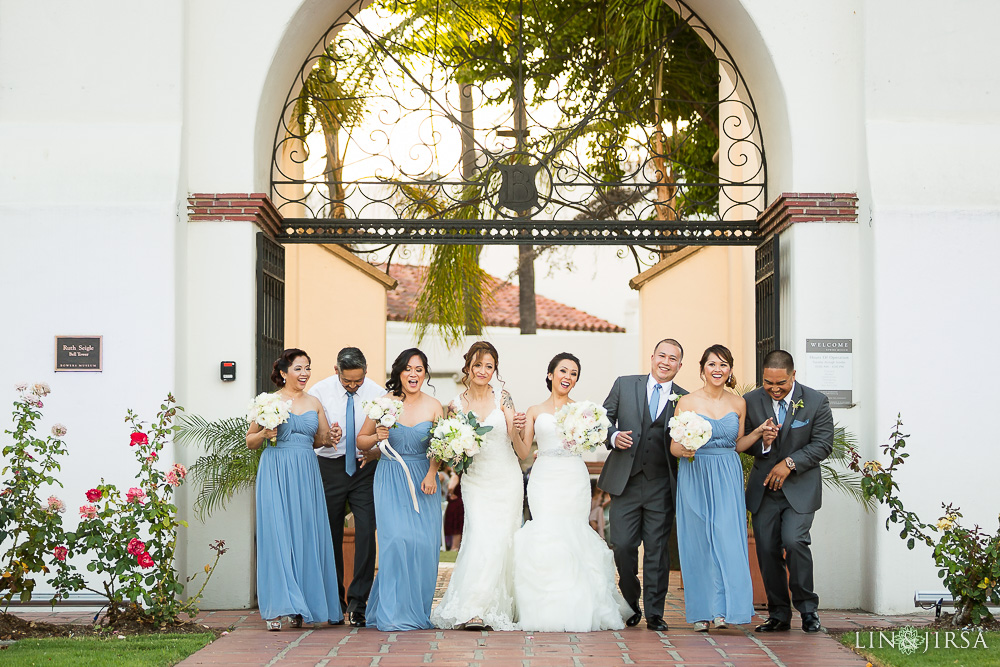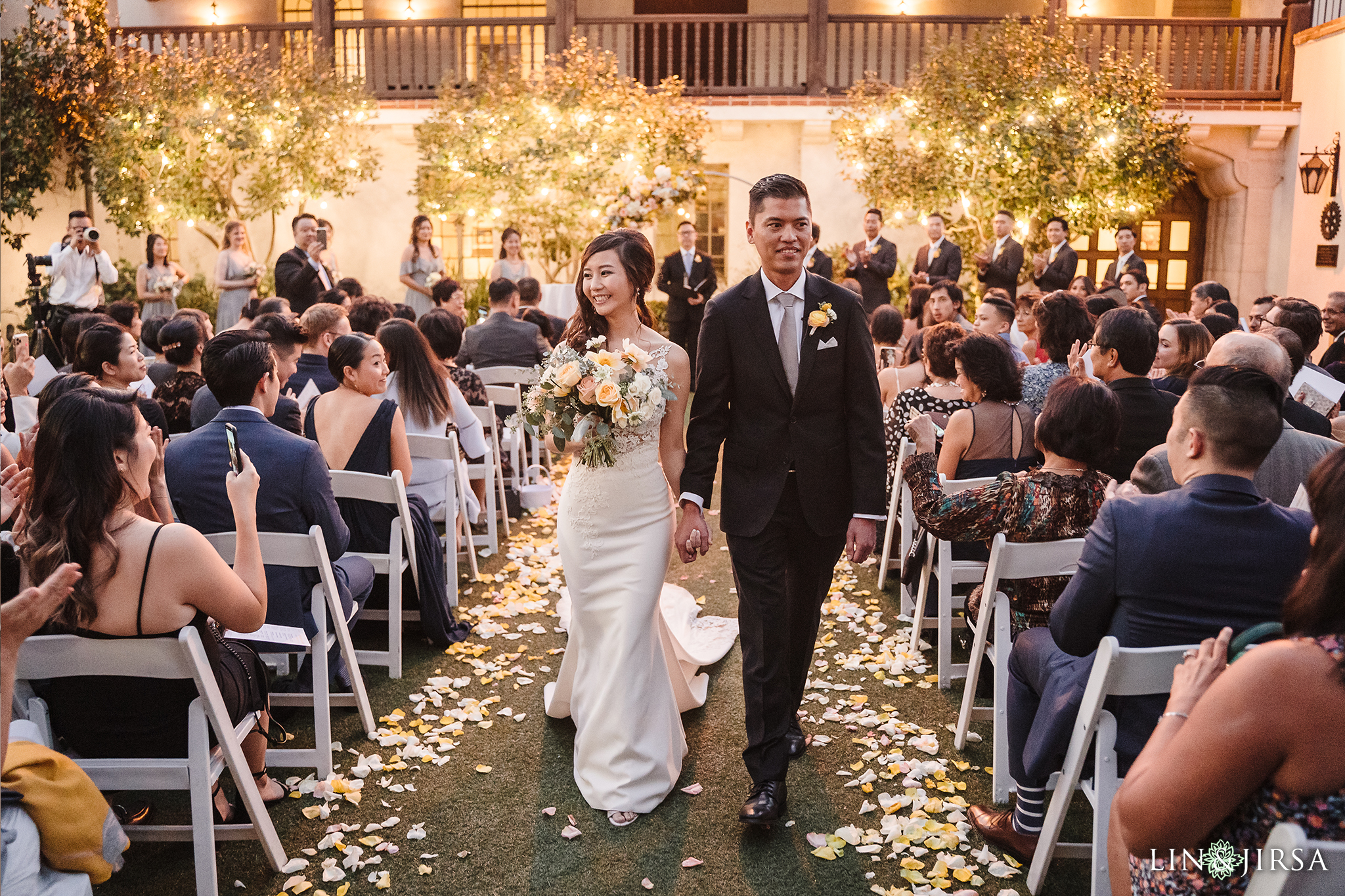 Ceremony Site at Bowers Museum Weddings
The Margaret & Cleo Key Courtyard can be used for both ceremony and reception. The brick staircase is perfect for a dramatic grand entrance! And the bubbling fountain and year-round flowers epitomize the elegance of California landscaping. In the courtyard you can tie the knot with the historic architecture of the original museum and balcony in the background.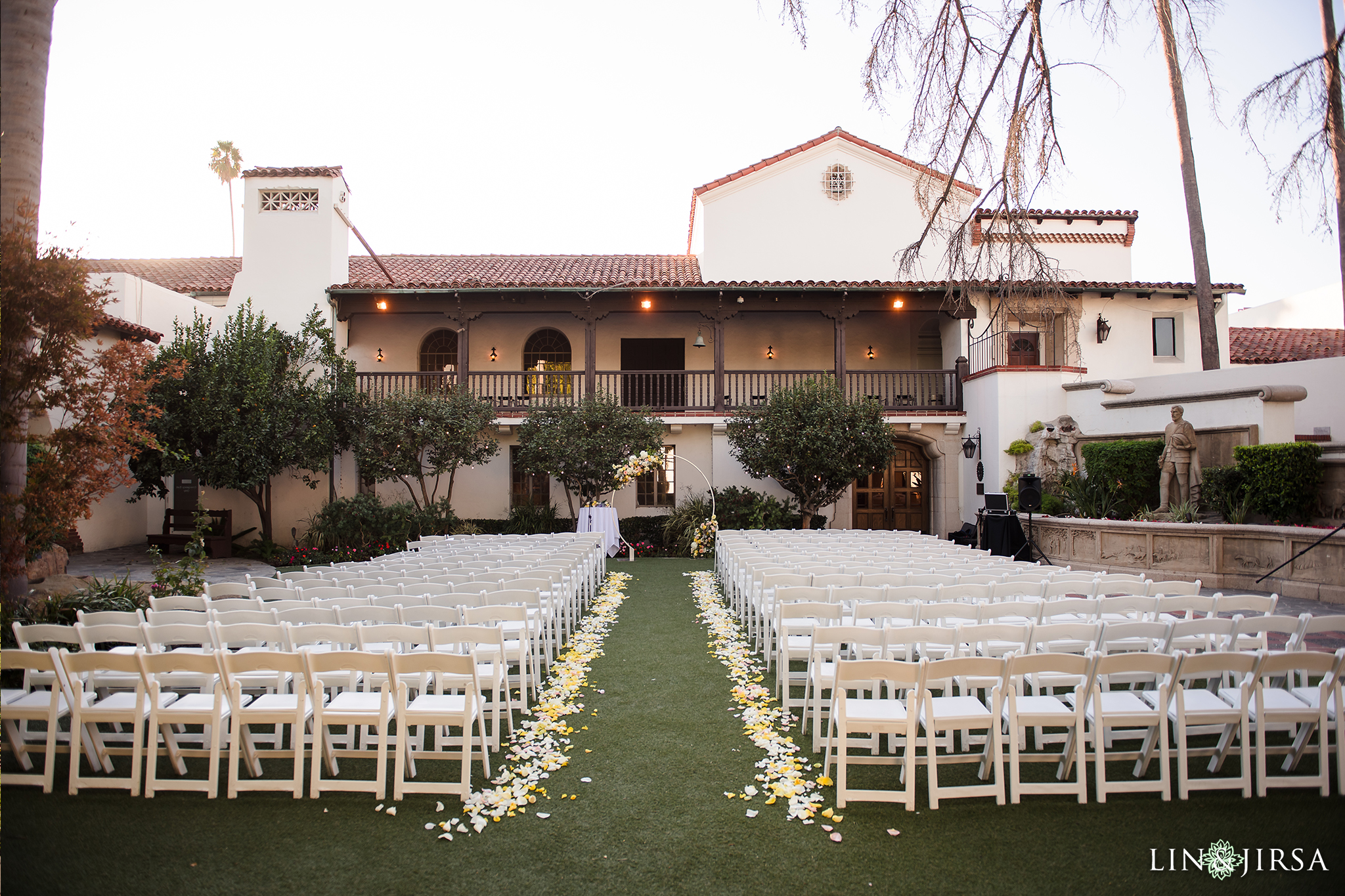 The Huang Sculpture Garden offers gorgeous scenery, ideal for an intimate wedding and great lighting for photos. From the lovely fountains to the breathtaking modern sculptures, there are plenty of places in the Huang Sculpture Garden to take couples and wedding party photos.
Reception Site at Bowers Museum Weddings
The John M. Lee Court is a large, modern space with floor-to-ceiling windows that look out onto the Sculpture Gardens. The space flows from inside to out, can be personalized for your wedding design, and can be used for both reception and ceremony. Unique art pieces are showcased throughout the area, adding a little flare to your big day.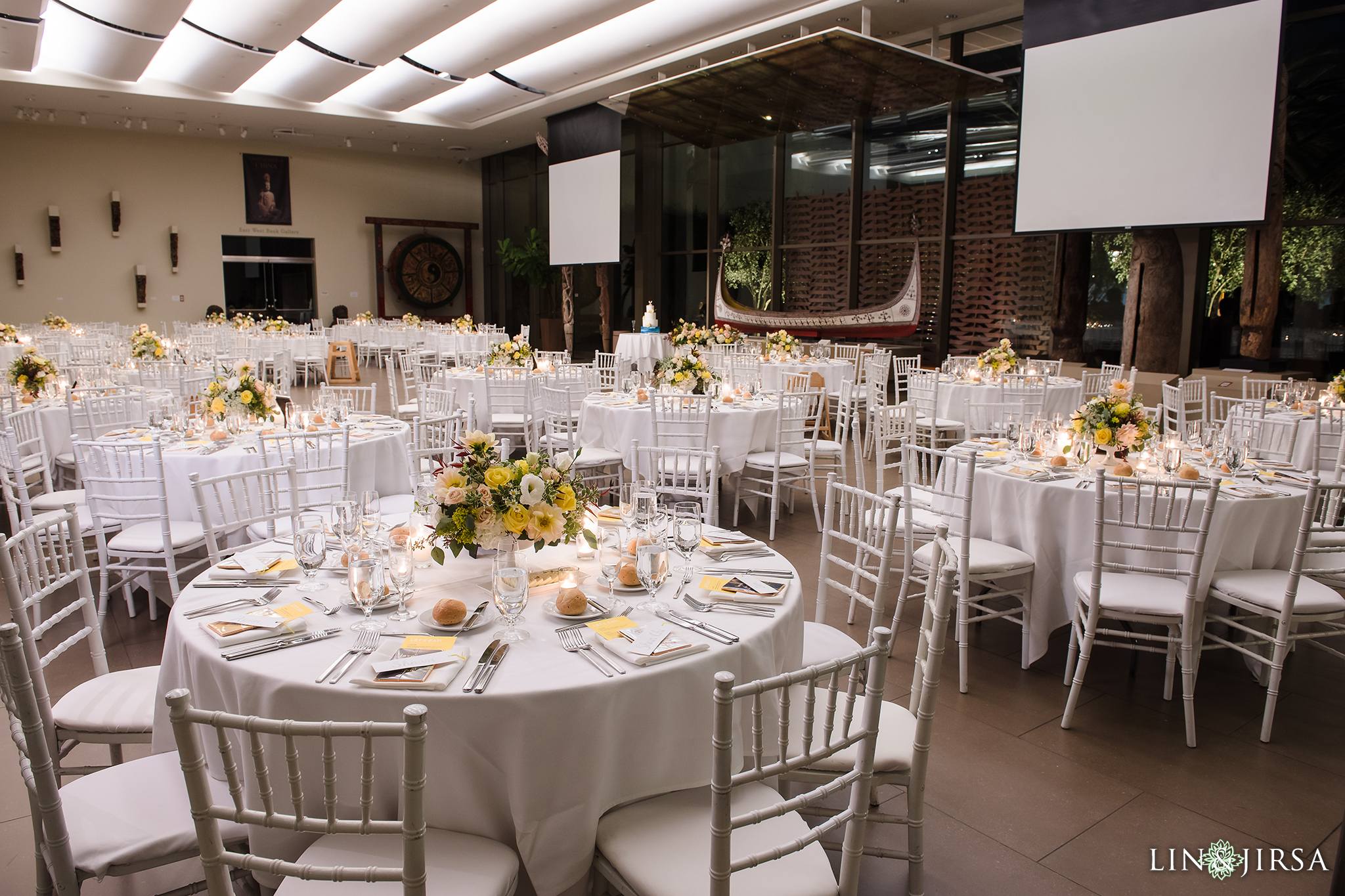 FAQ
Q-Which caterer can we choose for our Bowers Museum wedding?
A-The museum staff request that you use their excellent in-house caterer for both your dining and beverage needs.
Q-How many guest can we invite to our wedding at the Bowers Museum?
A-Various venues at the museum can accommodate a different number of guests. If you're planning an intimate gathering, up to 50 guests can dine on the Historic Balcony (which includes use of the Fluor Family Gallery) overlooking the Margaret and Cleo Key Courtyard. If you book the Margaret and Cleo Key Courtyard, you can seat 400 guests or have 900 stand for cocktails. The indoor John M. Lee Court can seat 350 guests or have 750 for cocktails. Or the Huang Sculpture Garden can seat 150 guests or have 250 stand for cocktails.
Q-What can out-of-town guests do for fun when they come to our wedding?
Because the museum is centrally located in Orange County, guests will have an endless list of options for activities, from beach visits to shopping to taking a dolphin- and whale-watching cruise. And of course, don't forget that Disneyland is just six miles up the road.
Bowers Museum is located at 2002 N Main St, Santa Ana, CA 92706.
At Lin and Jirsa Wedding Photography, we take pride in capturing the emotions in every moment of your day, big and small. We craft heirlooms that you and your family will treasure for a lifetime and beyond. We offer both photography and videography options. Click here to learn why it's beneficial to choose one company to meet both your photography and videography needs.