Couples looking to get married at a venue steeped in historical significance need look no further than the stunning halls and chambers of the San Francisco City Hall. Originally built in 1899, San Francisco City Hall is home to a multitude of historical events, including the marriage of Joe Di Maggio and Marilyn Monroe and filming of Raiders of the Lost Ark. Characterized by an enormous rotunda in the center of the building, San Francisco City Hall is home to many architectural feats and countless square feet of granite, marble, and sandstone.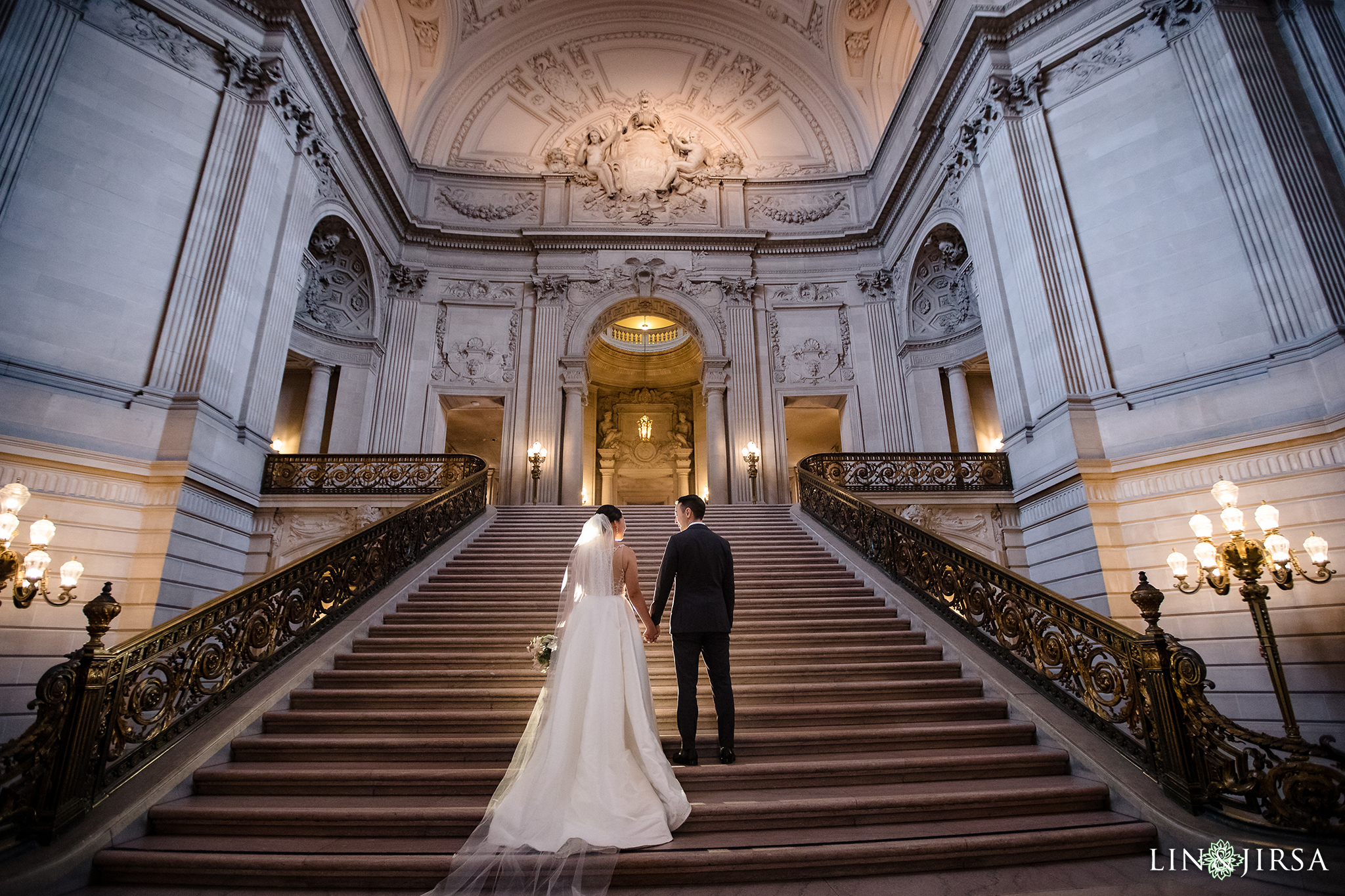 With its rich history and gorgeous sights, this venue is perfect for the bride and groom looking for more than your usual City Hall wedding ceremony. Due to the popularity of the venue, there are a variety of packages available to fit every budget and ensure your wedding day is everything you could ever imagine.
Civil Wedding Ceremony at San Francisco City Hall
Civil Ceremonies are performed Monday through Friday between 8:00am and 4:00pm, and last for half an hour. Be sure you obtain your marriage license ahead of time through the County Clerk's office to avoid any wedding day stress. This ceremony is held in the private wedding ceremony room or on the second-floor rotunda, depending on availability.
One-Hour Ceremony Package
Held on the Mayor's Balcony or Fourth Floor rotunda, the one-hour wedding package at San Francisco City Hall is perfect for the bride and groom with a smaller budget looking to share their special moment with friends and family. Both locations offer spectacular views of the grand marble archways and domed ceilings located inside. This package includes rental for up to 100 guests, with chairs available for an additional cost. Acoustic music is allowed with advance approval and all musicians must be selected from the provided wedding vendor list.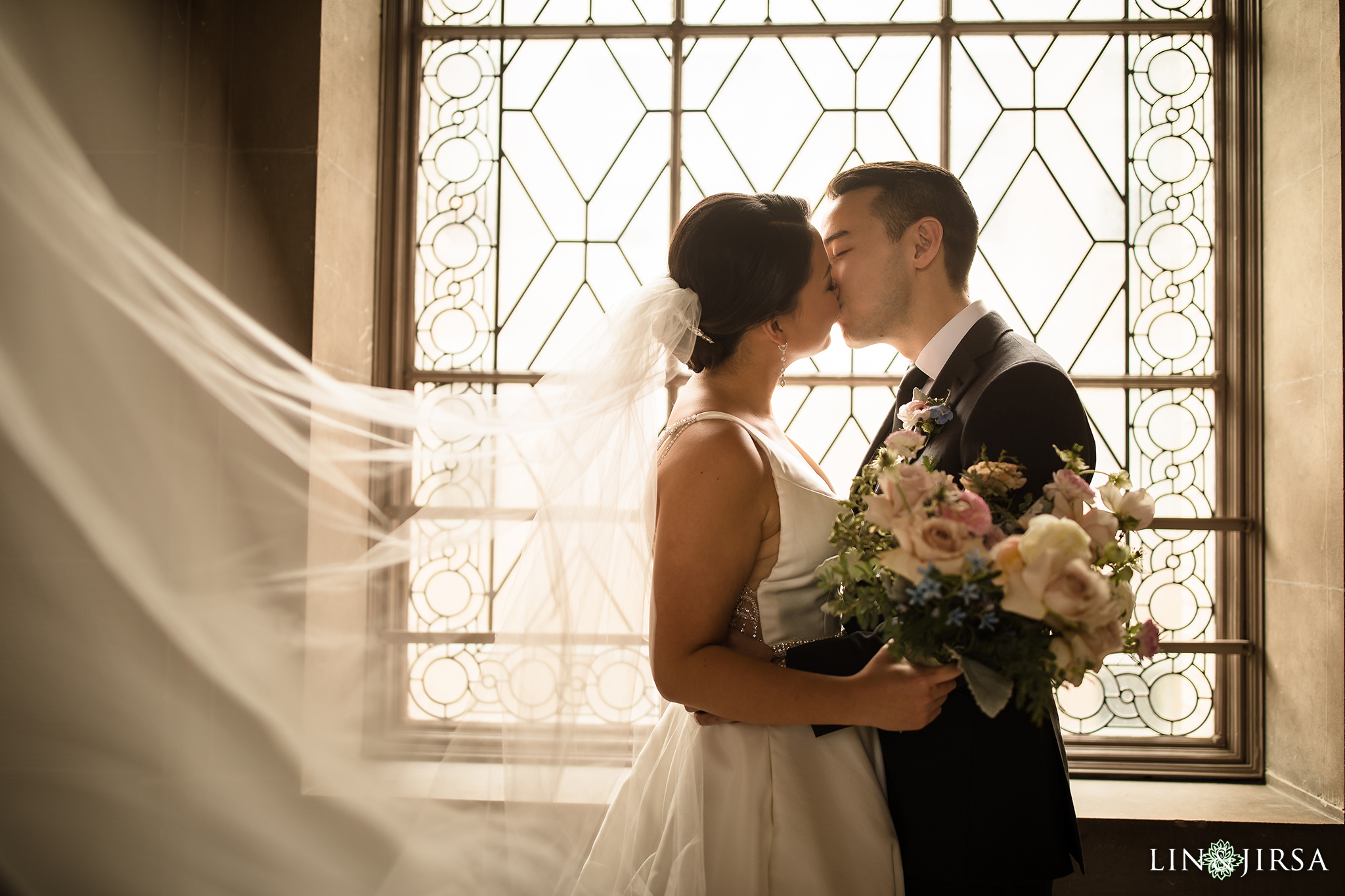 Two-Hour Ceremony Package
With a gorgeous view of the crème and gold marble rotunda, the two-hour wedding ceremony takes place on the Grand Staircase and is perfect for brides and grooms looking to make a statement. Offered only on Saturdays, this package includes chair rentals for up to 200 guests, as well as insurance and building services. Food and drink service are possible, but require advance approval.
Evening Wedding Package
Ideal for the couple that wants it all, the evening wedding package includes the best that San Francisco City Hall has to offer. Wedding ceremonies are held on the Grand Staircase, followed by cocktail hour in the North Light Court, and the festivities are concluded with dinner and dancing in the Rotunda. Guests will be awed by the gorgeous views offered in this package and the private photo opportunities are endless.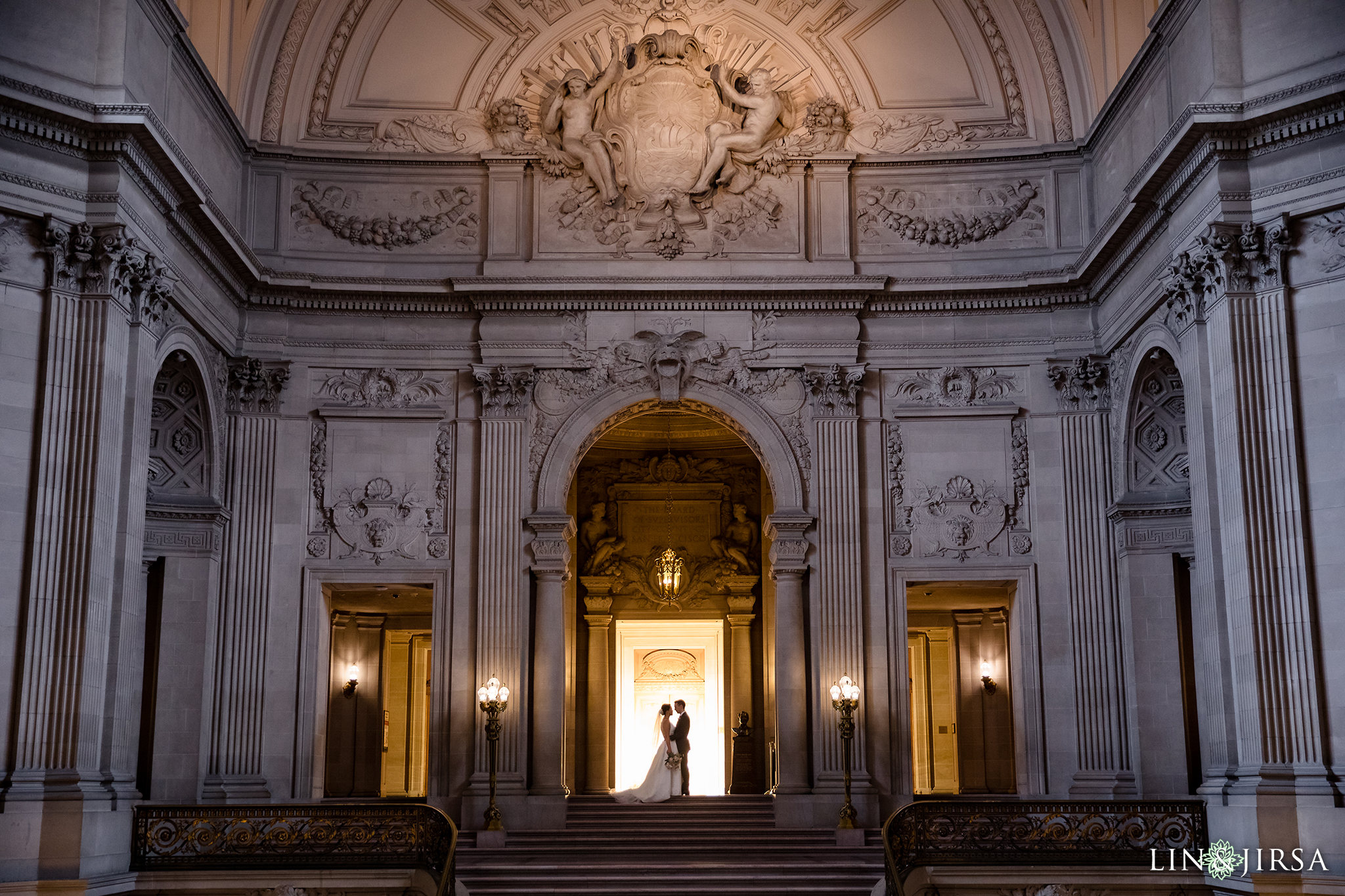 San Francisco City Hall FAQs
Where is the venue?
Address: 1 Dr. Carlton B. Goodlett Place, San Francisco, CA 94102
Parking: Parking Event parking is available at either the Civic Center Plaza Garage, located on McAllister Street at Polk, or the Performing Arts Garage on Grove Street. City Hall is nearby Civic Center station, which is a stop for BART as well as Muni.
What is the capacity for a San Francisco City Hall wedding?
Each space in City Hall has its own capacity, as outlined below.
Rotunda: standing capacity 660, dinner seating 320
Mayor's Balcony: standing capacity 100, theater seating 40
Fourth Floor: standing capacity 100, theater seating 60
North Light Court: standing capacity 870, dinner seating 435
Will my wedding ceremony be open to the public?
San Francisco City Hall is open to the public Monday through Friday, 8:00am to 8:00pm. Sites for ceremonies rented through our packages will be made private, but the public is allowed to enter the building during business hours.
Can I serve food and drink at my wedding?
Except for the one-hour package, food and beverage service is available with advance approval. All vendors must be selected from the qualified list provided by City Hall Events. Alcohol may be served with the appropriate liquor license.
What type of rentals are available at City Hall?
For an additional fee, City Hall has an inventory of chivari chairs, folding chairs, easel, stage, 4 different sizes of banquet tables, and a 60" round table for client use.
Are my marriage license and officiant included in my wedding package?
As your wedding package is handled by the Events Staff at San Francisco City Hall, your marriage license and officiant services will need to be handled independently. Licenses and officiants may be coordinated through the County Clerk's Office.