About Fort Mason
Fort Mason is a unique part of San Francisco's legacy. First a private property owned by famed explorer John C. Fremont, Fort Mason was seized by President Lincoln in 1863 in order to use it for government purposes. For over 100 years, the location served as a U.S. Army post, first as a coastal defense site and then as a military post facility. Although some of the fort is still used for government housing, many of the fort's historic buildings and beautiful gardens have been repurposed for public use. Any of the buildings and gardens situated on the water, with stunning views of the Golden Gate Bridge and Alcatraz Island, are the perfect spot for a Fort Mason wedding.
Fort Mason Wedding Venues
The General's Residence is one of many historic buildings that can house your wedding ceremony and festivities. Inside, the venue features a ballroom, dining room, foyer, and bridal suite, meeting all of your needs for an unforgettable wedding and reception.
The entrance of the General's Residence at Fort Mason is a great location for editorial group photos.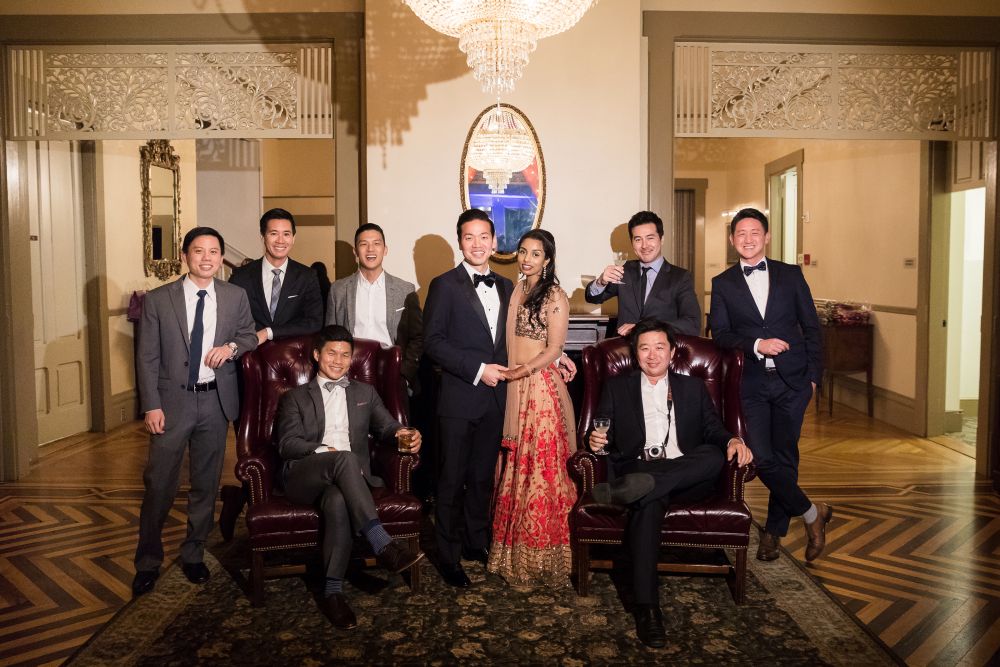 At the back of the wedding venue, there is a gorgeous view of the San Francisco Bay, a perfect location for sunset photos. The rear lawn is also a picturesque spot to say your vows, with iconic Alcatraz Island and the bay beyond in the background of the sweeping lawn. Inside and out, the General's Residence is a photographer's dream for capturing the precious and candid moments of your Fort Mason wedding.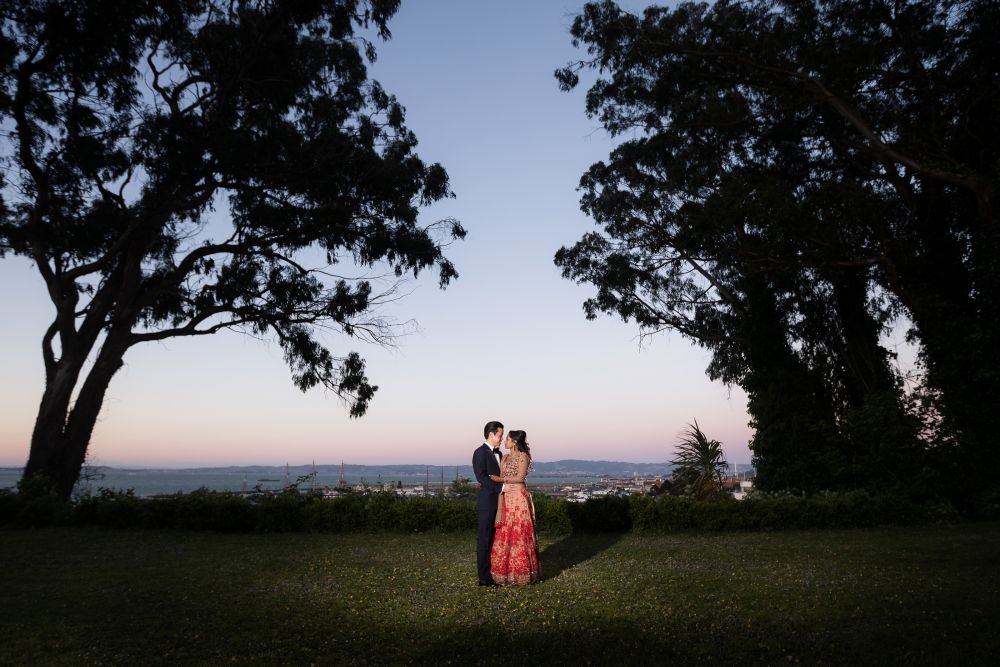 The reception area of the General's Residence accommodates 130 guests, perfect for an intimate gathering of family and friends. The dining room is a blank canvas for festivities that meet your needs and heritage, like the vibrant colors of the Indian wedding reception pictured below. You can learn more about Indian wedding traditions and photography here and here.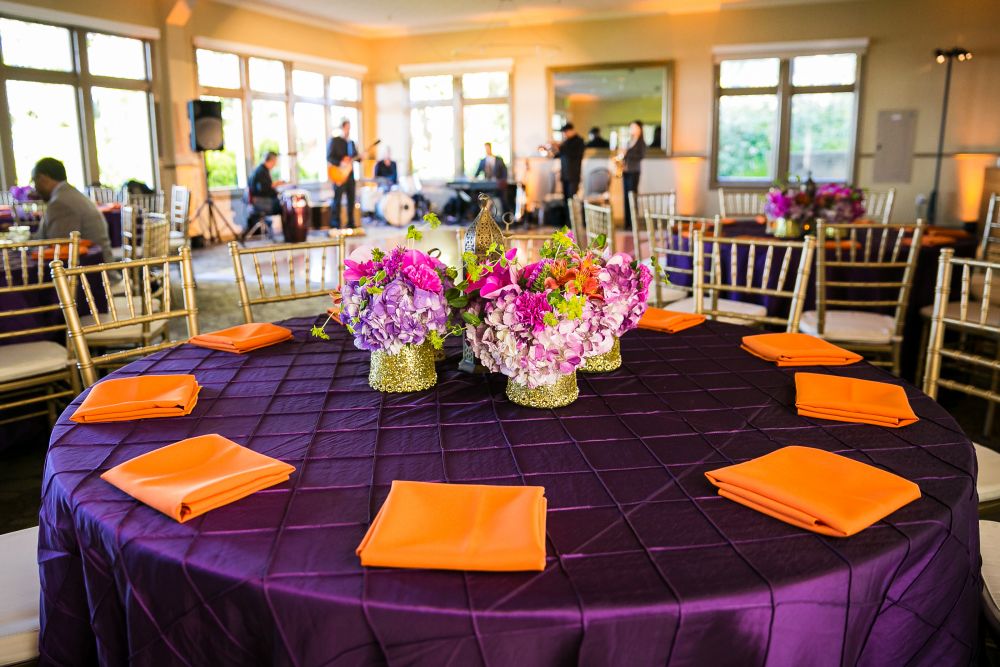 Of course, after the vows, the toasts, the food, and all other traditions, it's not a wedding without a great dance floor, which Fort Mason has. From the start of the day to the wee hours of the night, The General's Residence is one of many locations where you can create your own version of a Fort Mason wedding.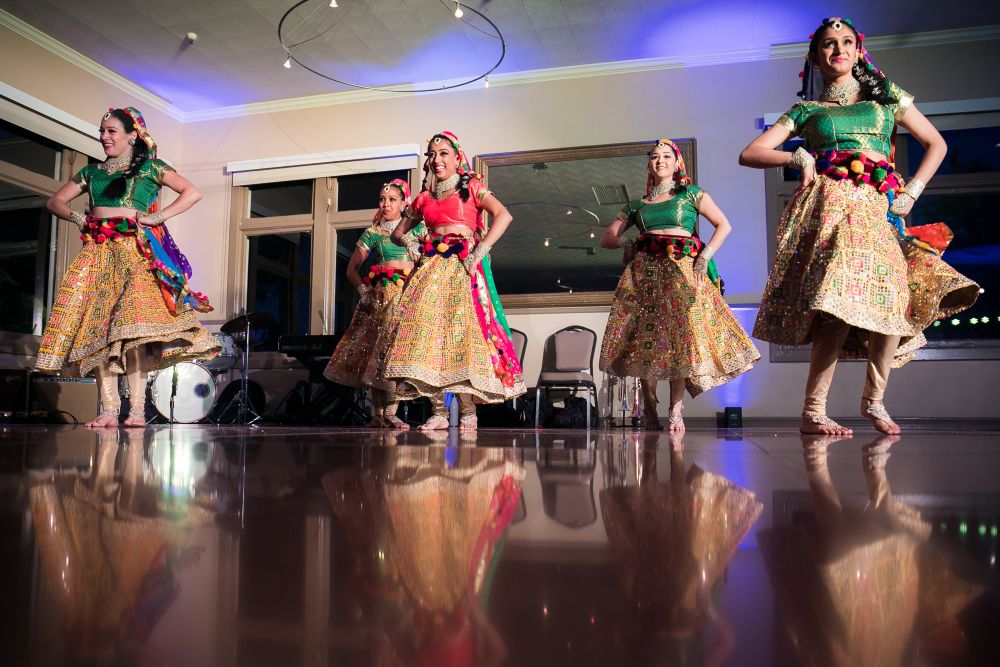 Fort Mason San Francisco FAQs
How many guests does Fort Mason accommodate?
Weddings at the General's Residence can house up to 130 people in the dining room (with dance floor), or 200 for a ballroom or rear lawn ceremony. The larger Gallery 308, which is a modern, chic building, can accommodate up to 400 guests for a ceremony and 25 seated for a reception.  The charming Firehouse can seat 100 guests for your ceremony or 80 for your reception.
Do I need to use the venue's official caterer or wedding planner?
Since there is no official caterer or wedding planner at the venue, you are allowed to choose your caterer and wedding planner that best suit your needs.
What about alcohol?
The venue permits you to provide your own alcohol for your Fort Mason wedding.
Fort Mason is located at 2 Marina Blvd Building C, Room 260, San Francisco, CA 94123.