The ornate decor of the entrance of the Millennium Biltmore sets the scene for your decadent event. The epitome of Hollywood glamour, the Biltmore's historical grand ballrooms, stunning frescoes and gilded decor will dazzle you and your guests. For the last 90 years, the Biltmore has hosted weddings, receptions and numerous other events including the early Academy Awards ceremonies in their spectacular Crystal Ballroom. Overlook the entire ballroom from the second story balcony as you make your Gatsby-style entrance while the crystal chandeliers bathe the entire room in a romantic glow.
About the Millennium Biltmore Hotel Los Angeles
Located in the middle of downtown Los Angeles on Pershing Square, the Millennium Biltmore offers a stunning canvas for your wedding photographs with its lavish interiors and sensational hand-painted ceiling murals. This historic landmark has been a host to celebrities and presidents through the decades and provides the perfect location for your glamorous wedding day.
When the Los Angeles Biltmore opened in 1923, it was the largest hotel west of Chicago. Made of thick steel and concrete, this 11-story edifice takes up half a city block. Designed as a homage to the Castilian heritage in Los Angeles, the hotel is a stunning synthesis of Spanish-Italian Renaissance Revival, Mediterranean Rivival, and Beaux Arts style. At the Biltmore, your wedding will be an unforgettable celebration of Los Angeles history.
Wedding Party at the Millennium Biltmore Hotel Los Angeles
There are a wealth of spaces in this iconic building for photo ops–under the imported Austrian crystal chandeliers and massive wood-beamed ceilings, in the cast bronze stairwells, next to the historic embroidered tapestries, in front of carved marble fountains and columns. At this venue, everywhere you look there's elegance and grandeur.
We at Lin and Jirsa Wedding Photography would be honored to capture every moment and emotion of your monumental day, big and small. We don't just take pictures and videos–we create photo heirlooms that couples treasure for a lifetime. We have a wealth of experience photographing weddings from a variety of cultures, from Indian weddings to Chinese weddings to Muslim weddings, etc. Whatever your heritage and traditions, we would love to capture that in all of its beauty.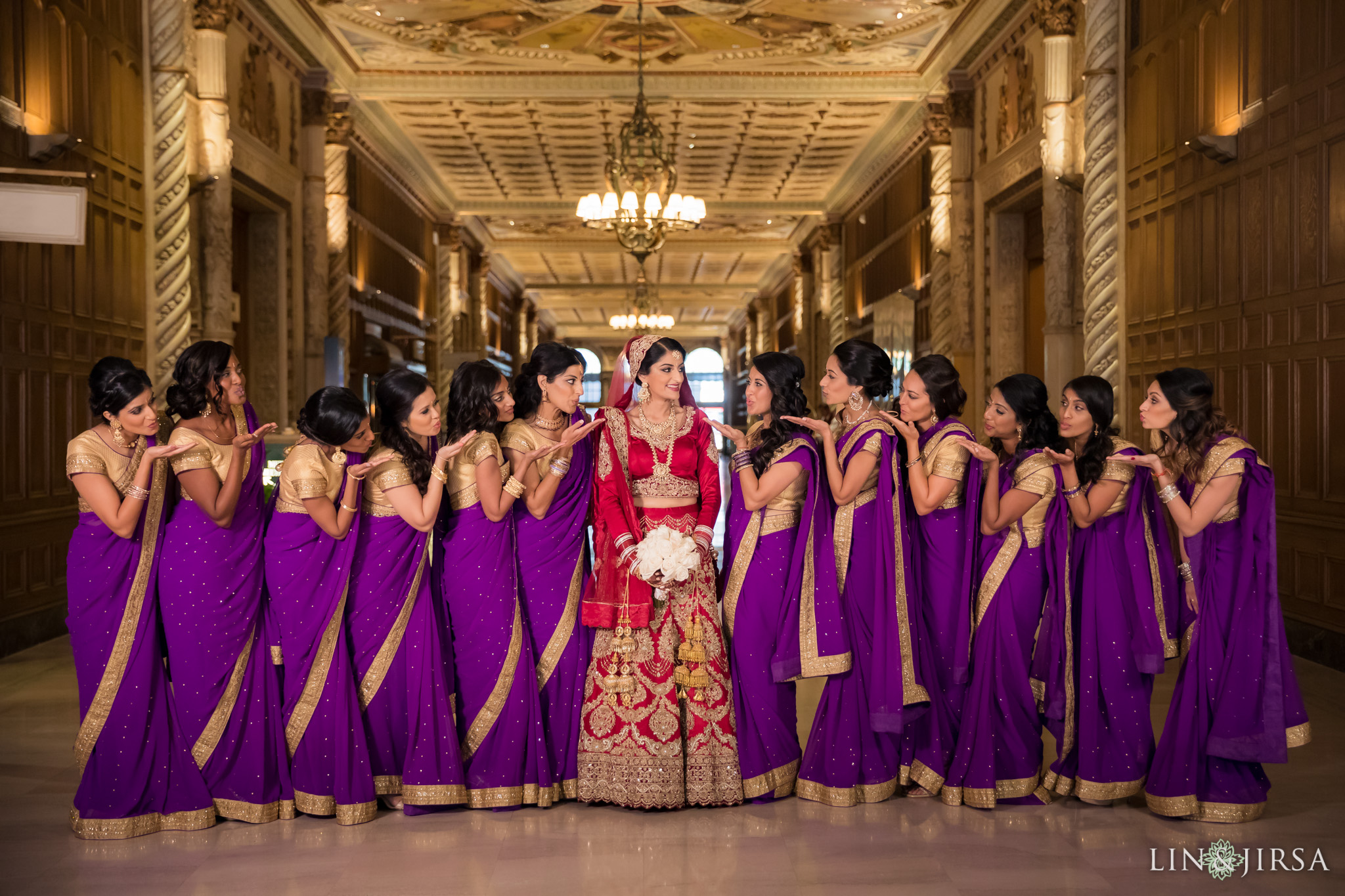 Couple Session at Millennium Biltmore Hotel Los Angeles
Be sure you take some quiet time out of your magical day for some couple's photography. You'll make intimate memories together in the grandeur of this otherworldly location.
Wedding Ceremony at the Millennium Biltmore Hotel Los Angeles
This hotel boasts many sumptuous, regal spaces to host your wedding ceremony. Pictured below, the Gold Room is a split-level space that was once a dining room for nobility, dignitaries, and celebrities. Dating back to Prohibition days, it features hidden liquor compartments and ceiling panels for the press to take secret photos of events. It's the epitome of luxury with grand wood-paneled walls, a gold plaster-cast ceiling, and arched mirrored windows on three sides of the room. You will never forget the moment you tie the knot in an exquisite space like this.
Wedding Reception at the Millennium Biltmore Hotel Los Angeles
There are also plenty of luxurious spaces for a reception, each one more opulent than the last: the Emerald room with its hand-painted flora and fauna and plaster-cast ceiling, the Tiffany Room with its relief sculptures depicting ancient explorers, and the Crystal Ballroom (pictured below) with its soaring 30-foot vaulted ceilings, carved marble columns, and hand-painted fresco, which were painted over a period of seven months back in 1922 by Italian artist John Smeraldi and his team.

FAQ
Does the hotel have a bride's dressing area?
Yes, both a bride's dressing area and a groom's area are available at the hotel.
How much time will we have for our reception?
The Biltmore allows you five hours for your reception, excluding setup and cleanup.
How many guests can we invite to our wedding?
The venue accommodates up to 400 guests.
The Millennium Biltmore Hotel is located at 506 S Grand Ave, Los Angeles, CA 90071.