One of L.A.'s landmark hotels, The London West Hollywood exudes a sense of smooth glamour. With the vibrant Sunset Strip right outside their doors, The London is the merging of a "striking cosmopolitan vibe and an easy SoCal personailty."
What We Love About The London West Hollywood
The London West Hollywood is precisely what comes to mind when one thinks about the merging of modern elegance and relaxed California living. One of the things we love the most about this beautiful venue is its amazing glass-encased rooftop. During both your ceremony and reception, you and your guests can enjoy the spectacular city views from the hotel's luxurious vantage point. The London's coveted locale allows for a breathtaking glimpse at the Los Angeles cityscape but also is one of the best environments for the most memorable events of your life.
Wedding Prep at the London West Hollywood
One of the advantages of planning a hotel wedding is the opportunity to book a block of suites for your out-of-town guests to stay steps away from the festivities. Likewise, you can book a suite to use as a bridal dressing area (as well as one for the groomsmen). Either the Crown or Royal Vista Suites will give you a private balcony with unobstructed views of the LA skyline or the Hollywood Hills, as well as over 700 square feet to fit your wedding party. You'll be able to relax, be pampered, and make memories together as you await the moment you'll tie the knot.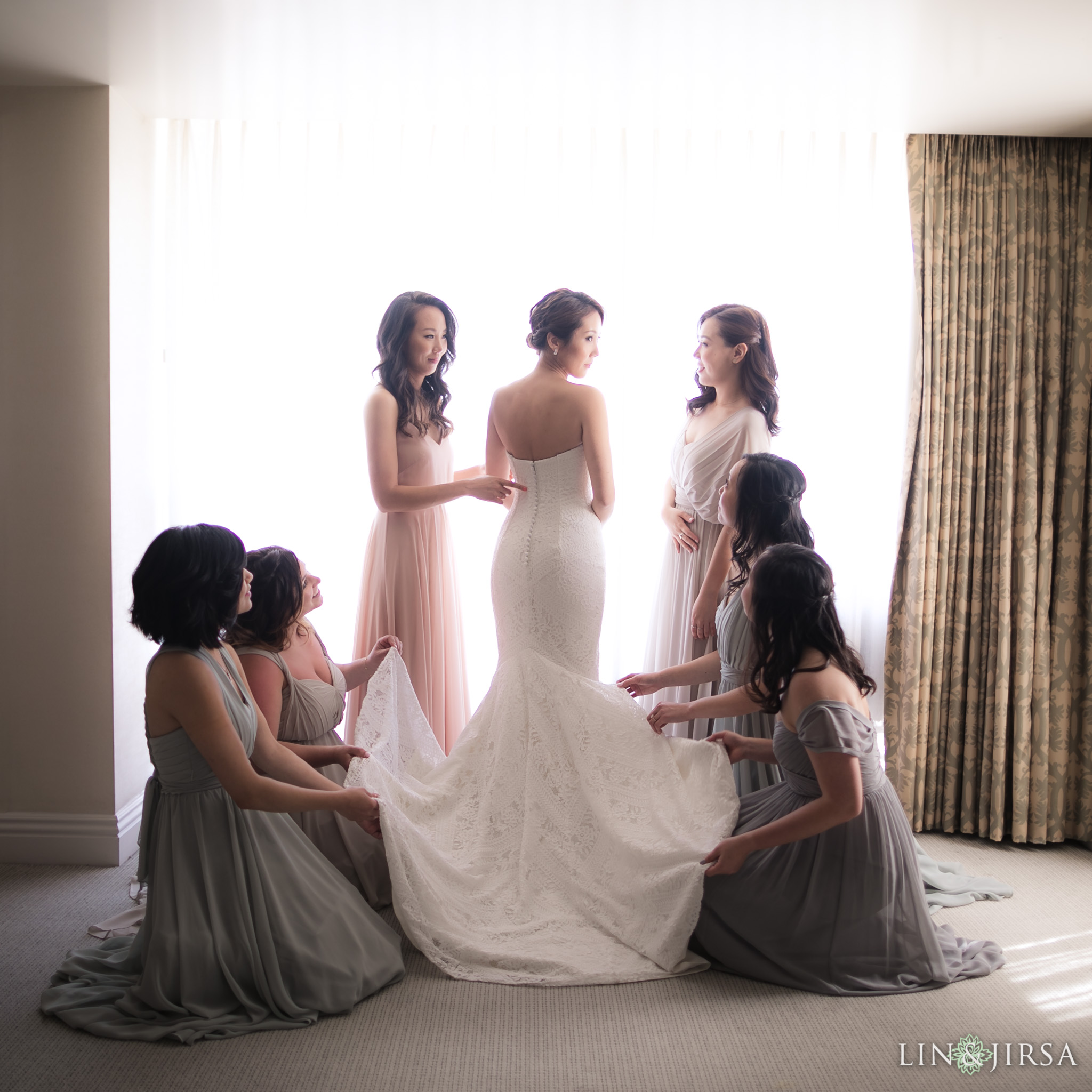 Wedding Photography at the London West Hollywood
This venue abounds with stunning photo ops. Whether in the English rose garden, at the crystal blue rooftop pool under the shade of swaying palms, or beside manicured topiaries, there are plenty of sumptuous backdrops to gorgeous photography.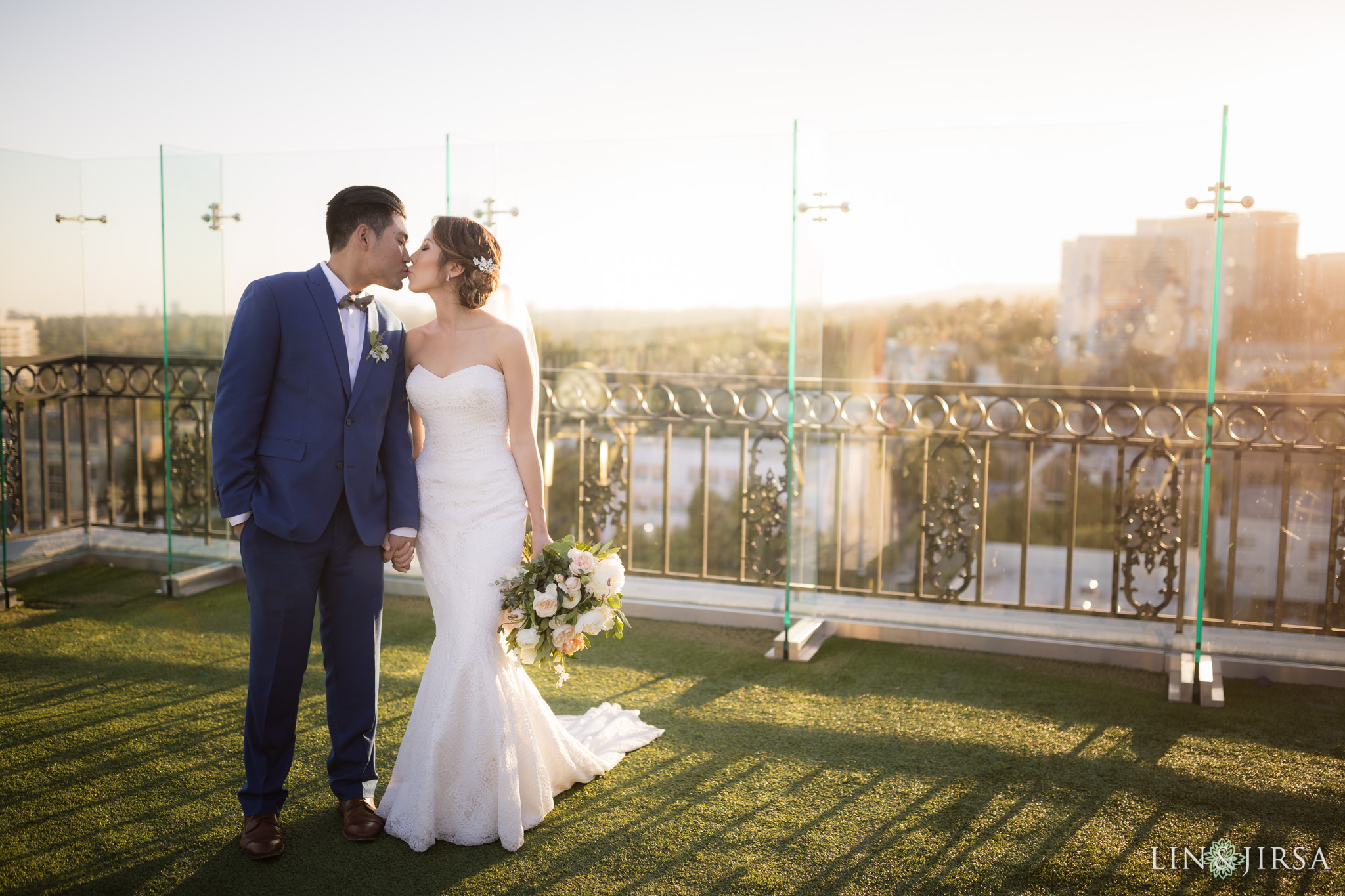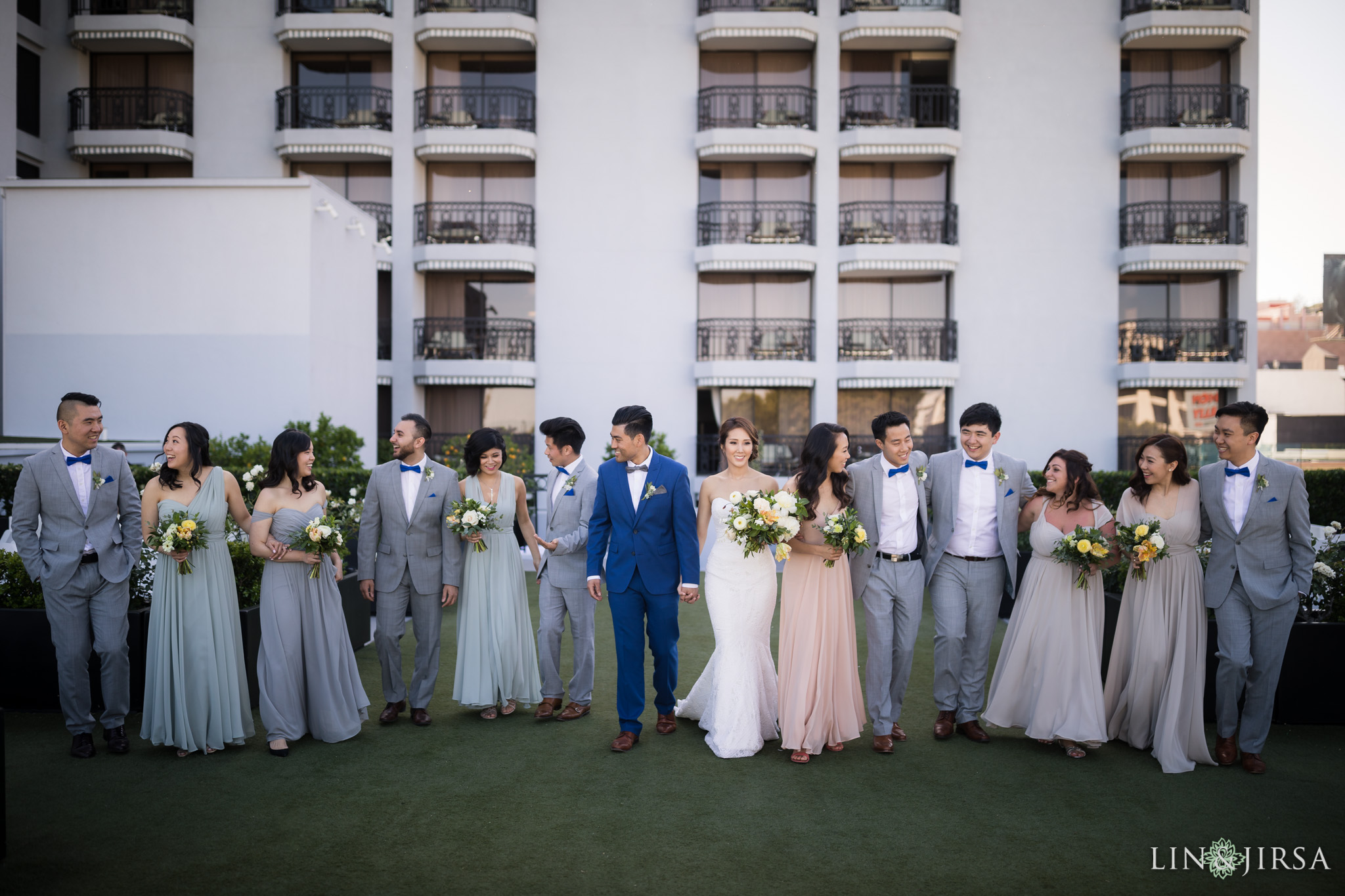 We at Lin and Jirsa Wedding Photography would be honored to capture each moment and emotion of your day, big and small, posed and candid. We tell love stories through photographs and videos, and we create photo heirlooms that you'll treasure for a lifetime. Click here to learn why couples love to choose one company to meet both their photography and videography needs.
Wedding Ceremonies at the London West Hollywood
This boutique hotel offers four unique spaces for wedding ceremonies and receptions, each of them elegant. You can say your vows in Hampton Court, a multi-tiered courtyard English garden, which includes a vibrant rose garden. You can also choose the Penthouse, an 11,000-square-foot, two-story retreat that features its own dining room and open-air rooftop patio. For supreme elegance, you can wed in the Kensington Ballroom, with its crystal chandeliers, wall of windows, and marble-floored outdoor terrace. Or, like the couples pictured below, you can't go wrong with a wedding on the West End Rooftop, which boasts panoramic views of the skyline on one side and the Hollywood Hills on the other. Nothing says "Hollywood wedding" more than saying your vows in view of the expanse of Hollywood's grandeur.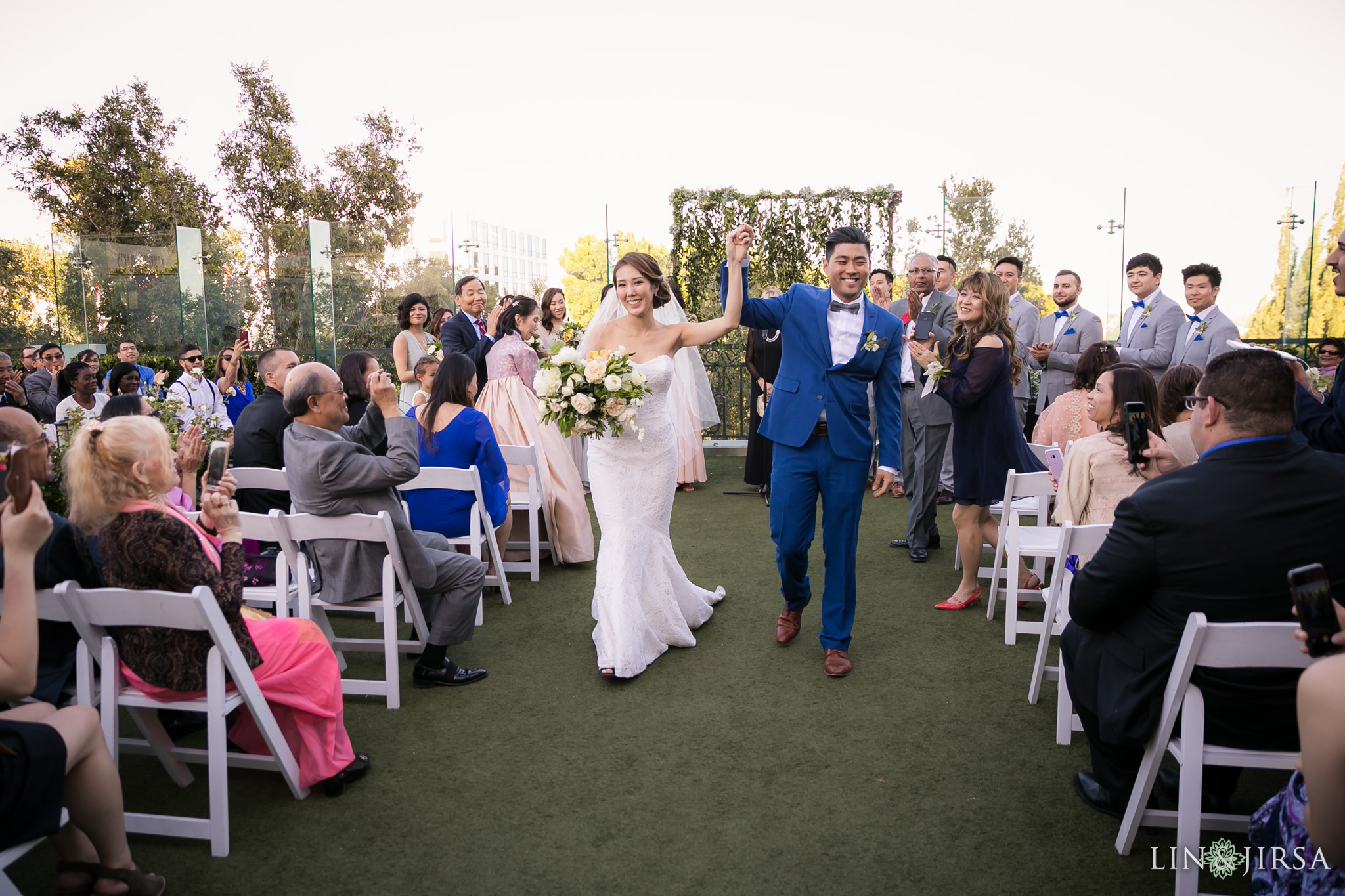 Wedding Receptions at the London West Hollywood
Any of the above-mentioned venues double as a lovely space for a reception. The West End Rooftop can be tented and transformed into a reception area with tables and chairs, as well as a dance floor. Your guests will be delighted to dine and toast in the setting California sun and then dance the night away with the twinkling lights of the city below. Can you imagine a more romantic setting than this?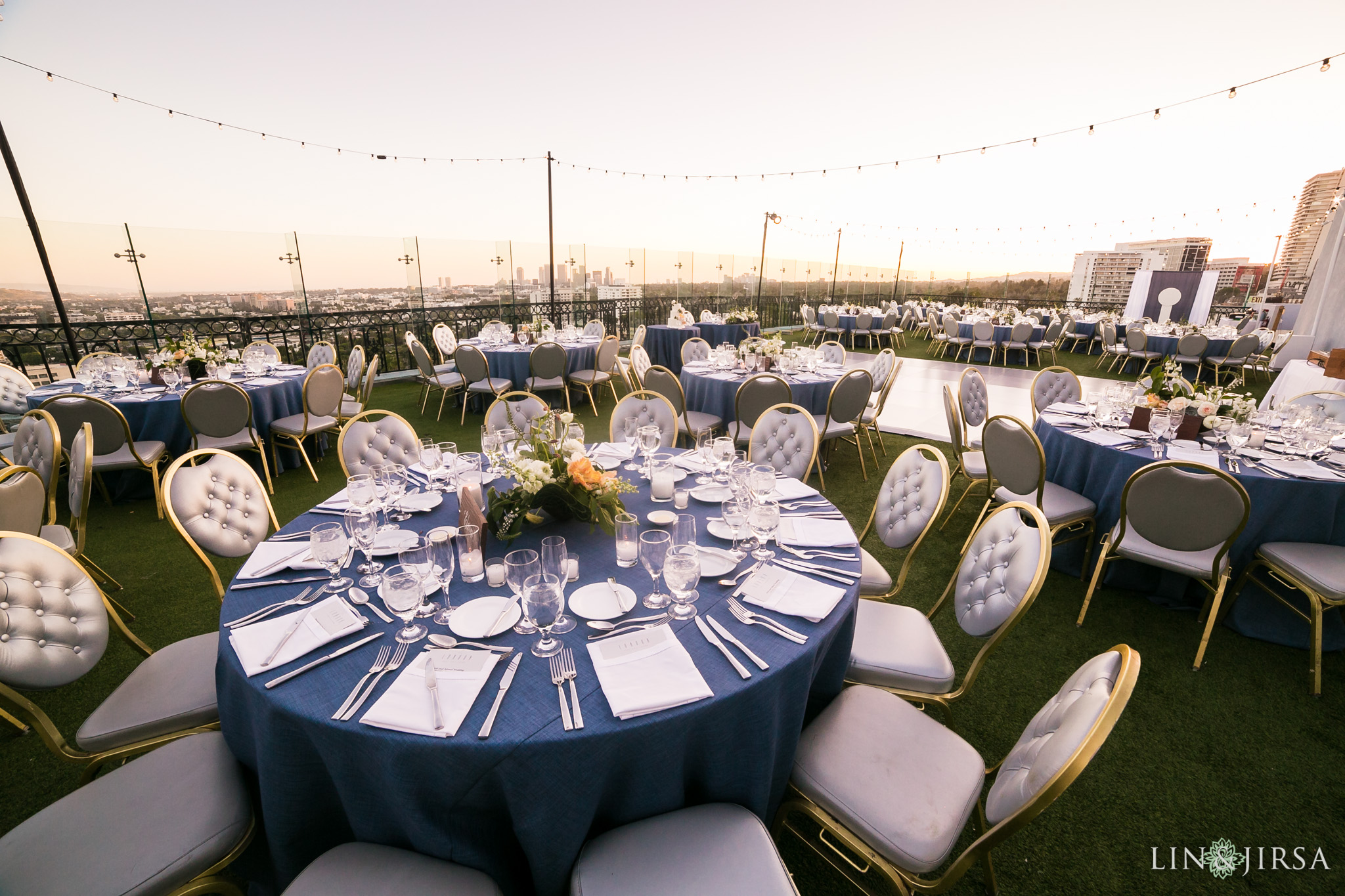 FAQ
How many guests can this venue accommodate?
The various venues at this hotel can seat between 180 and 400 guests.
Which caterer can we choose for our wedding?
The London requests that you use their excellent in-house caterer, who will work with you to plan the menu of your dreams.
Does the West End Rooftop have to be tented?
The West End Rooftop is always tented between November and March for your comfort.
The London West Hollywood is located at 1020 N San Vicente Blvd, West Hollywood, CA 90069.