Weddings at the Athenaeum
The Athenaeum is an iconic piece of Pasadena history. Fashioned after the Athenaeum in London, a social club founded by Sir Walter Scott and Sir Thomas Moore, to be used by intellectuals known for their scientific and literary achievements, the Athenaeum at CalTech  was founded by astronomer George Ellery Hale in 1921. But the beautiful Mediterranean-Rivival-style building wasn't built until 1930, against all odds during the Great Depression. It was funded by an endowment that allowed for antique furnishings, manicured lawns, and tennis courts, an unmatched property during its time. Since its opening, the Athenaeum has been a site for some of the world's greatest minds to gather, such as Albert Einstein and other Nobel Prize winners. And it can be the site for your unforgettable wedding.
Wedding Prep
Wedding packages at the Athenaeum don't just include the use of a bridal suite–the entire Mezzanine level is devoted to letting you and your bridesmaids prepare for the big day. You'll have two spacious rooms and an expansive bathroom to relax, be pampered, and make memories with some of your most beloved friends and family in anticipation of your walk down the aisle.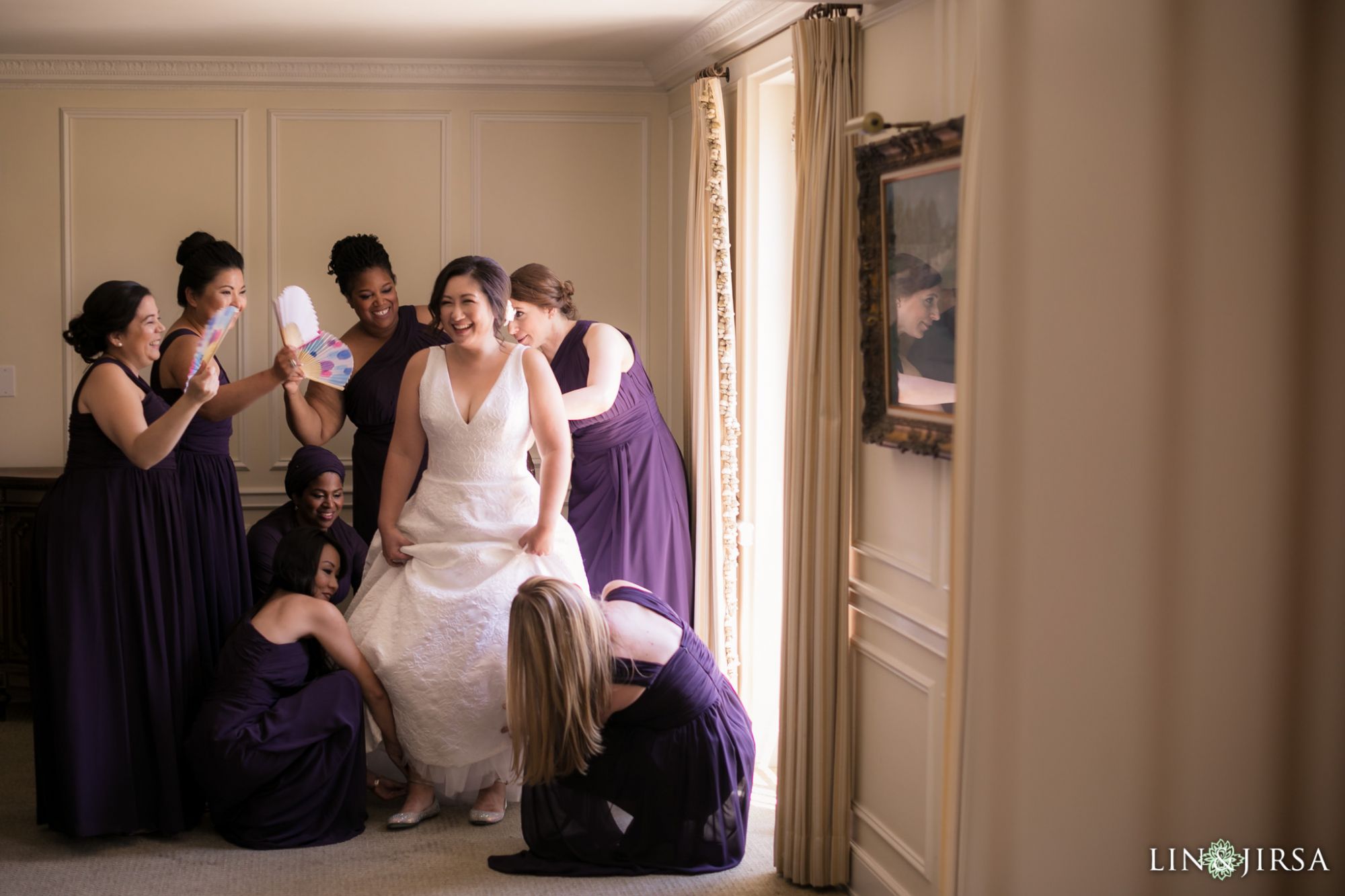 The Athenaeum is packed with plenty of elegant nooks–everywhere you wander, you'll find refined pieces of history, as in the Library, with its painted barrel-vaulted ceilings, luxurious wood-paneled walls, and world-renowned collection of historic books.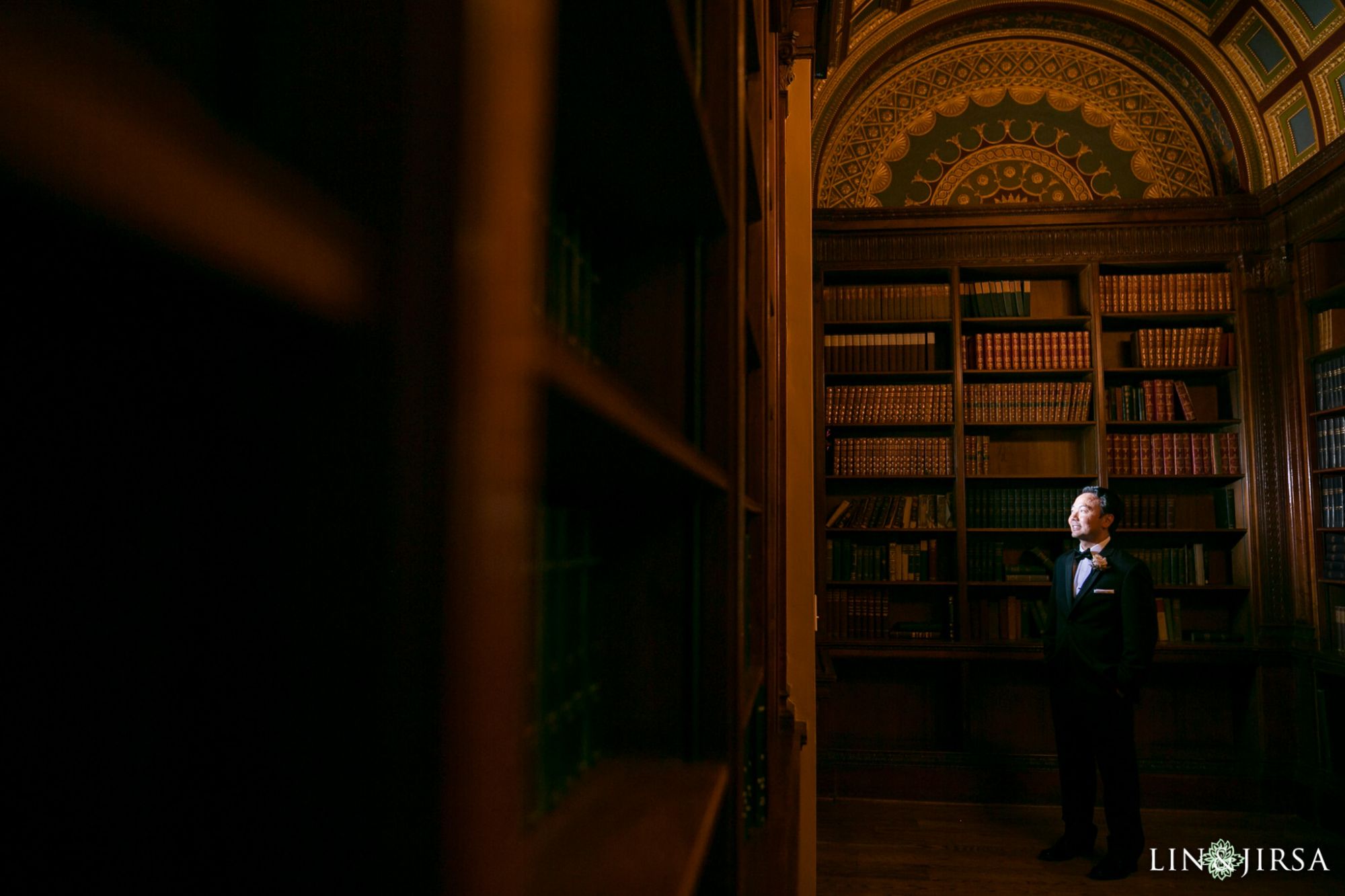 Wedding Photography at the Athenaeum
There are nearly endless locations to capture all of the moments of your big day, from an intimate couple's session to shots of your wedding party. The exquisite architecture and the spacious, verdant grounds that take advantage of LA's year-round pleasant weather allow you to craft photo heirlooms that you'll treasure for a lifetime.
At Lin and Jirsa Wedding Photography, we are honored to create all of your photo and video memories. Click here to learn why it's beneficial to choose one company to provide for both your photography and videography needs.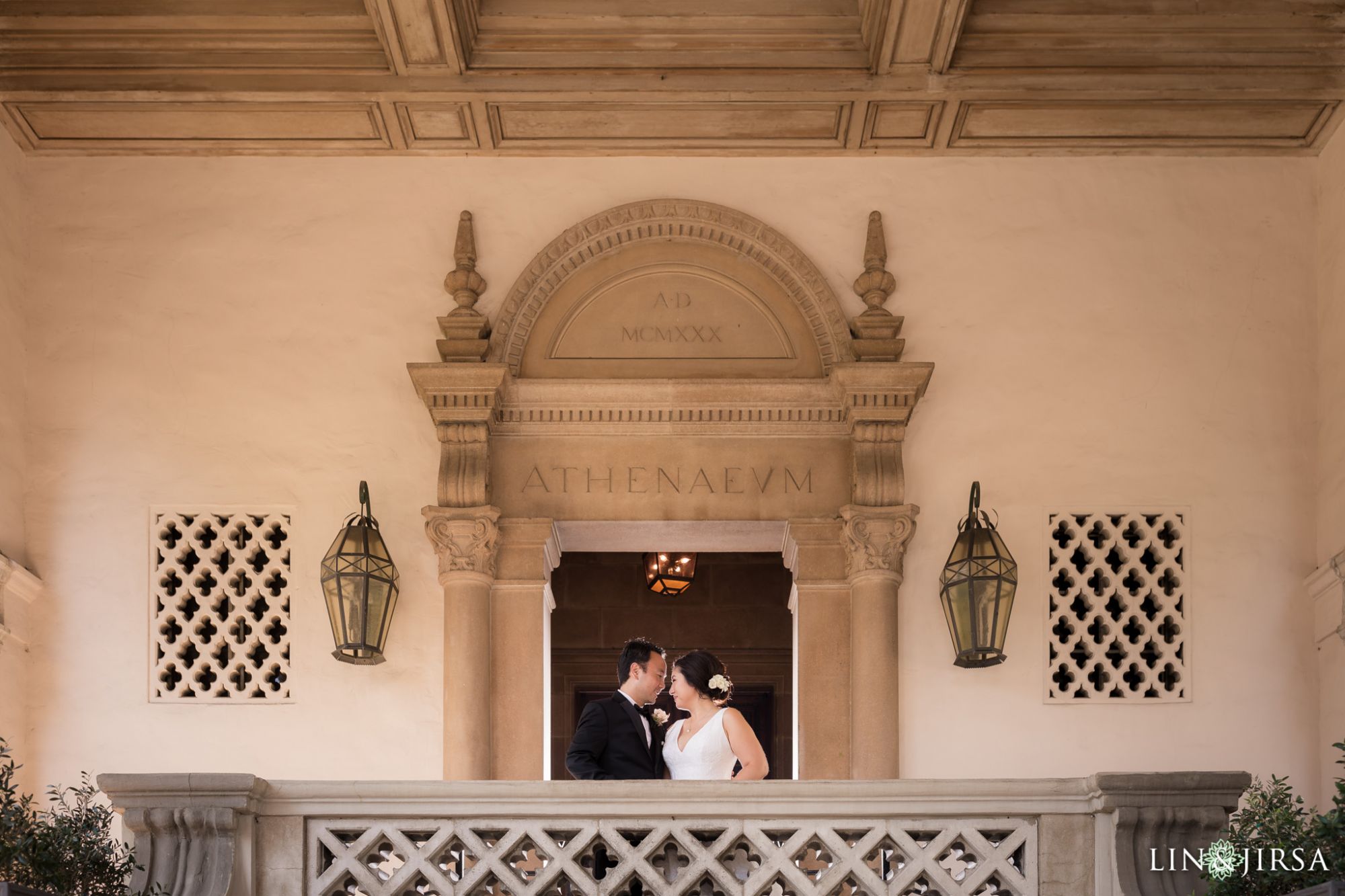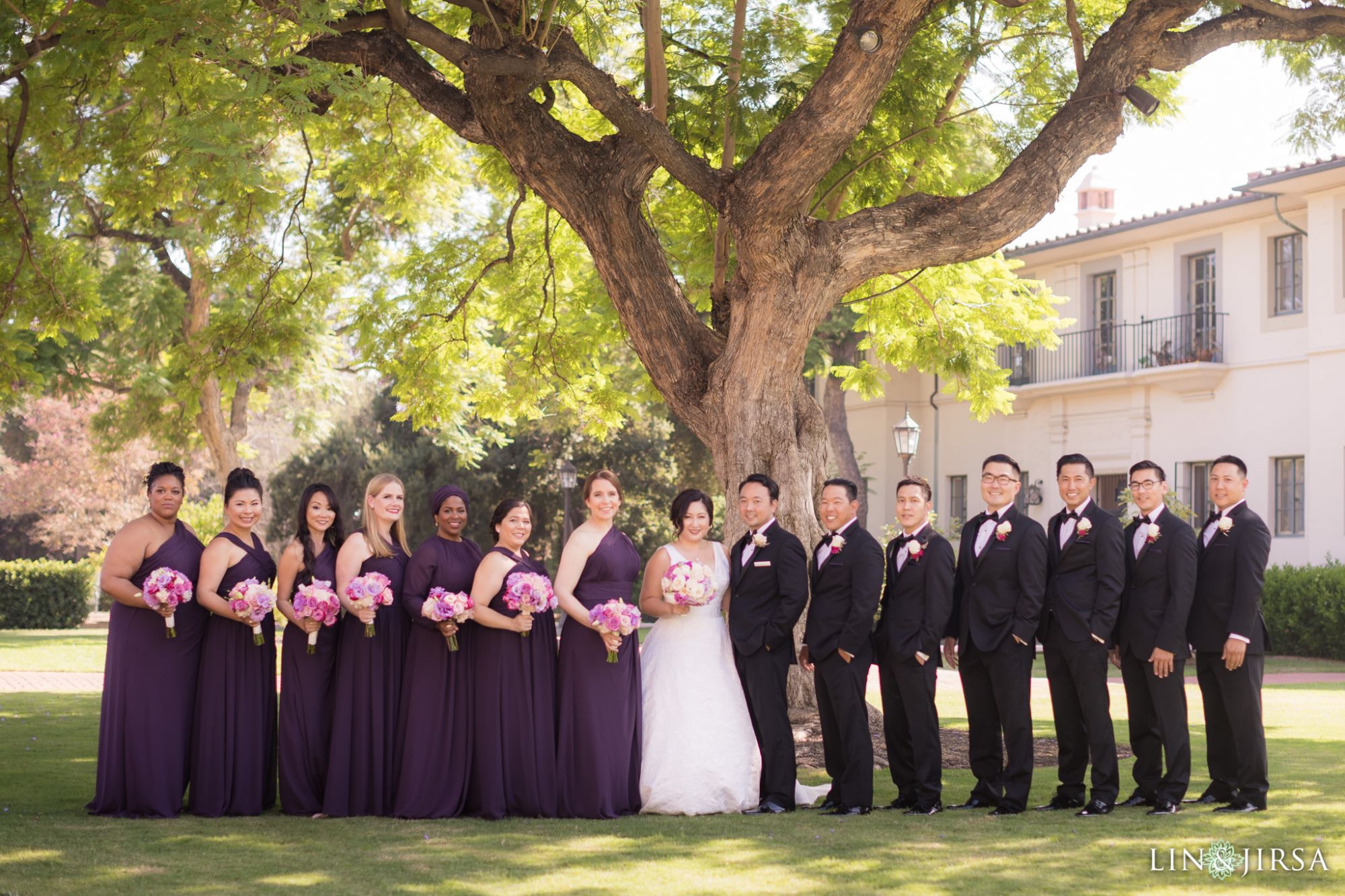 Wedding Ceremonies at the Athenaeum
Various venues are available to host your ceremony, cocktails, and reception. The West Patio, pictured below, is a spectacular spot for an unforgettable ceremony, taking advantage of the architectural loveliness of the columned Olive Walk right at the center of CalTech's campus. Guests will love to sit on the rich red brick patio and watch you tie the knot under the warm Pasadena sun.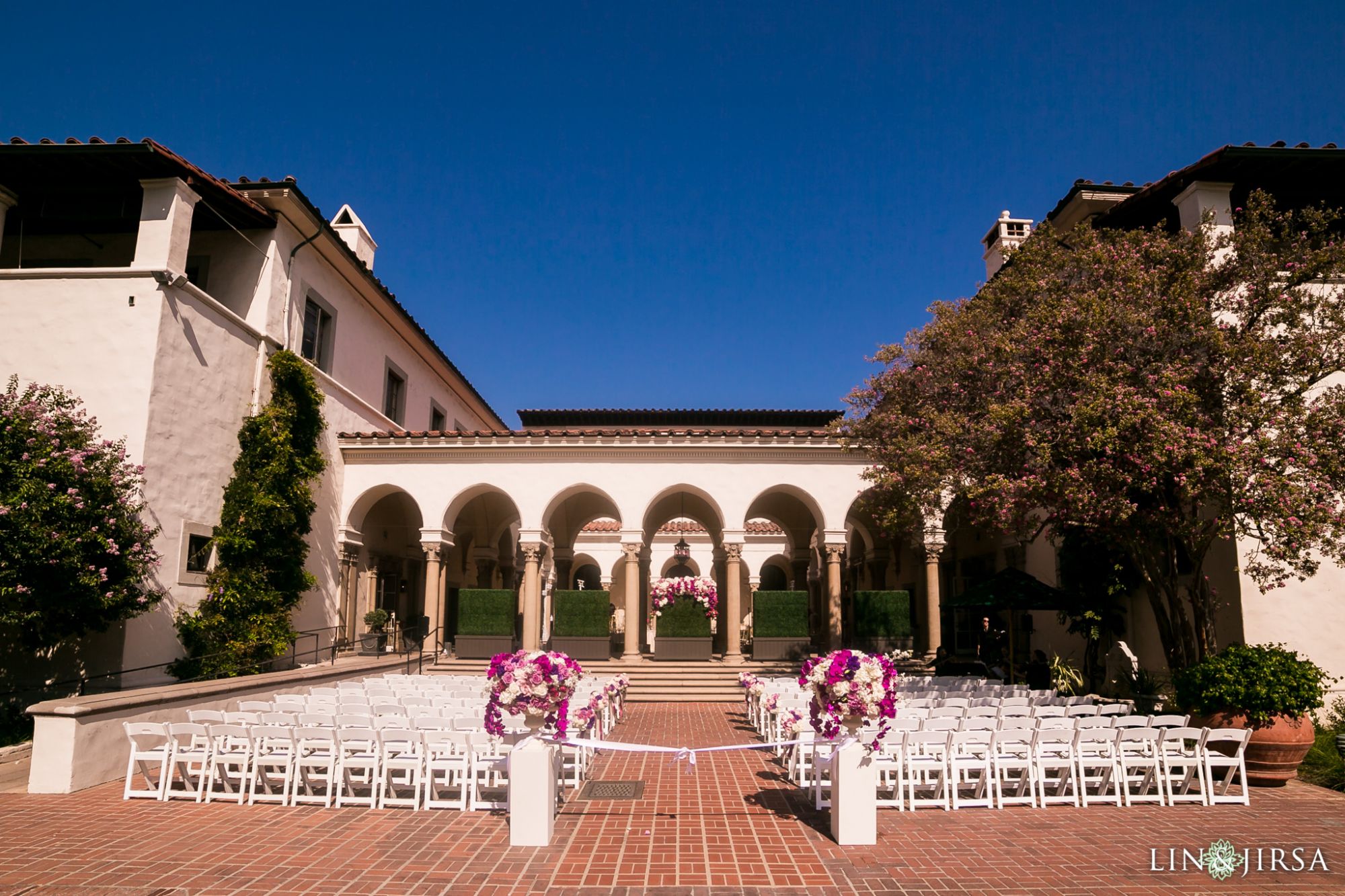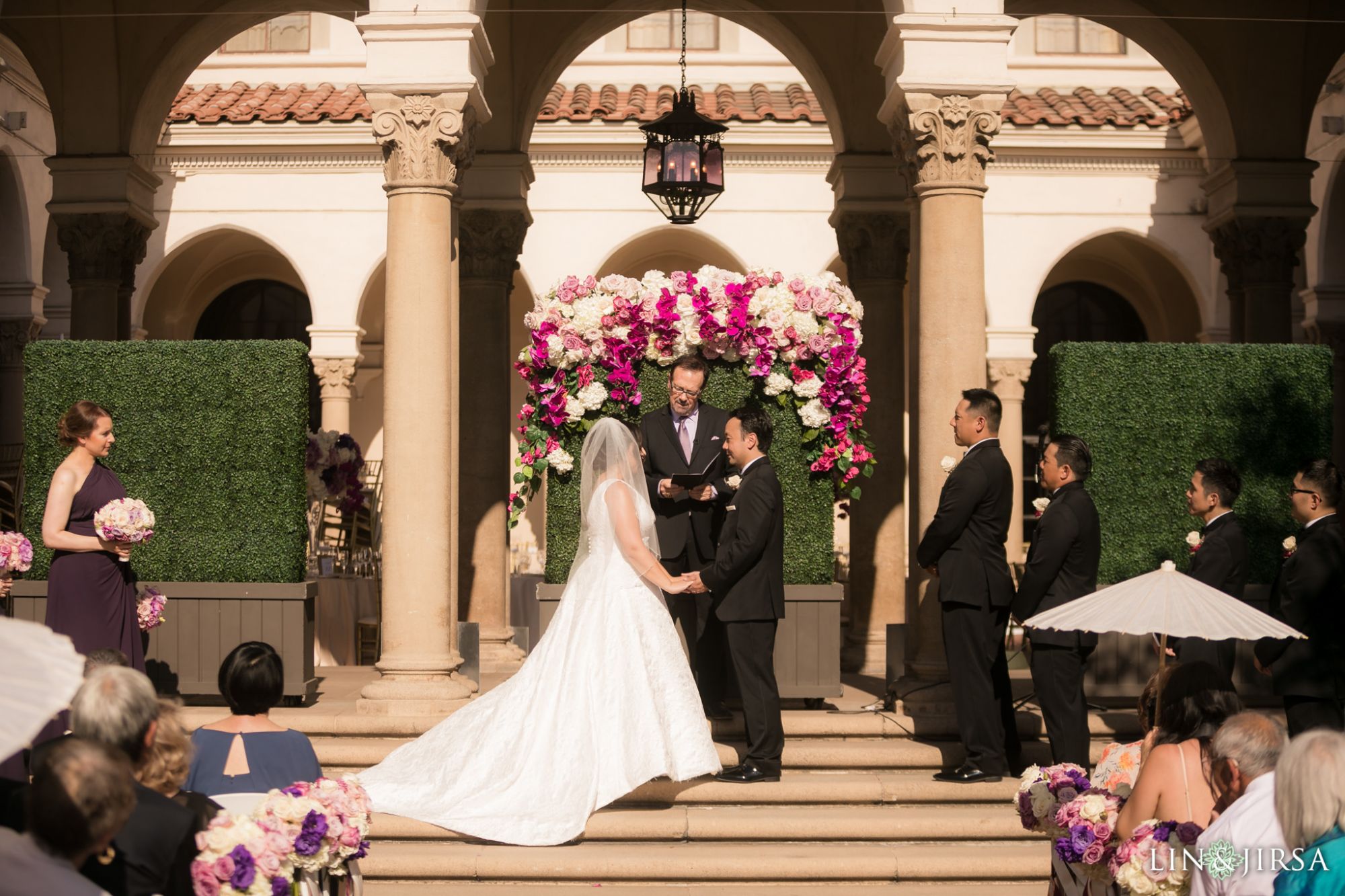 An Athenaeum Reception
The East Patio is an elegant option for an outdoor reception. The Corinthian columns, cast stone statuary, and manicured gardens will transport guests to another world and time. Other indoor choices to toast, dine, and dance the night away are the Main Lounge, the Hall of Associates, the Library, the East and West Rooms, the Card Room, and the Main Dining Room. Each venue hosts a different number of guests.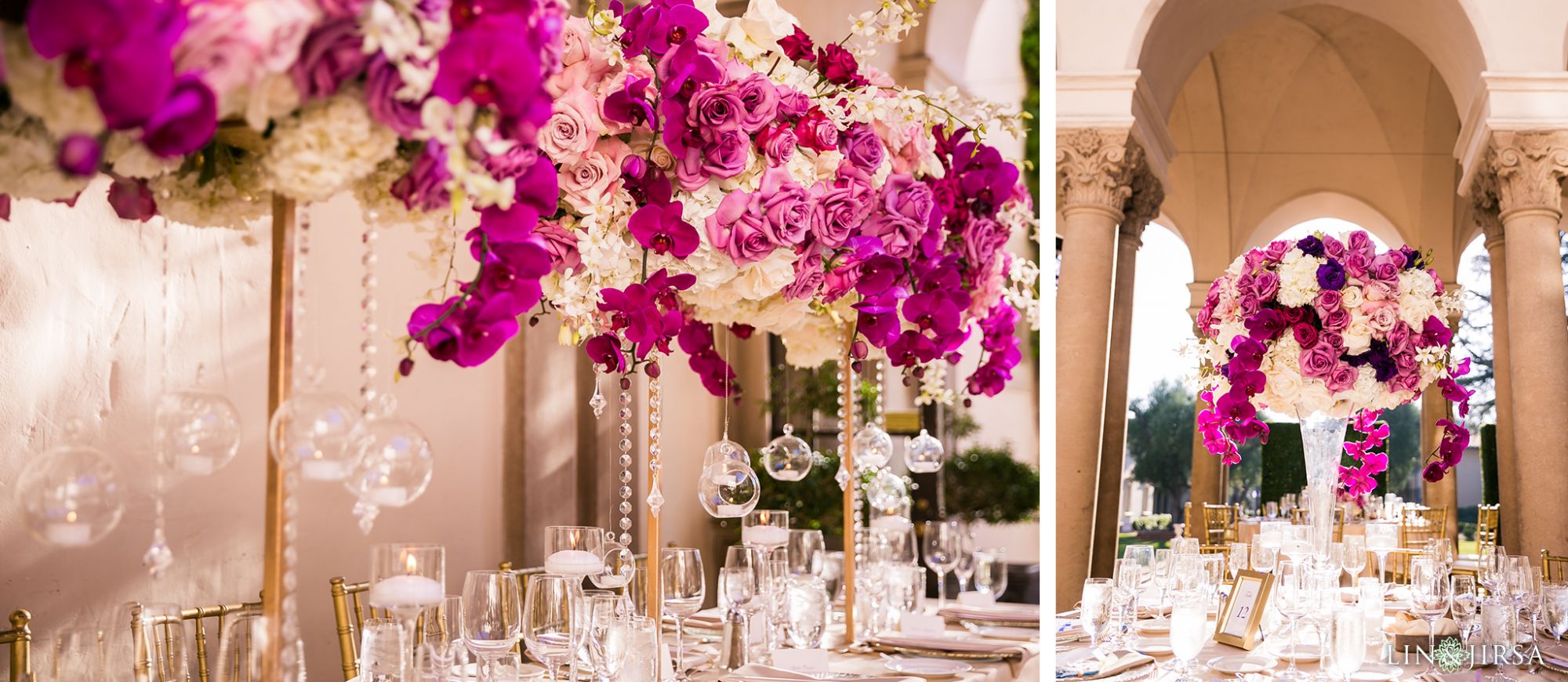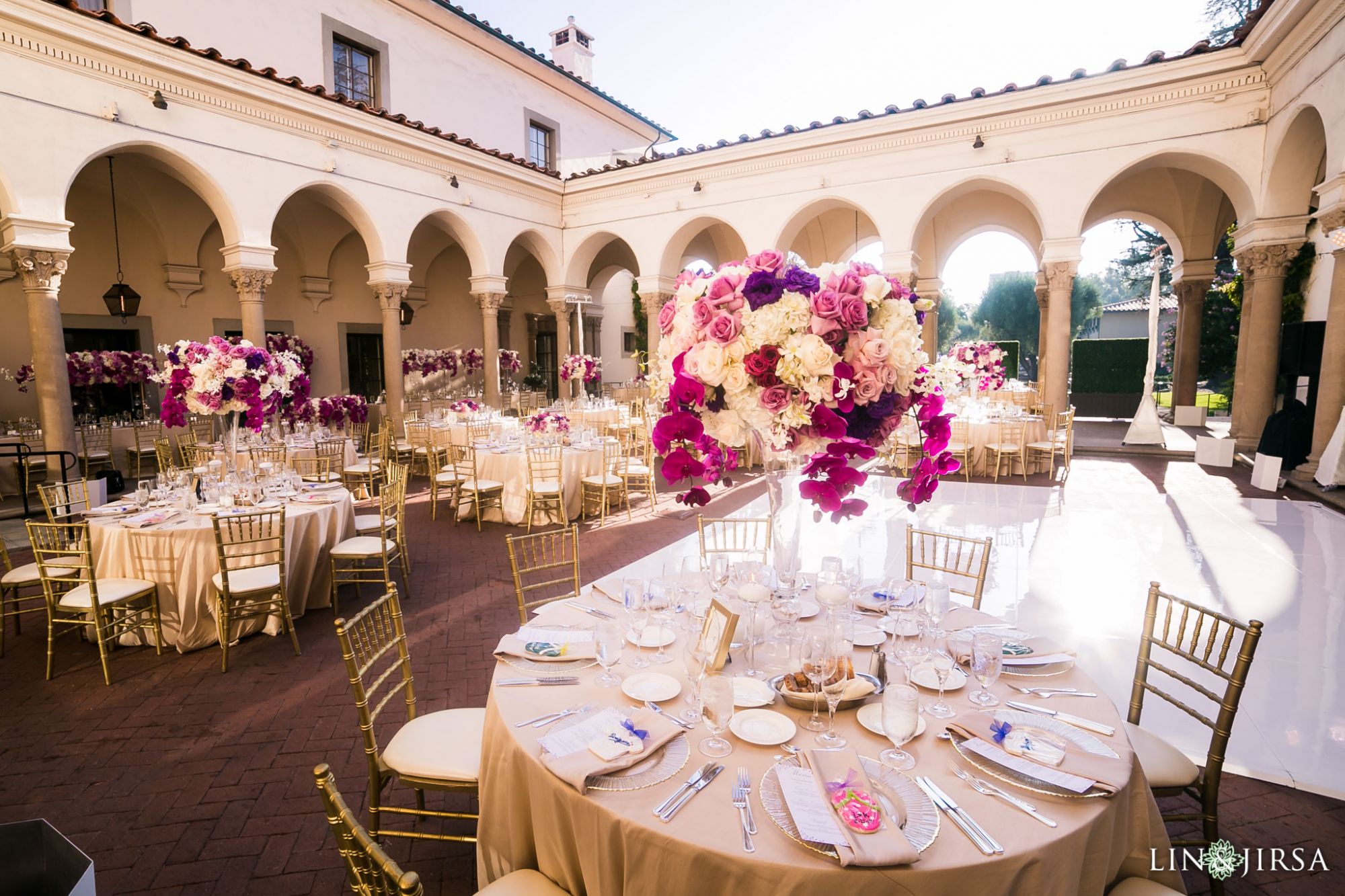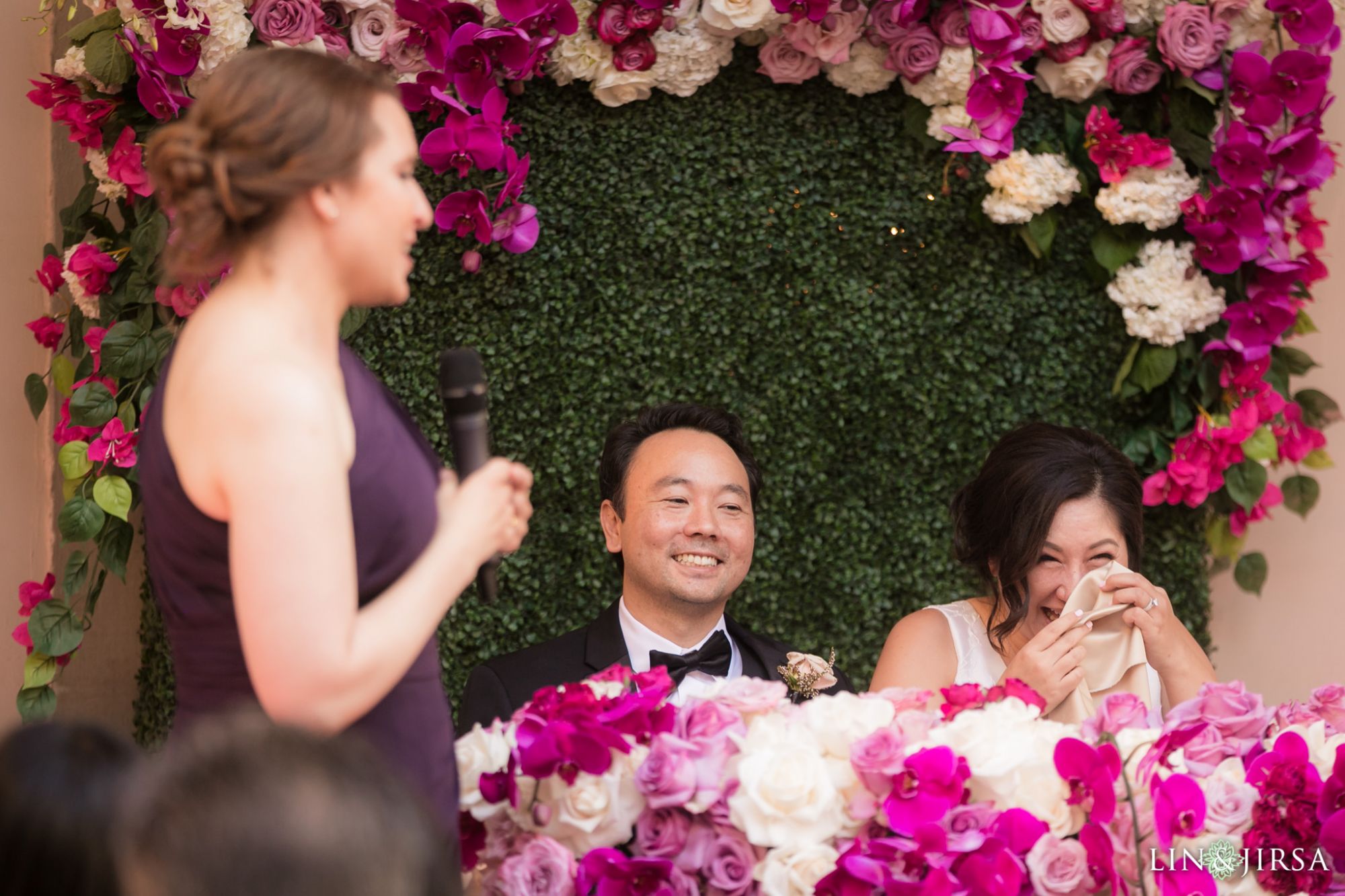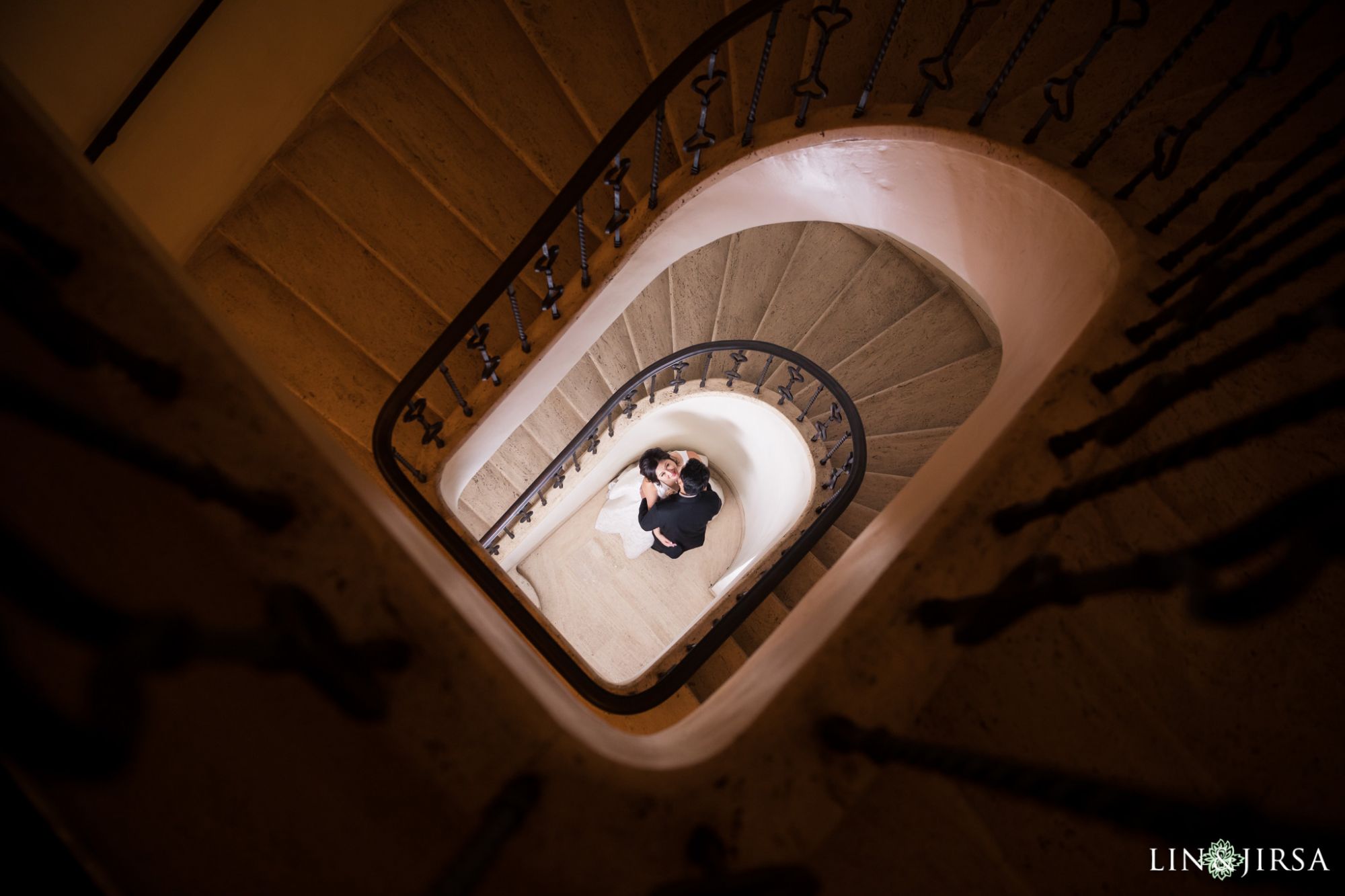 Nighttime Photos at the Athenaeum
After you've said your vows and greeted all of your guests, take advantage of the moody romance of the ivy-covered walls and reflecting pools on a magical night at CalTech.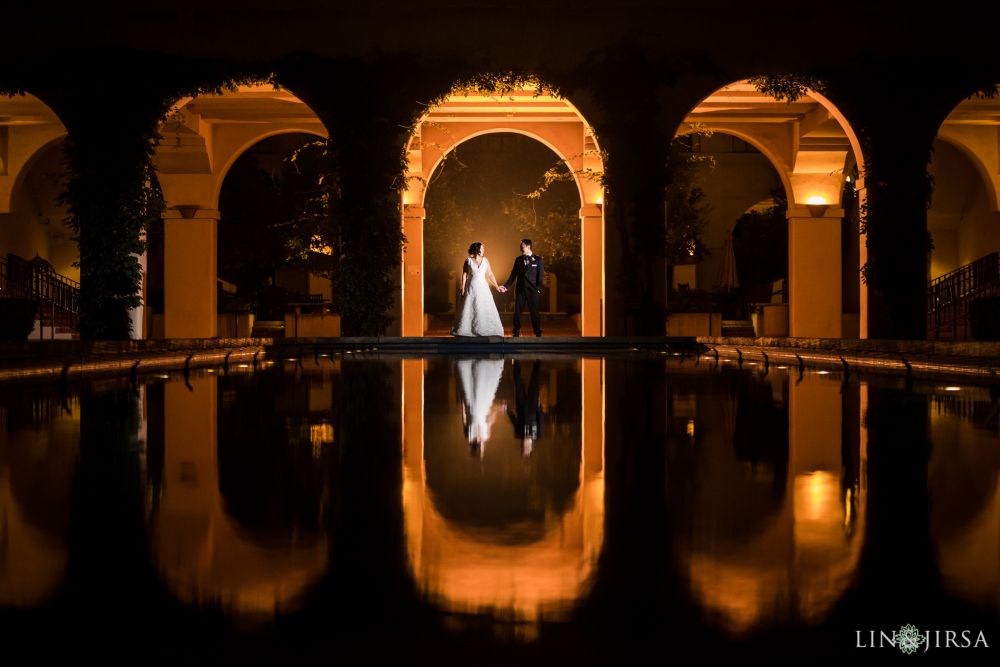 FAQ
How many guests can we invite to an Athenaeum wedding?
Each venue at the club can host a different number of guests, from an intimate dinner of 16 people in the Wine Cellar to 190 of your best friends and beloved family on the West Patio.
Who will cater our wedding?
The club's in-house caterer will craft a menu of sumptuous foods for you and your guests.
What does it mean to be a member?
You must be a member of the Athenaeum or be sponsored by one to book a wedding there. Members include CalTech alumni, staff, faculty, grad students, undergrad seniors, trustees, Associates of CalTech, and staff of Jet Propulsion Laboratory, the Palomar Observatory, and the Huntington Library and Art Gallery.
The Athenaeum is located at 551 S Hill Ave, Pasadena, CA 91106.