Why We Love Weddings at Skirball Cultural Center
Skirball Cultural Center is a gem of contemporary LA. An educational campus that has been open to the public for the past two decades, Skirball focuses on sustaining Jewish heritage and democratic American ideals. Every year about 60,000 schoolchildren are enriched by visiting the campus and its Jewish cultural museum. The modern facility, designed by Israeli-born architect Moshe Safdie, also hosts many community, cultural, and private events. With such a rich focus on education, diversity, and social consciousness, this venue may be the perfect spot for a wedding that celebrates the richness of Los Angeles culture and heritage.
Wedding Prep at Skirball Cultural Center
While you may choose whether to spend the morning of your wedding onsite or elsewhere, this venue does offer you a well-appointed bridal suite for you and your wedding party. Here you can relax, be pampered, and make memories together as you anticipate the moment you'll tie the knot.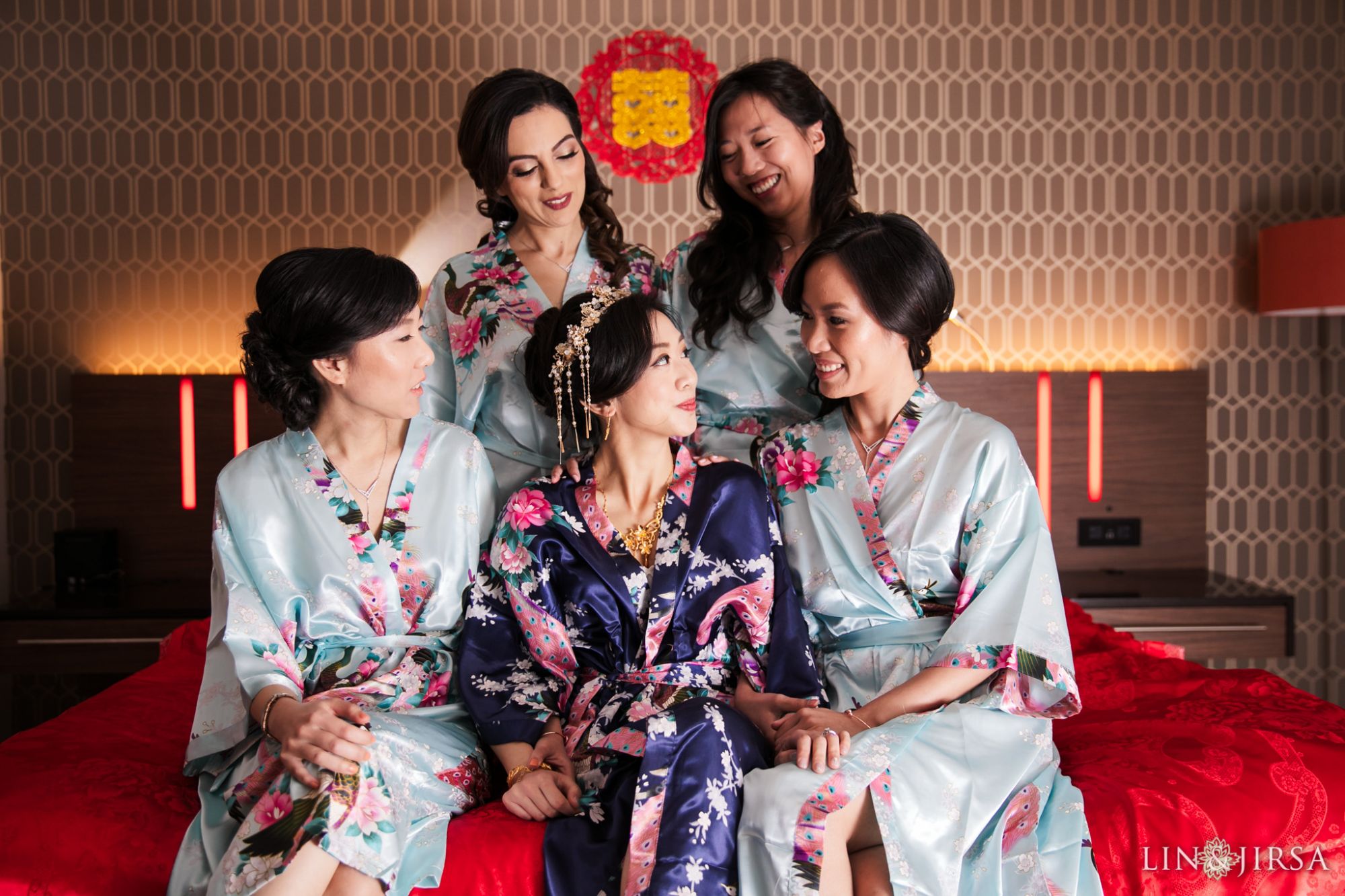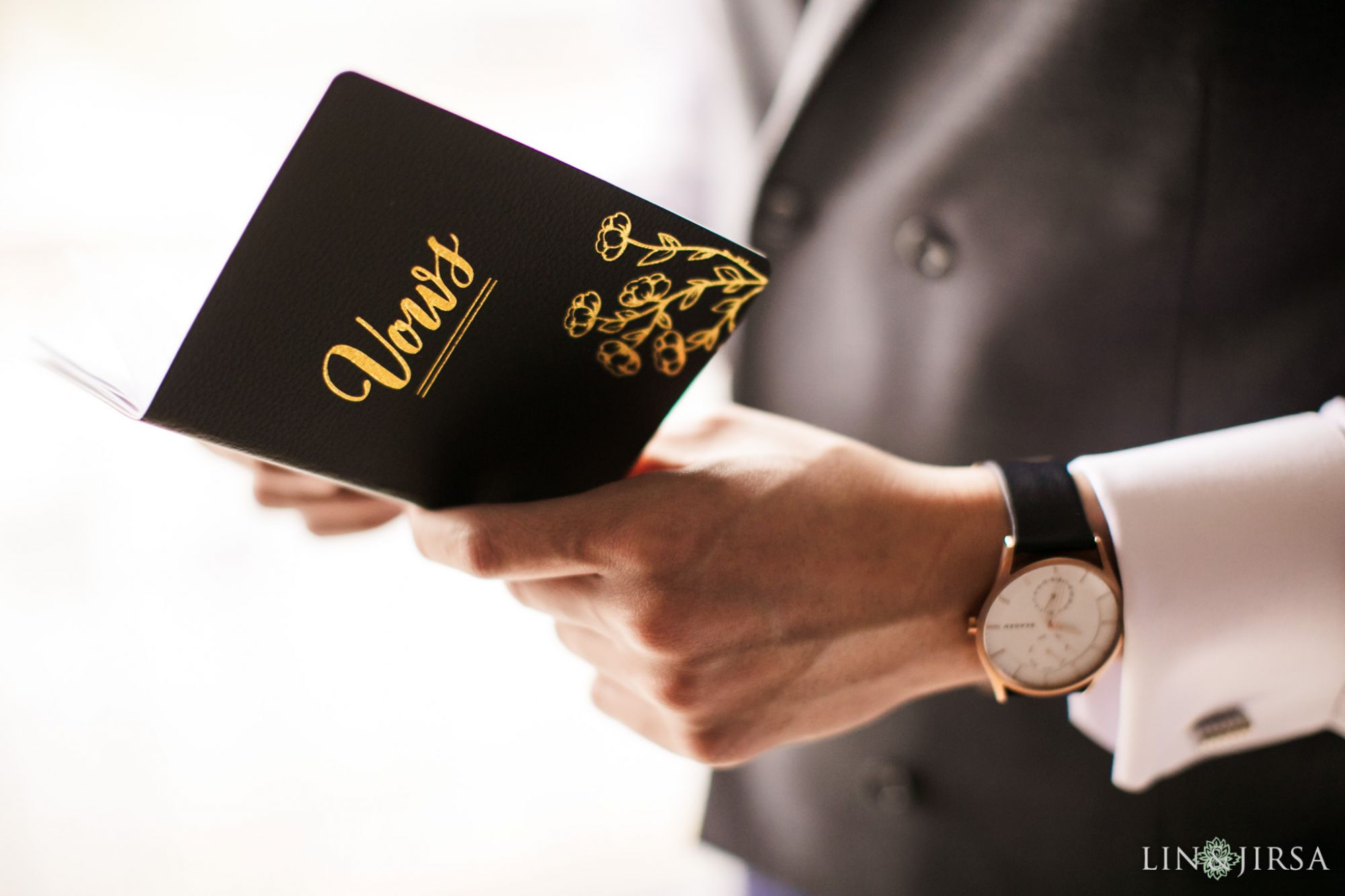 First Look and Wedding Photography at Skirball Cultural Center
With a museum, a performing arts center, conference halls, libraries, courtyards, and gardens, there are plenty of picturesque spots on the campus for some stunning photography. You'll love taking some photos to freeze in time the moment you get a glimpse at each other before tying the knot. Taking time out of your day for some intimate photography during those tender moments will be unforgettable.
We at Lin and Jirsa Wedding Photography would be honored to capture each moment and emotion of your day, big and small, posed and candid. We tell love stories through photographs and video, and we create photo heirlooms that you'll treasure for a lifetime. Click here to learn why couples love to choose one company to provide for both their photography and videography needs.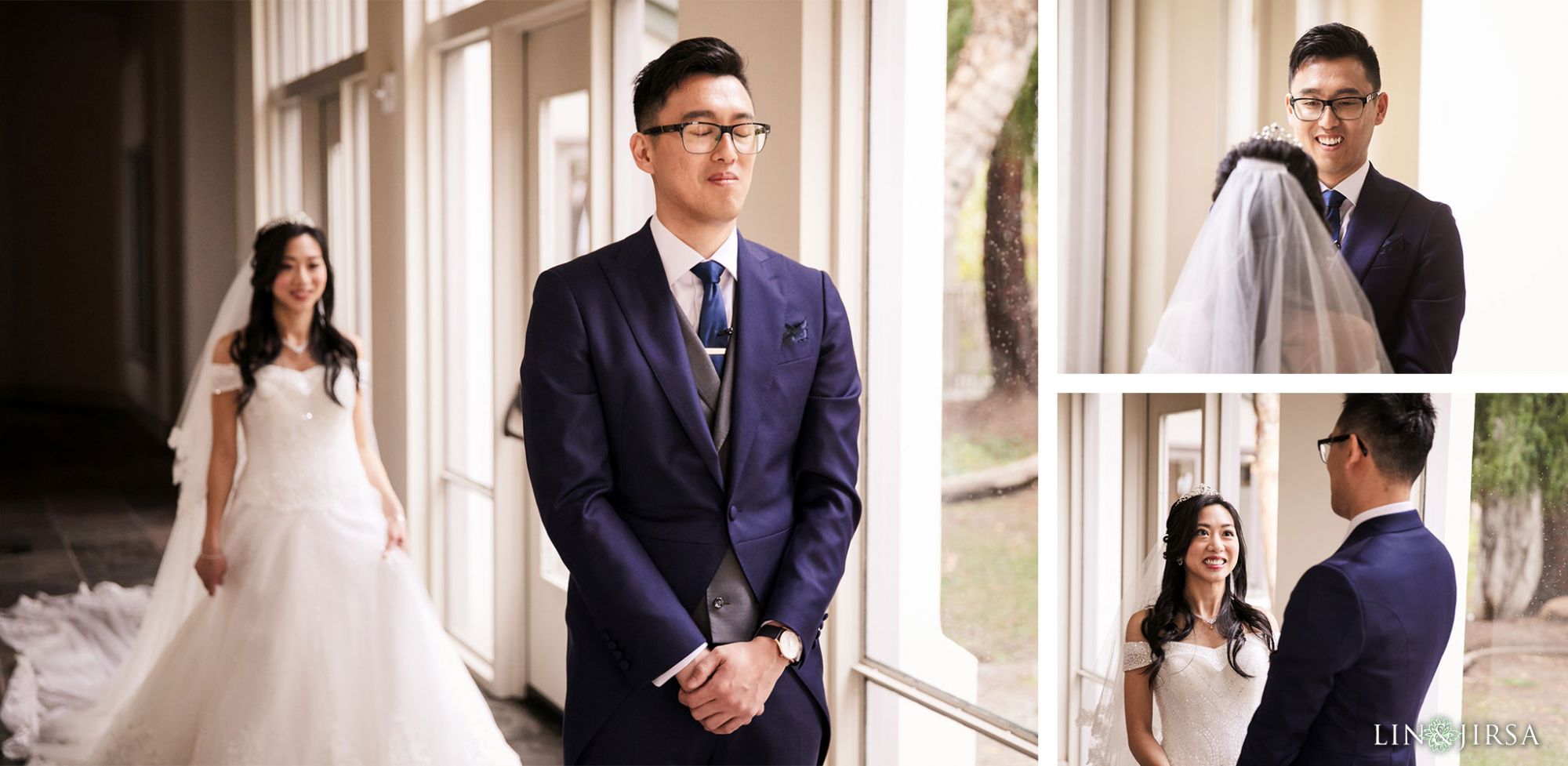 Wedding Ceremonies at Skirball Cultural Center
This venue has plenty of spots, indoors and out, to host the beautiful ceremony of your dreams. All of the indoor venues are elegantly designed in neutral palettes, so you can put your personal stamp on your ceremony with your choice of flowers and decor. And wedding packages at this venue are a la carte, which means you have the option to host your ceremony elsewhere (like the nearby church where the couple below said their vows) and move the party to Skirball for your reception.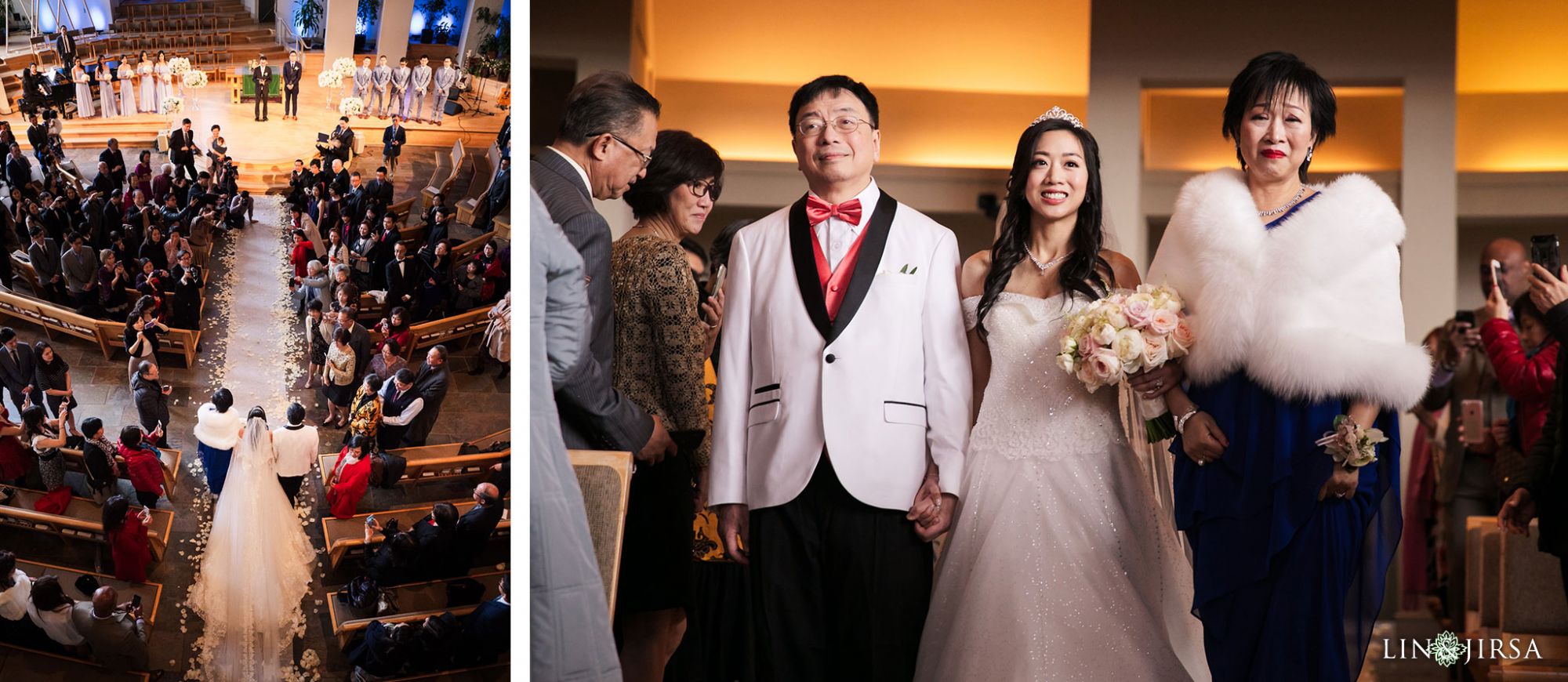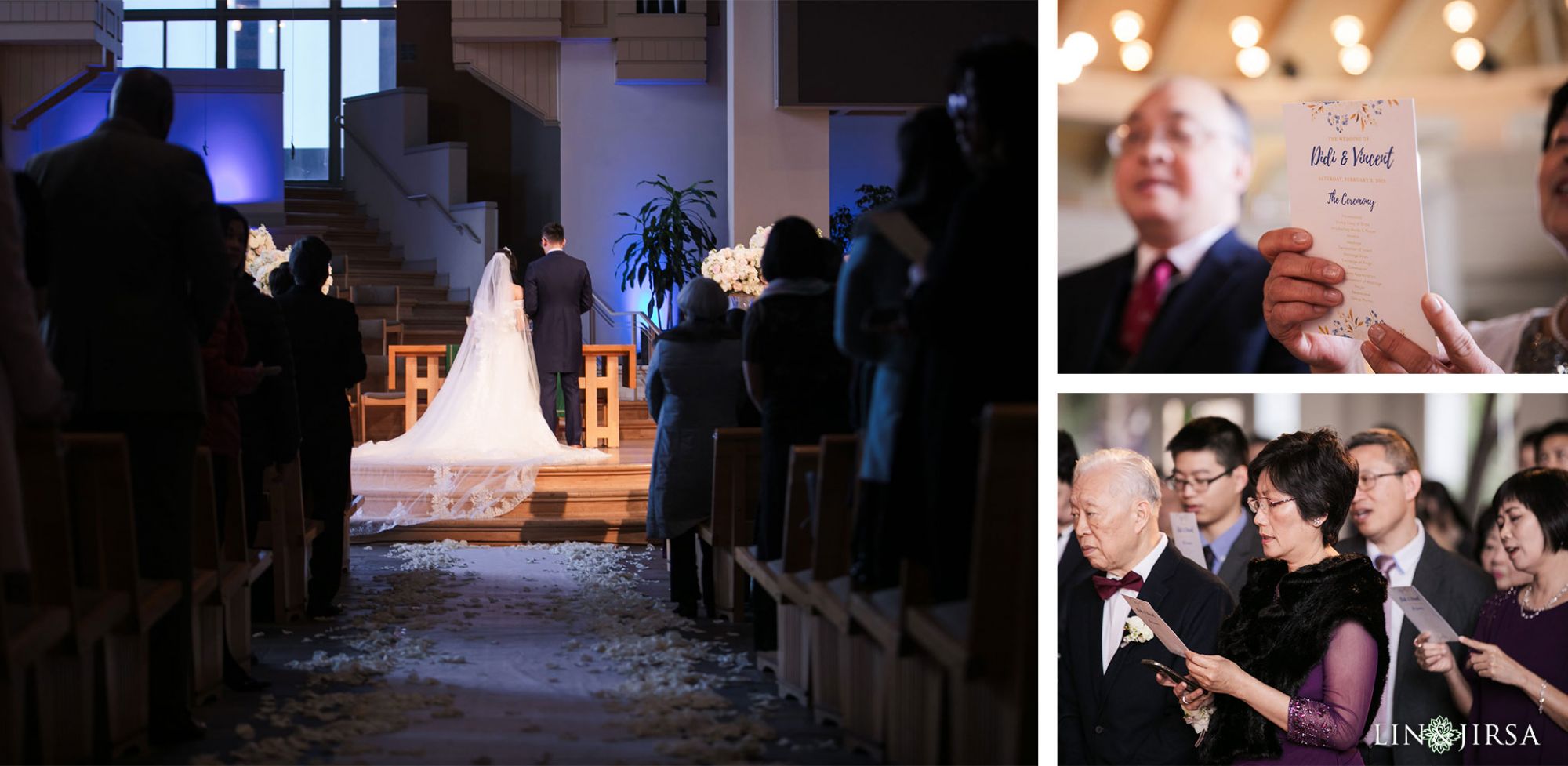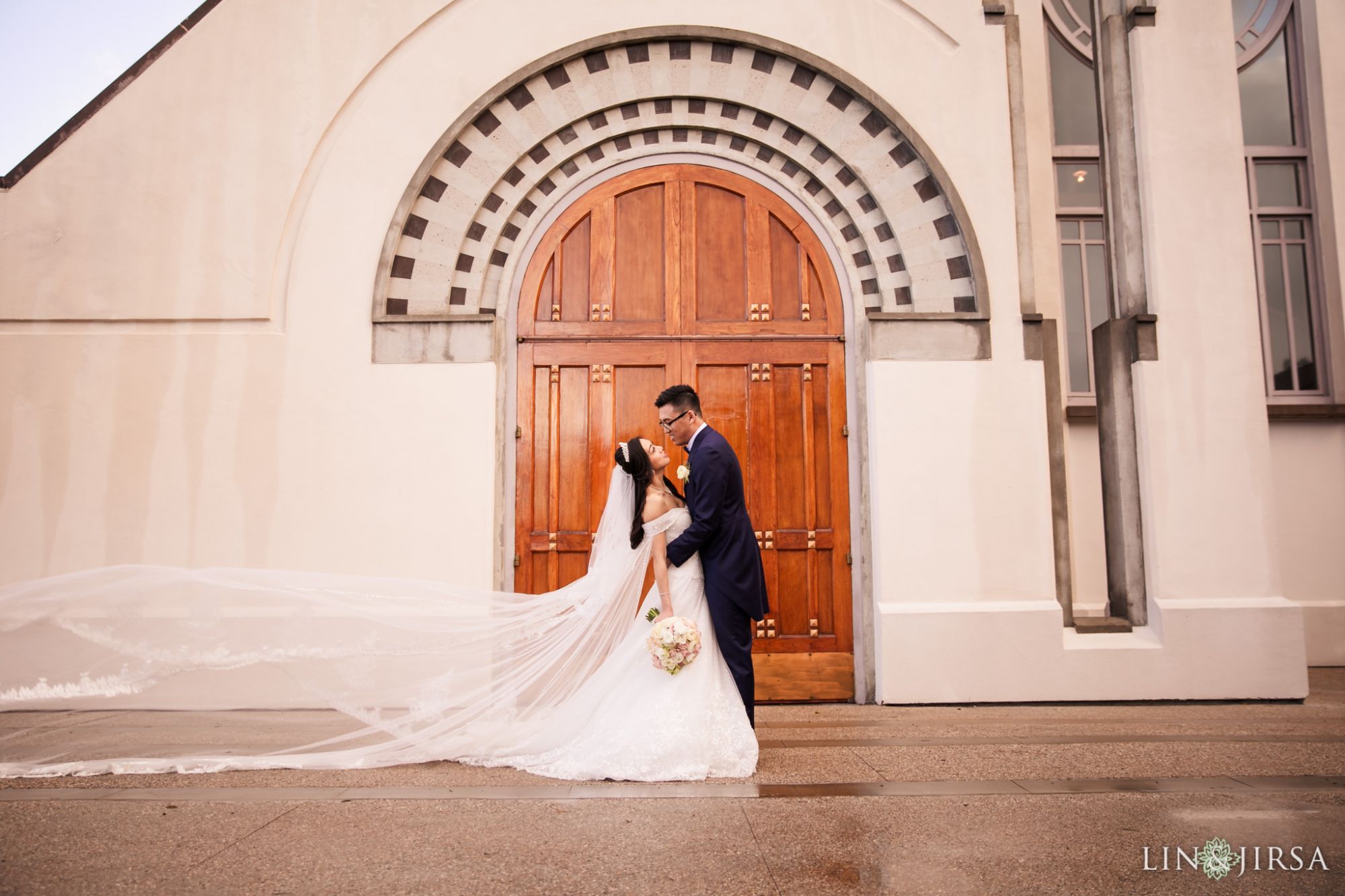 Wedding Receptions at Skirball Cultural Center
There are dozens of venues on the campus, indoors and out, to host a magical reception. The couple pictured below chose the Ahmanson Ballroom in the Cotsen Auditorium. With its semicircular shape, its curved wall of floor-to-ceiling windows with views of the Santa Monica Mountains, and its dramatic sweeping ceiling, this space provides an artistic, unique backdrop to a fairy tale wedding reception, complete with snowflake lights, tree decor, and a fog machine on the dance floor.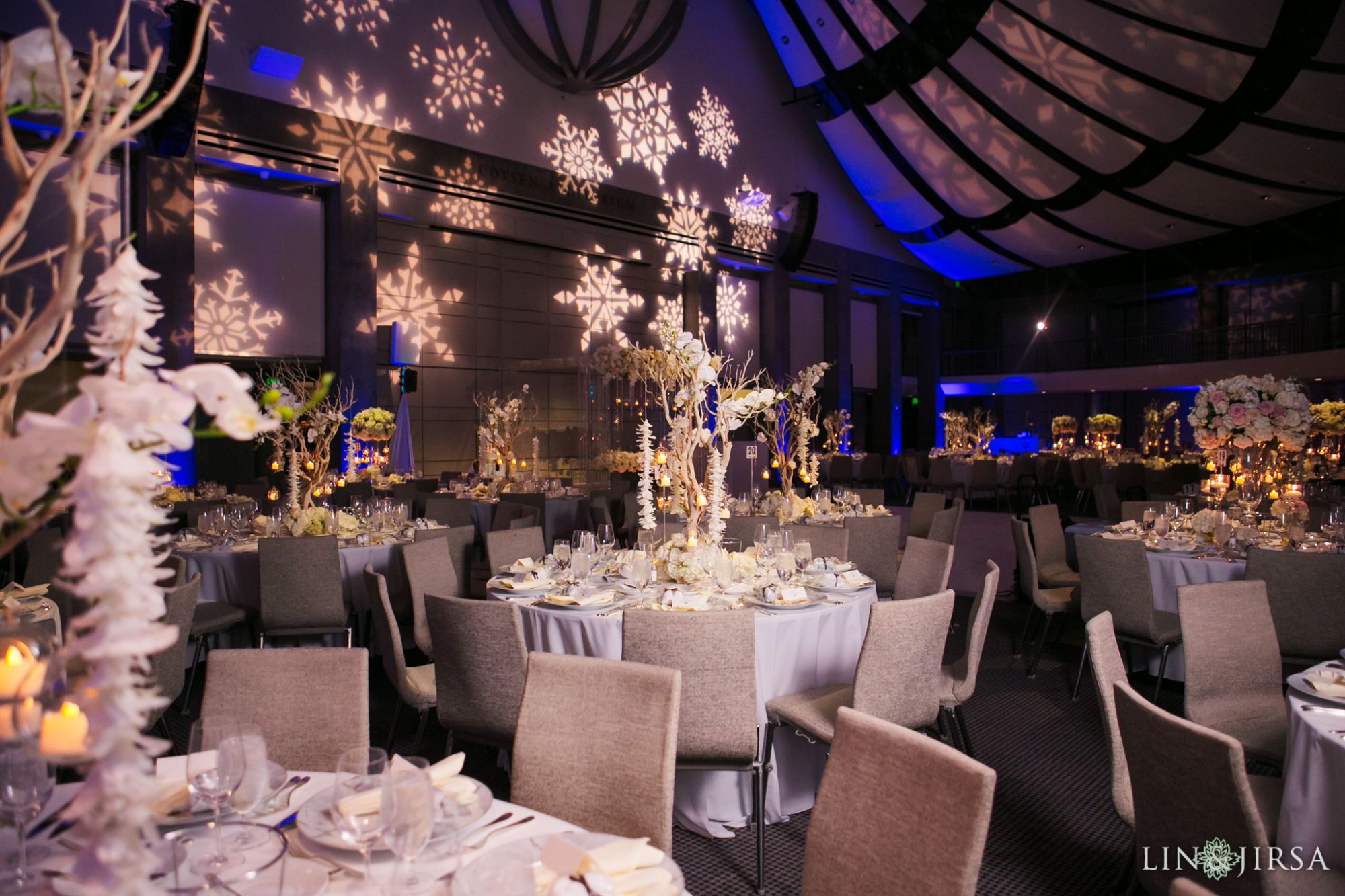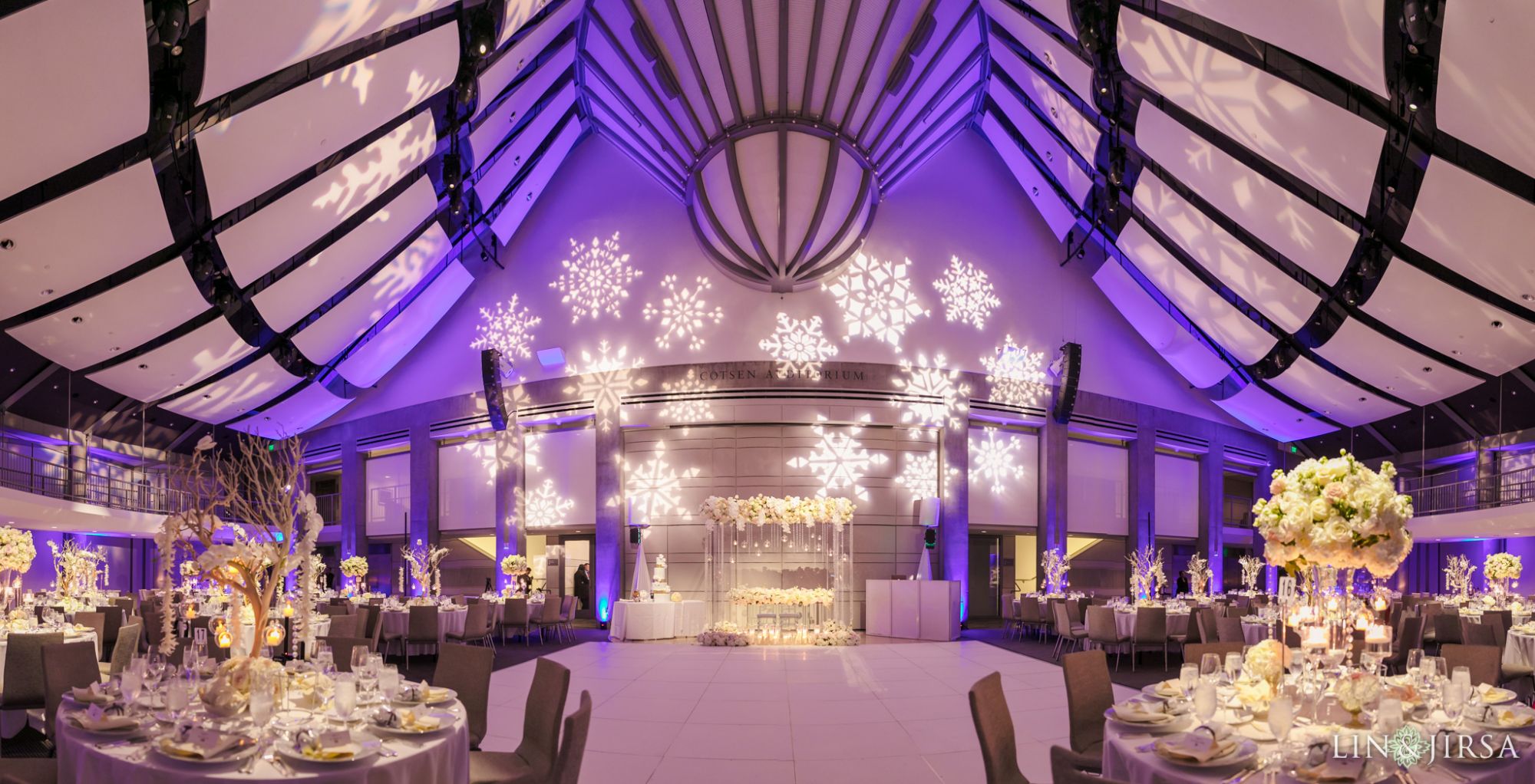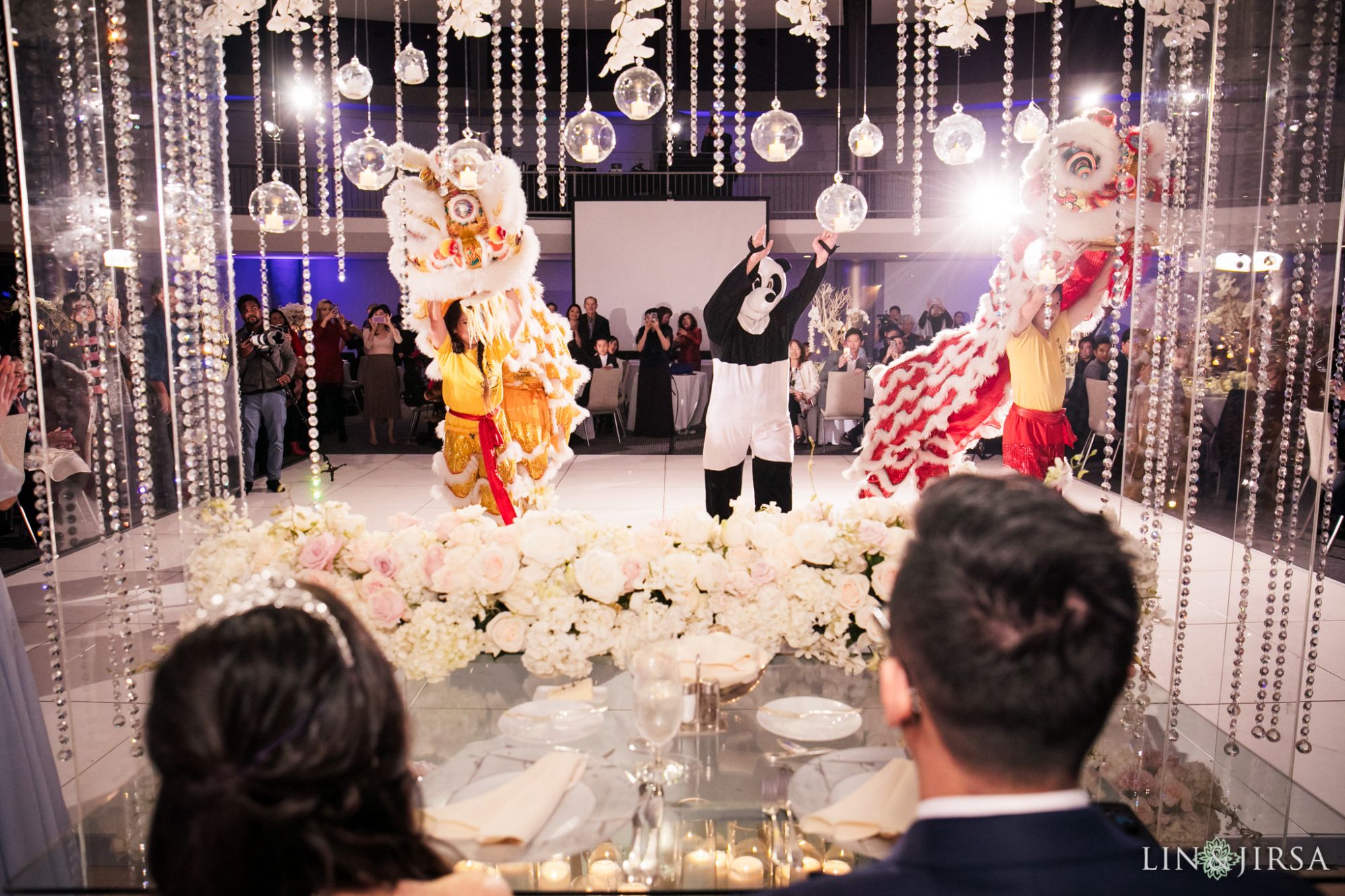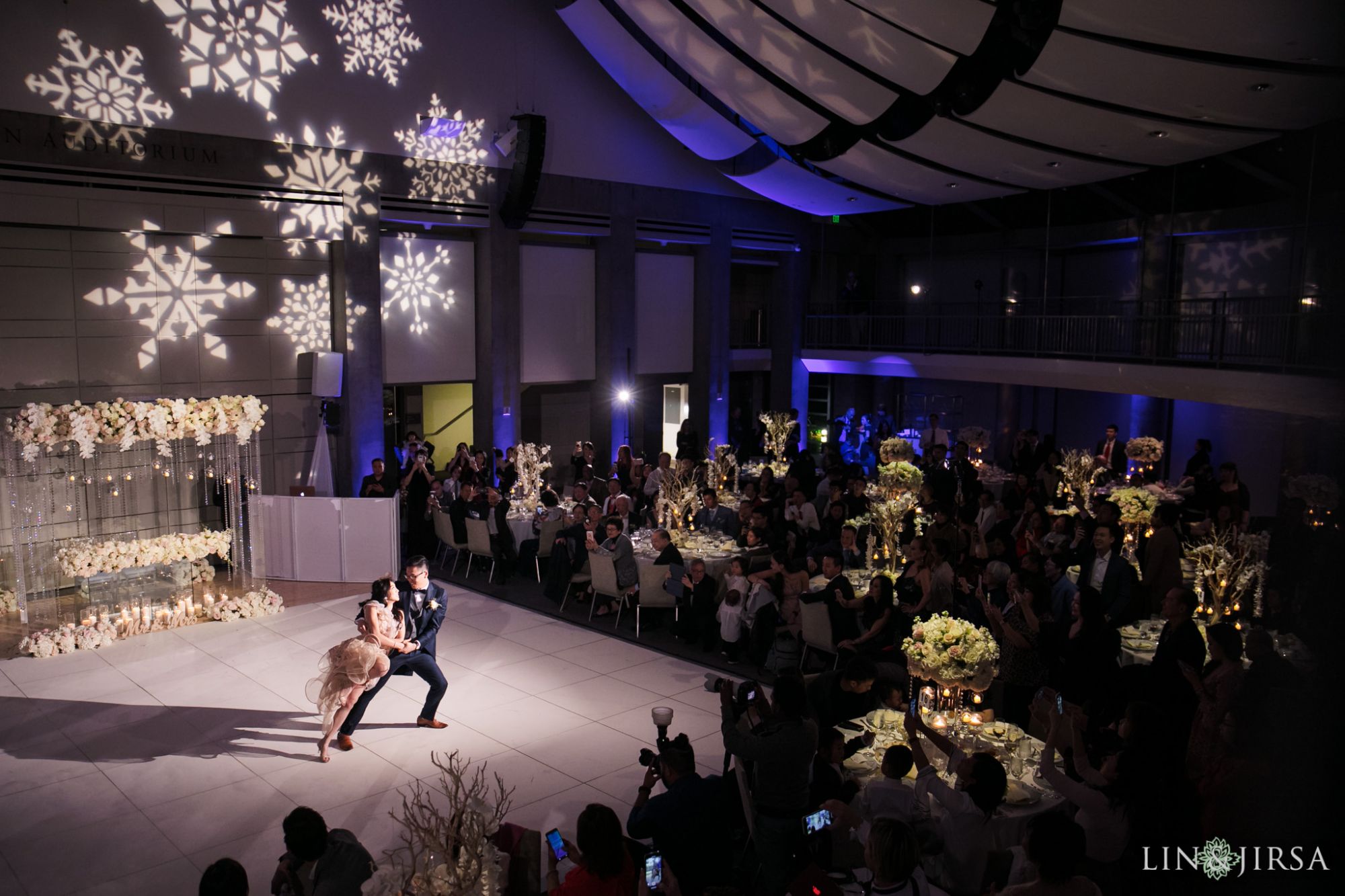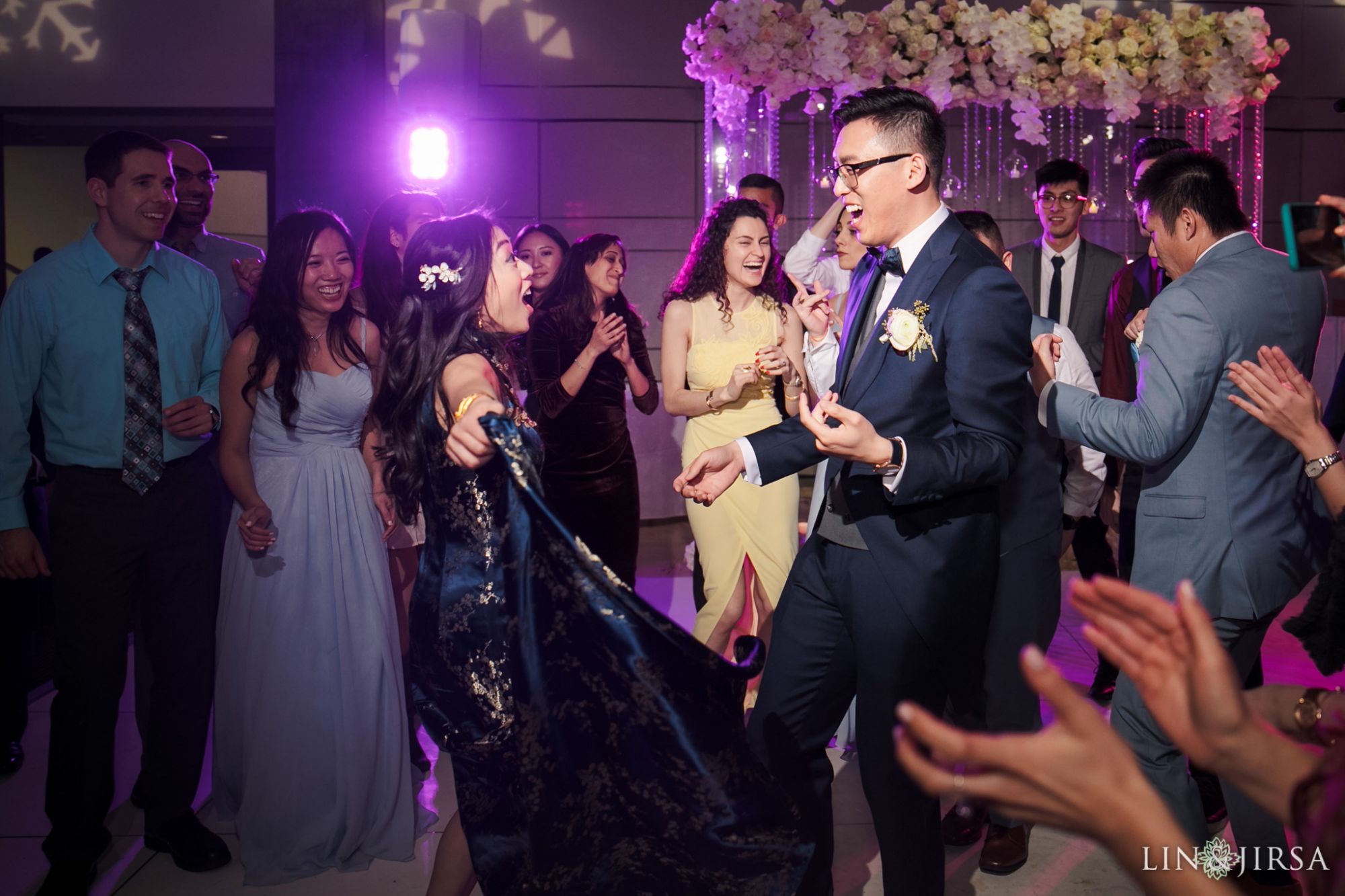 FAQ
Which caterer can we choose to create our wedding banquet at Skirball?
This venue requires you to choose their excellent in-house caterer, who will work with you to plan an exquisite menu.
How many guests can we invite to our wedding?
The various venues on campus can host different numbers of guests, from 40 to nearly 600. The Ahmanson Ballroom pictured above can seat 360 guests at a dinner reception with a dance floor.
Does the center provide tables and chairs?
Yes, when you book a wedding at this venue, you will have use of the facility's tables, chairs, and tablescape decor.
Skirball Cultural Center is located at 2701 N Sepulveda Blvd, Los Angeles, CA 90049.