A Kyoto Gardens DoubleTree by Hilton Wedding
Kyoto Gardens, perched on the roof of Los Angeles' luxurious DoubleTree by Hilton hotel, is a celebration of Japanese tradition and the wonders of nature. A replica of an ancient Japanese garden in Tokyo built for Samurai Lord Kiyomasa Kato that was in its day an escape from harried big-city life, Kyoto Gardens is likewise a serene haven from the hustle and bustle of LA. This half-acre venue is lush with winding stone pathways, vibrant flowers, flowing waterfalls and ponds. This urban getaway may be the perfect spot for your Los Angeles wedding.
Wedding Prep at Kyoto Gardens DoubleTree by Hilton
Kyoto Gardens sits on top of a hotel situated right in Los Angeles' Little Tokyo, which means your out-of-town guests can book an elegant room just steps away from where you'll tie the knot. And you and your bridal party can relax, prepare, and make memories together as you anticipate your big day in one of the hotel's one- or two-bedroom suites, many of which have panoramic views of the Los Angeles skyline.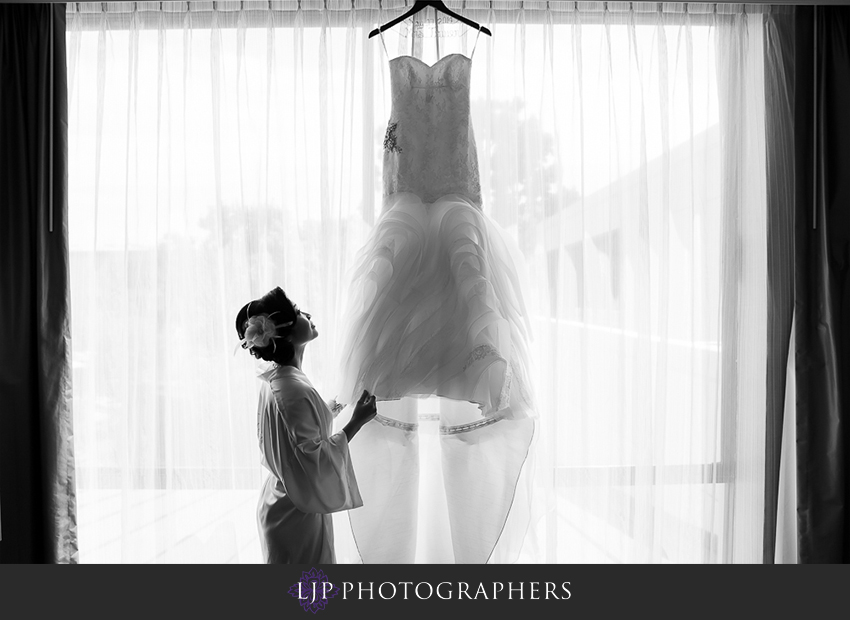 Wedding Photography at Kyoto Gardens DoubleTree by Hilton
With so much greenery, crystal-clear water features, and a wooden bridge, there are plenty of sunlit spaces at Kyoto Gardens to capture the moments of your monumental day, candid and posed, big and small, fun and romantic. And from the views of the Los Angeles skyline to the DoubleTree's grand, expansive Golden Room, this venue provides for stunning photos beyond the gardens as well.
We at Lin and Jirsa Wedding Photography would be honored to document each memory and emotion of your life-changing day and create your photo and video heirlooms that you'll treasure for a lifetime. Click here to learn the reasons why brides and grooms like to choose one company to provide for both their photography and videography needs.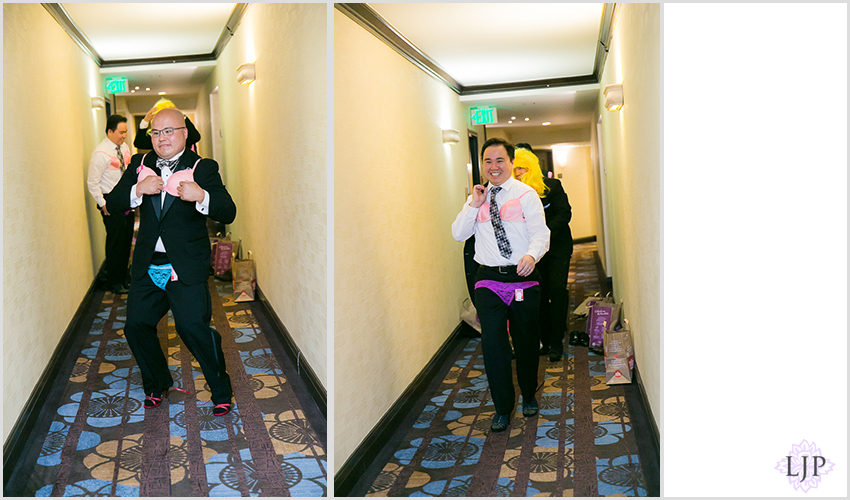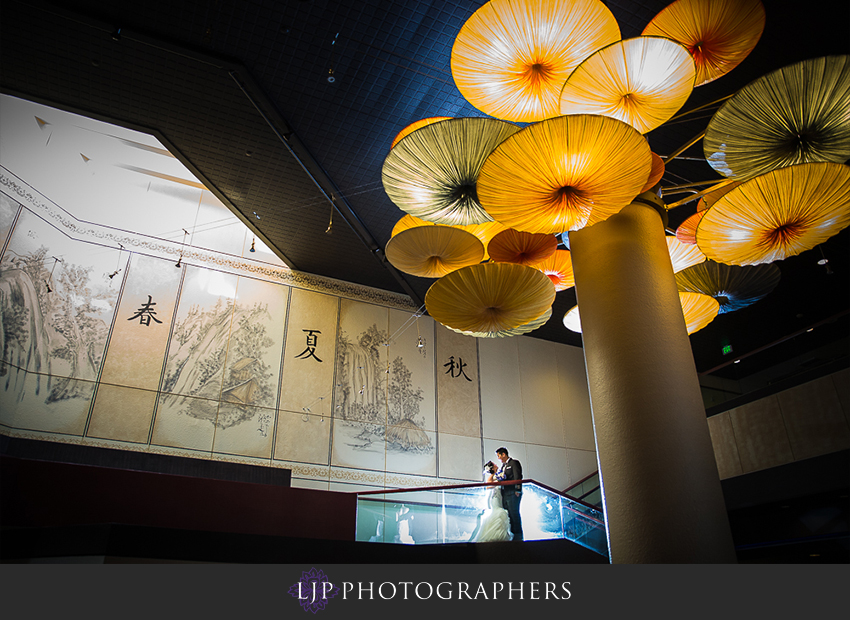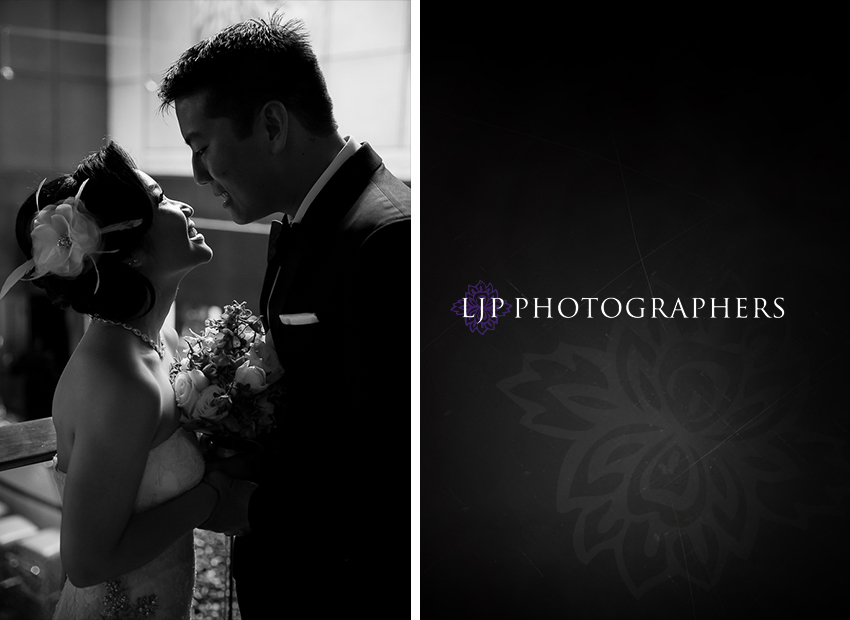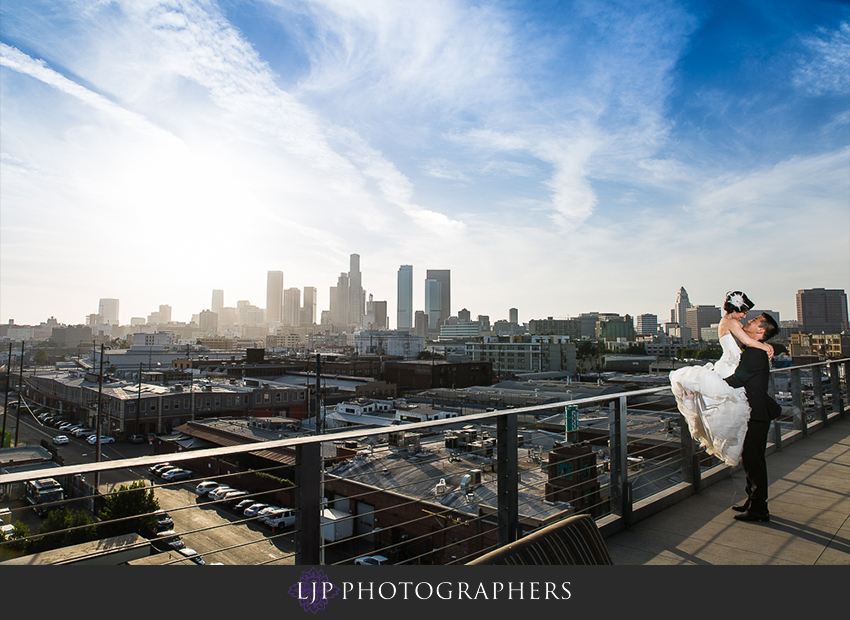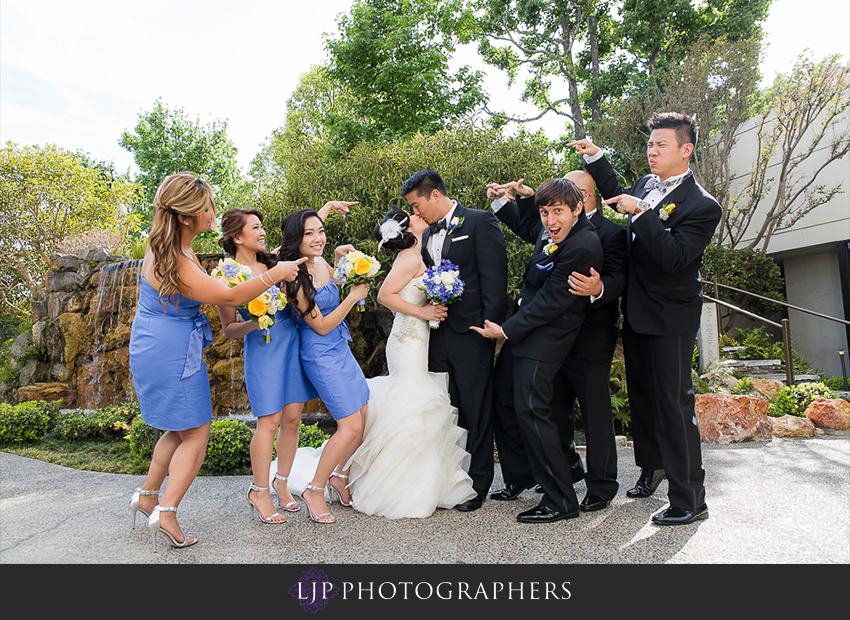 Wedding Ceremonies at Kyoto Gardens DoubleTree by Hilton
Your guests will be transported to a world across the sea as they watch you tie the knot from under a canopy of trees with a cascading waterfall just around the bend. This tranquil oasis needs no extra decor beyond what Mother Nature provides.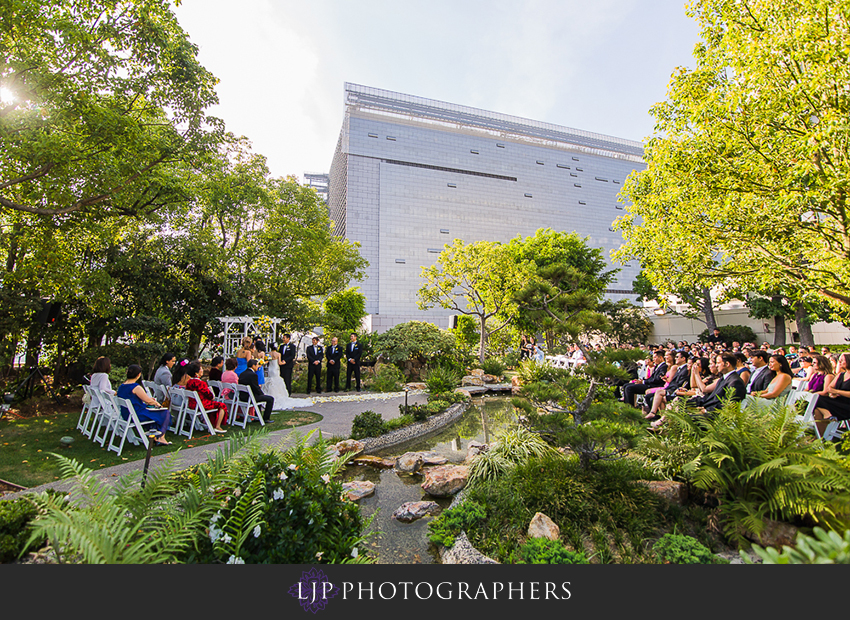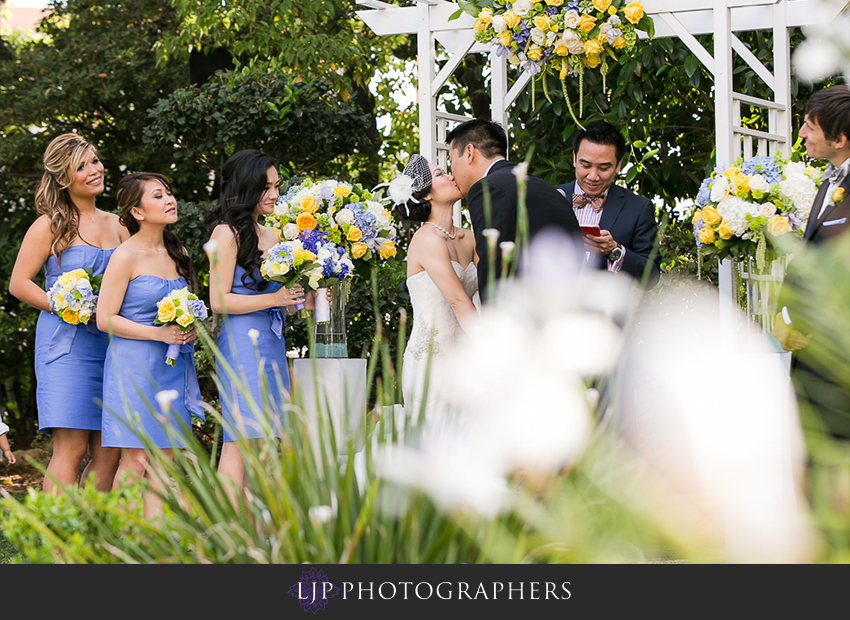 Wedding Receptions at Kyoto Gardens DoubleTree by Hilton
The DoubleTree by Hilton offers a few venues for a reception. You can host both ceremony and reception in Kyoto Gardens themselves.  Or you can move guests inside to the adjacent Thousand Cranes Ballroom, pictured below, which has panoramic views of the gardens. Or for a more intimate open-air gathering, the Kyoto Gardens Lower Terrace can accommodate up to 100 guests at both a ceremony and reception. Or guests can move from the Lower Terrace to a separate reception in the California Ballroom, which seats up to 60 guests. If you're planning a truly grand affair, the Golden Ballroom with its global, contemporary style boasts 15-foot ceilings and sculpture-like chandeliers and is a great space for a truly stylized reception.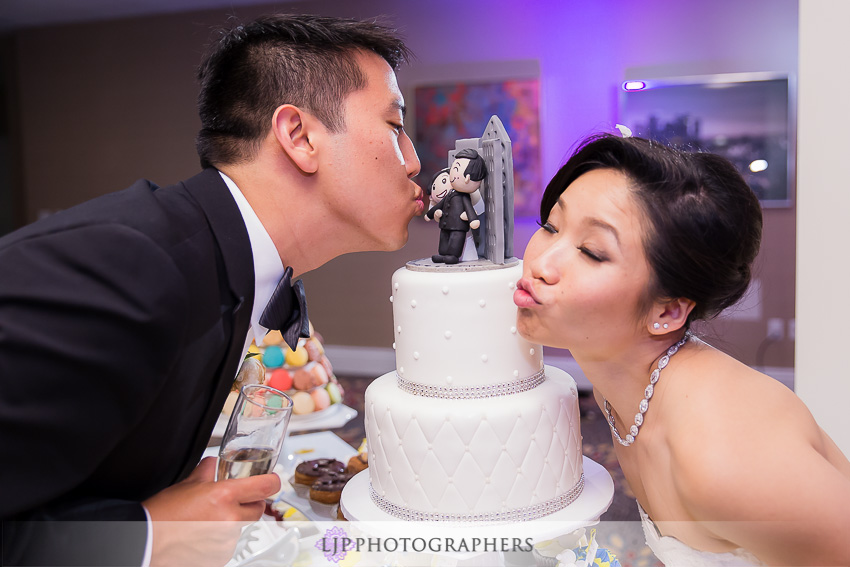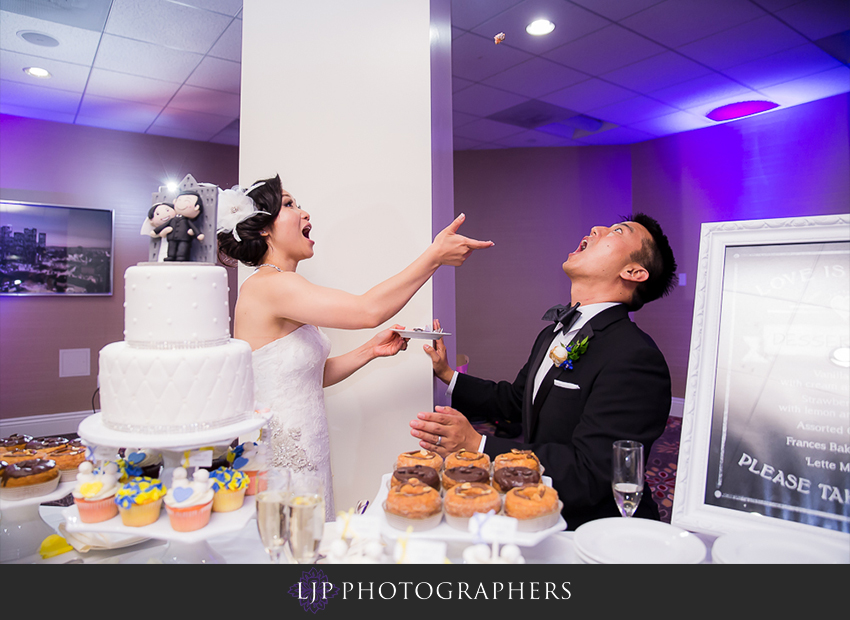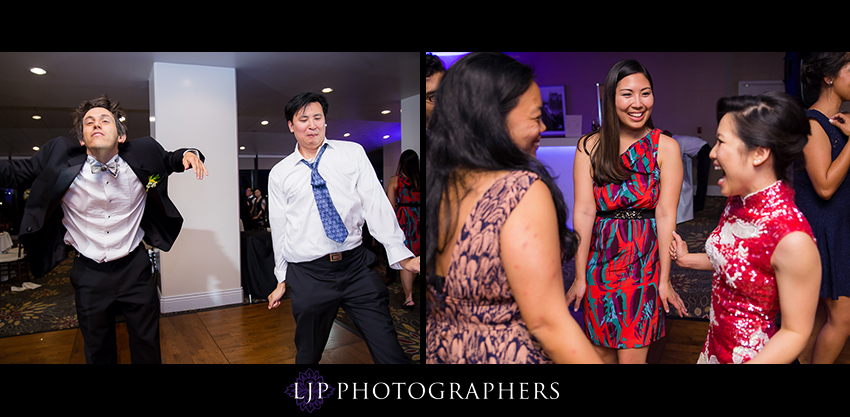 Nighttime Photos at Kyoto Gardens DoubleTree by Hilton
Don't forget to take a few romantic moments together as the day winds down to snap some photos under the stars in the colorful lights of the gardens.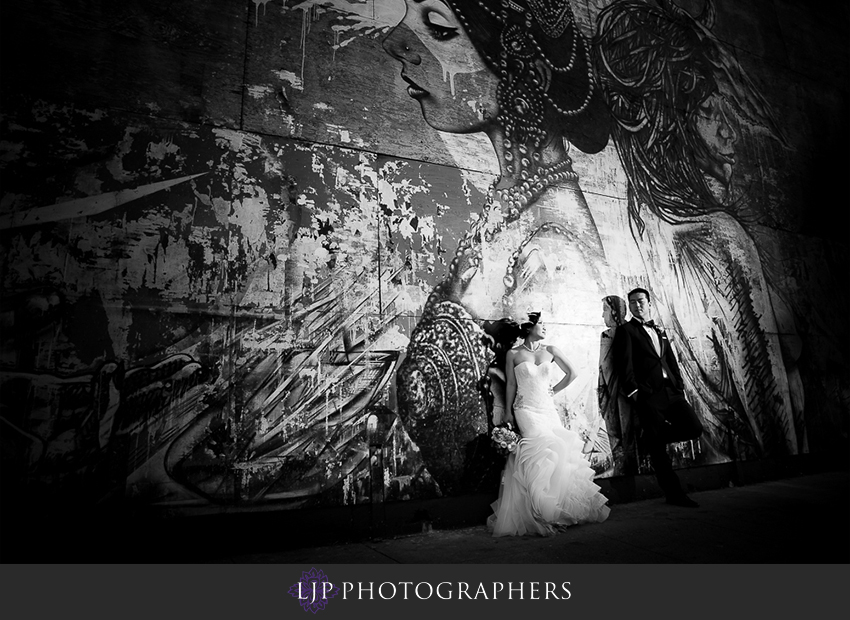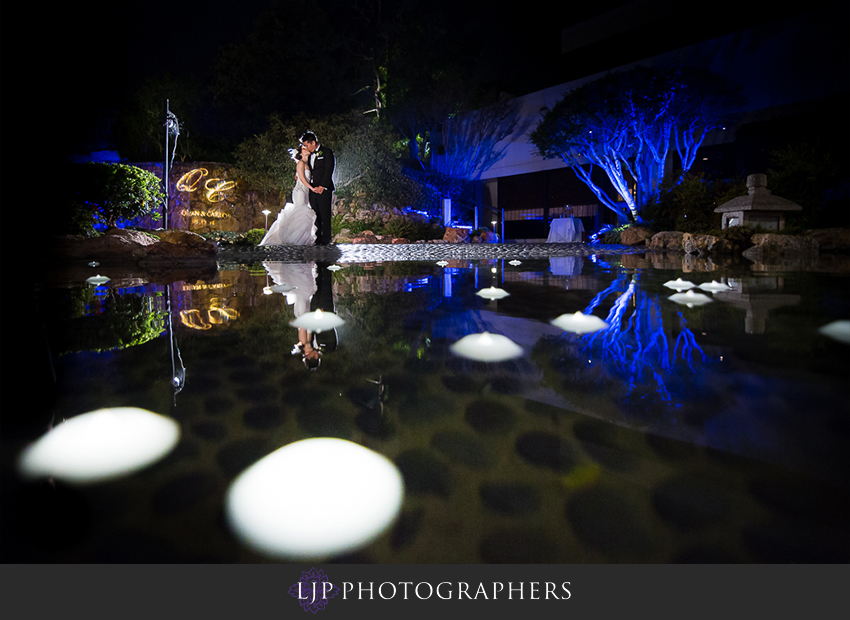 FAQ
How many guests can we invite to our wedding at Kyoto Gardens?
This venue can accommodate a range of guests, from just 60 in the California Ballroom up to 250 in the vast Golden Ballroom or even 300 at a cocktail reception in the Upper Gardens.
Which caterer can we choose?
Kyoto Gardens requires you to choose the hotel's excellent on-site caterer, who will help you craft a menu to fit your tastes and style.
How does pricing work?
This venue offers various all-inclusive packages to choose from, priced per guest.
The Doubletree Hilton Kyoto Gardens is located at 120 S Los Angeles St, Los Angeles, CA 90012.