Why We Love Saddlerock Ranch Weddings
Saddlerock Ranch is a place like none other. On over 200,000 acres of land in the Santa Monica Mountains, the ranch used to be part of the Spanish Land Grant and until the 1930s was known as El Malibu. Today the ranch has plenty to offer that you won't find anywhere else: gorgeous stretches of natural landscape, five wedding venues, caves covered in pictographs by the Chumash Indians, 100 acres of vineyards with accompanying wine tastings, a working carousel, and even African and other exotic animals (zebras, camels, giraffes, llamas, alpacas, yaks, highland cows, etc.) Whether you want an elegant, natural outdoor setting away from the hustle and bustle of LA or a quirky, unique venue that matches your personalities, Saddlerock Ranch is the place for you.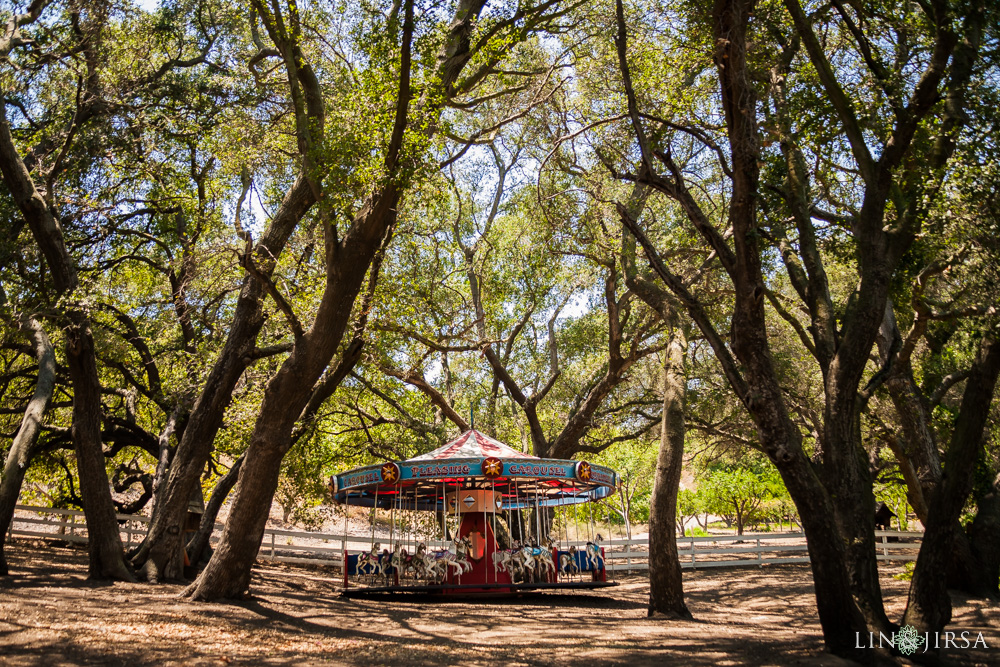 Wedding Photography at Saddlerock Ranch
Your photo shoots at this venue will be unforgettable! Whether you're sneaking some couples shots with Stanley the Giraffe, taking wedding party photos among the rows of grapevines on the rolling hills, or taking advantage of some photo ops at the open yellow sign with panoramic views of the valley below, which also happens to be next to a bronze statue of a little girl with a hula hoop, your photos won't just be lovely–they'll be fun.
We at Lin and Jirsa Wedding Photography would be honored to capture each moment and emotion of your day, big and small, posed and candid. We tell love stories through photo and video, and we create photo heirlooms that you'll treasure for a lifetime. Click here to learn why couples love to choose one company to meet both their photography and videography needs.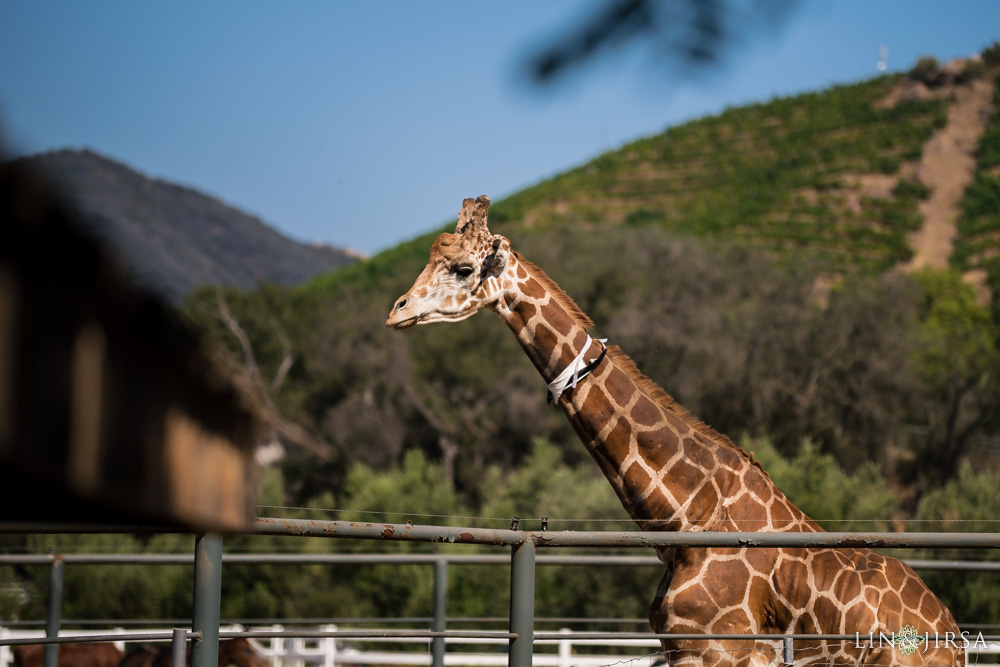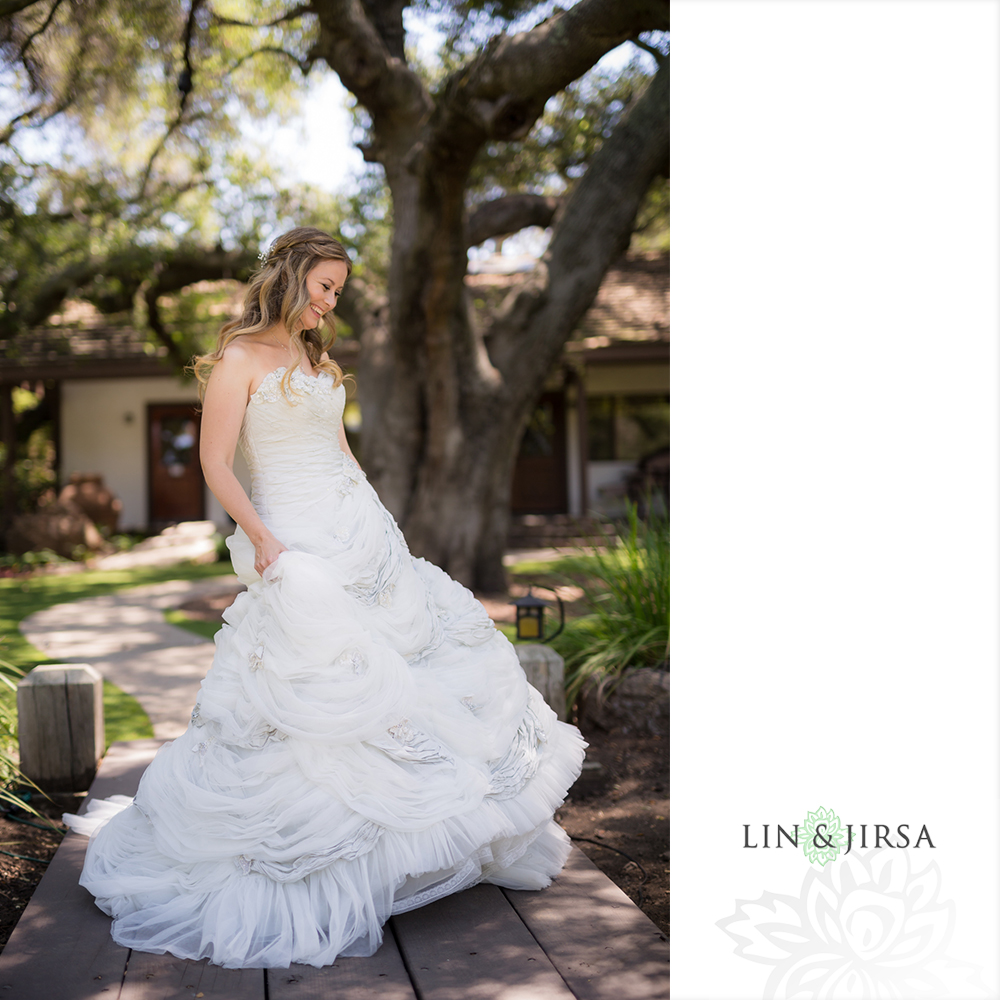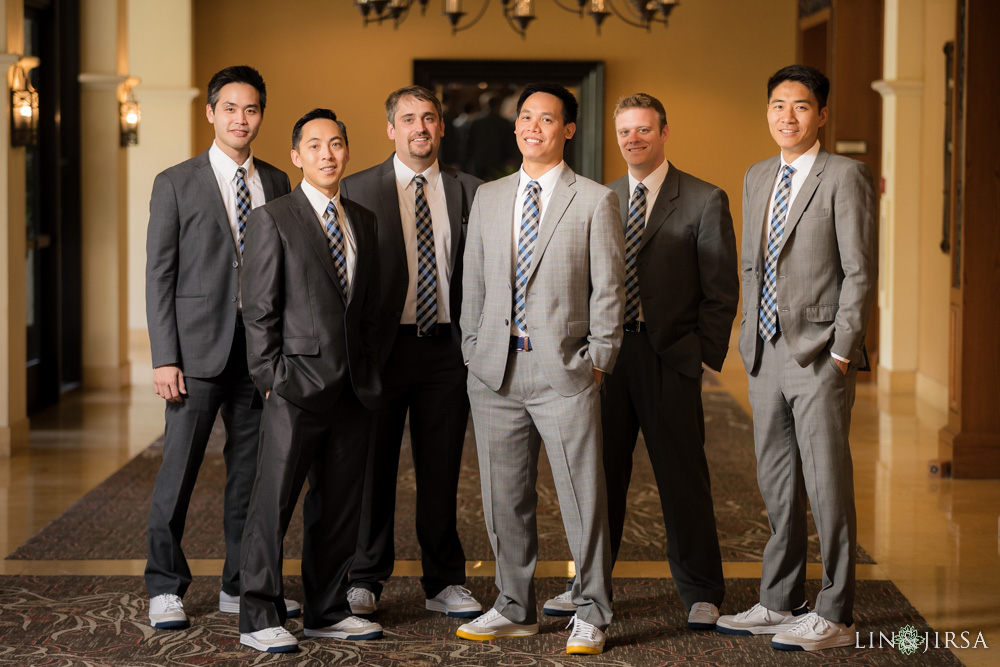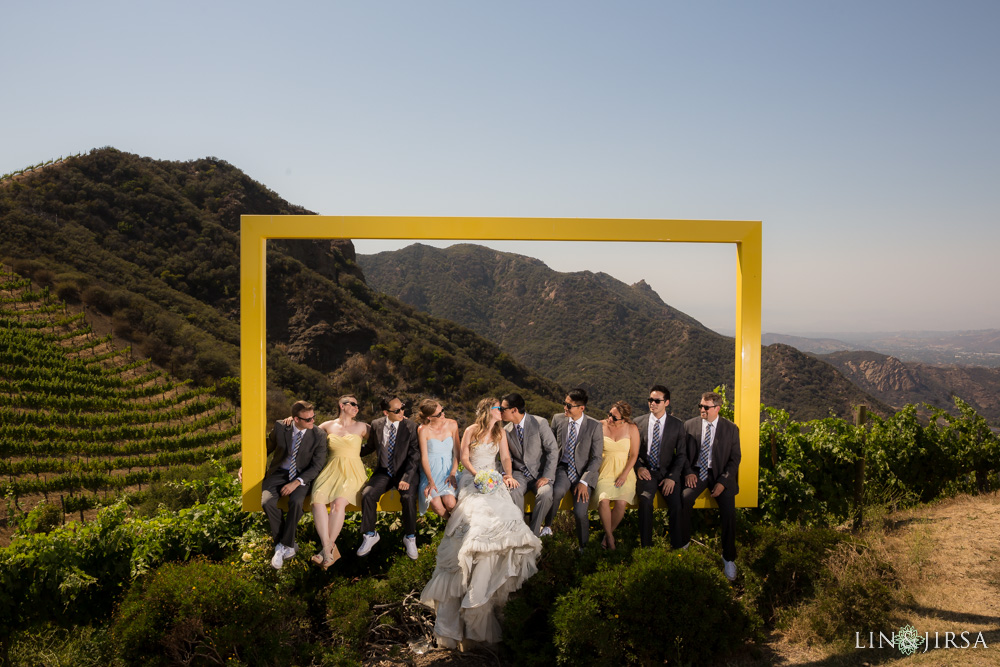 Wedding Ceremonies at Saddlerock Ranch
Saddlerock Ranch offers you five venues to host your wedding ceremony and reception: the Main Lawn, Oak Grove, Camp Cabernet, the Vineyard, and the Hilltop. Each venue is stunning in its own way. For example, at Camp Cabernet, you have both the breathtaking vistas of the ranch as well as seven chicly decorated Airstreams, a truck, and taxicab included in the ambiance. In Oak Grove, pictured below, you'll be surrounded by ancient oaks, with views of a peaceful rock waterfall and horses grazing in the distance. You couldn't ask for a more picturesque spot to say your vows in the romantic wonder of Southern California's aesthetic.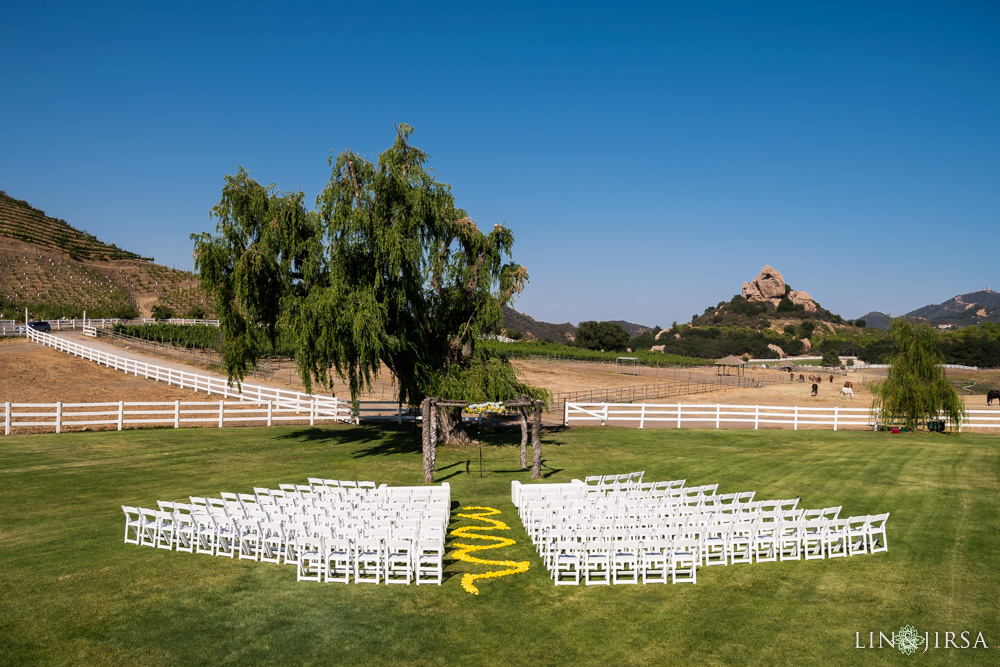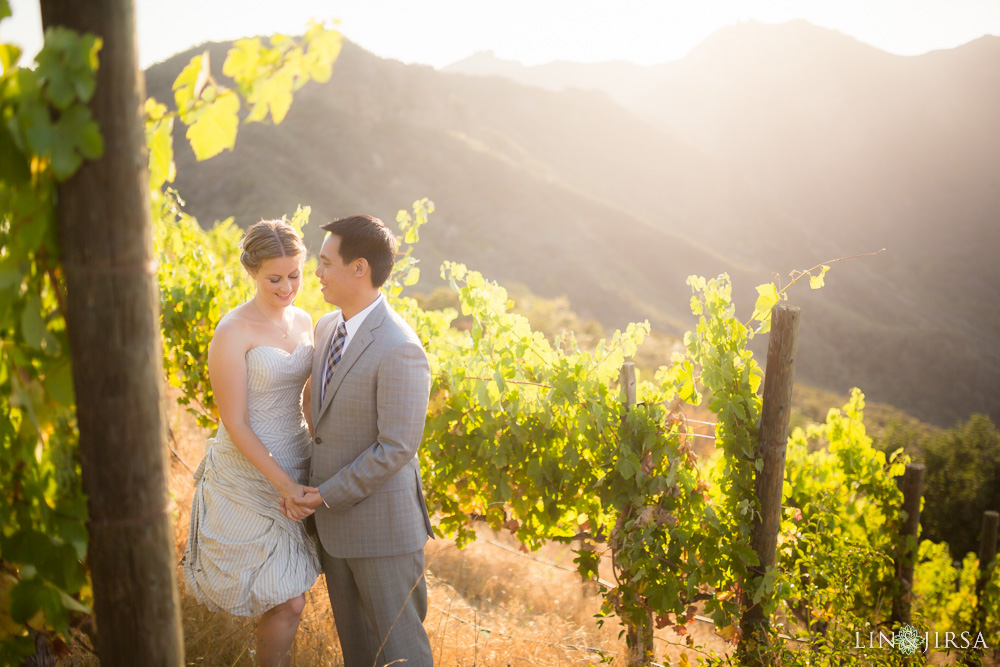 Wedding Receptions at Saddlerock Ranch
At Saddlerock Ranch, you have use of your ceremony location for the entire day, so you can transform the spot where you tied the knot into a space where guests can let down their hair and truly celebrate. Oak Grove looks sumptuous with the setting sun peeking through the canopy of trees, and it looks magical as you dance under twinkling lights. And you can put your personal touch on this venue. The couple pictured below chose to hang paper lanterns in the trees and set up a giant Twister dance floor.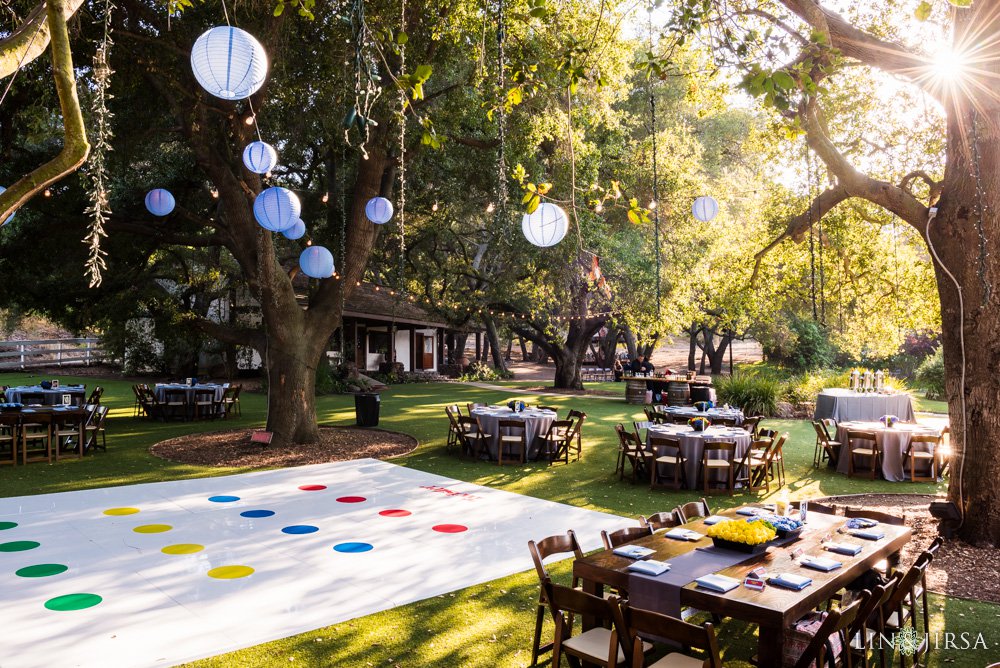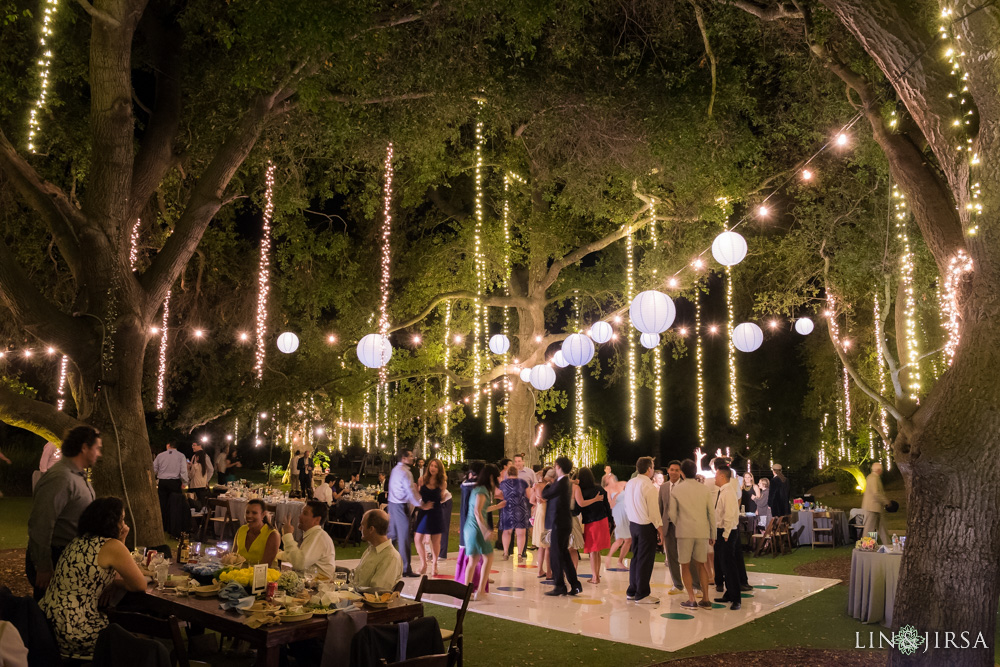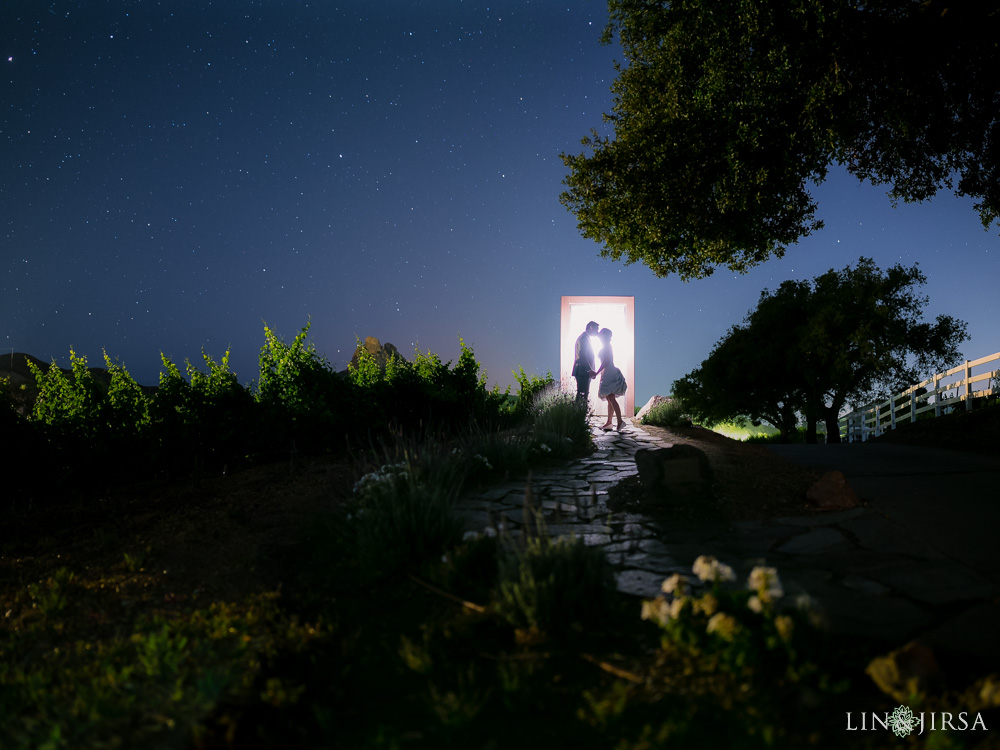 FAQ
How many guests can we invite to our wedding at Saddlerock Ranch?
The Main Lawn can seat between 100 and 500 guests, Oak Grove can seat up to 450, the Hill can accommodate up to 140 people, and the Vineyard 150.
How much time is allowed for our wedding and reception?
When you book a venue at the ranch, you schedule it for private use for a full 24 hours, so you'll have all the time you need to set up, clean up afterward, and celebrate in style.
Who can we choose to cater our wedding?
This venue allows you to bring in the caterer of your choice, so the sky's the limit.
Saddlerock Ranch is located at 32111 Mulholland Hwy, Malibu, CA 90265.